---
Pennsylvania's Amish Community May Have Already Reached Herd Immunity
Sometimes, it seems like the last thing public health officials want is to see American return to "normal", which is perhaps why the head of the CDC unleashed an unhinged, paranoid rand on the American people earlier today.
One month ago, speculation abounded about whether 7 US states might be close to the herd immunity threshold.
Now, local public health officials are speculating about whether Pennsylvania's famous Amish and Mennonite communities living in Lancaster County have achieved herd immunity.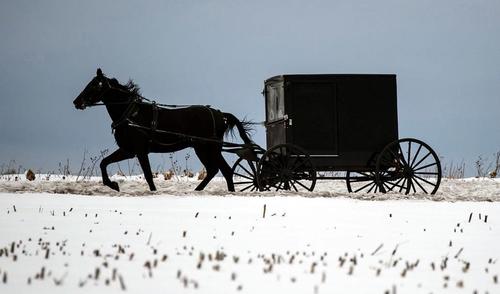 According to the New York Post, the administrator of a medical center in the heart of Lancaster County's New Holland Borough has estimated that as many as 90% of the families in the community have had at least one family member infected. And that means practically everybody has been exposed to the virus.
"So, you would think if COVID was as contagious as they say, it would go through like a tsunami; and it did," said Allen Hoover, an administrator of the Parochial Medical Center.
The center caters to the Amish and has more than 33K patients. While both communities initially complied with the stay at home orders, they reopened churches last spring, where they went back to sharing communion cops and "holy kisses" (described as a special church greeting).
As the virus tore through the community over the summer, by August, the area was reporting daily positivity rates (the share of those tested who test positive) north of 20%. Cases ebbed headed into the fall, but soon started to climb again as the weather turned colder.
Over the past 6 weeks, the parochial medical center hasn't reported a single case of COVID. Eric Lofgren, an infectious disease epidemiologist at Washington State University, said herd immunity is possible but rare. "It would be the first general population in the United States that's done it," Lofgren said.
But although this truism has been widely quoted in the US media, we'd advise readers to remember that the exact threshold for herd immunity isn't clear. Analysts at Goldman have predicted that most advanced economies will reach herd immunity by the beginning of Q3.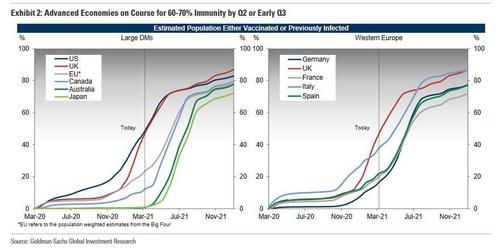 Others warned that previous infections might not protect patients from mutant COVID variants.
The only way to be 100% certain that a community has herd immunity is to vaccinate everybody, including children (the first vaccine trials for children, including young infants, have started as Pfizer tests the jab on children 11 and younger).
And even after that, we still won't be sure.