---
Pfizer Says 3 Doses Of Its Jab Can "Neutralize" Omicron Variant
Update (0800ET): During an interview on CNBC's Squawk Box, Pfizer CEO Albert Bourla appeared to contradict his own company's data by claiming that his company's jab will "not lose any efficacy against omicron" because the "mode of action is not on the spike...it's working on a different element of the virus."
However, data out of South Africa appears to show that even patients who have been vaccinated are testing positive for omicron. And keep in mind, the lab-only results Pfizer shared today aren't nearly as reliable as trial data involving actual human patients.
"The ultimate proof is coming from real world data ... by the end of the month holistically we will have enough data to say if #omicron the solution will be just a third dose," says $PFE CEO @AlbertBourla. "Or if we need to go to a specific against omicron variant vaccine." pic.twitter.com/VUNdhePE6U

— Squawk Box (@SquawkCNBC) December 8, 2021
"Three doses of our vaccine against #omicron basically is equivalent to two doses of our vaccine with the original strain," says $PFE CEO @AlbertBourla. "This is good news." pic.twitter.com/81aRZKPtDf

— Squawk Box (@SquawkCNBC) December 8, 2021
"If they have two doses, it is very likely you're better protected than if they don't have any or if they only have one," says @pfizer CEO @AlbertBourla on vaccine protection to those ineligible for a booster shot. pic.twitter.com/o25guP2gZn

— Squawk Box (@SquawkCNBC) December 8, 2021
"I expect we will not lose any efficacy against #omicron because the mode of action is not on the spike. It's working on a different element of the virus," says $PFE CEO @AlbertBourla on the company's oral monoclonal #covid treatment. pic.twitter.com/Fv5MXKL7ff

— Squawk Box (@SquawkCNBC) December 8, 2021
"I think we will need a fourth dose. I have said that multiple times," says @pfizer CEO @AlbertBourla on Israel's roll out of a fourth Covid vaccine dose. "If there is a need for something different, better, we will be able to have it in months." pic.twitter.com/FFA28uXgs7

— Squawk Box (@SquawkCNBC) December 8, 2021
He's doing his job - trying to sell more vaccines.
* * *
Last night, data released out of South Africa showed that the Pfizer vaccine, supposedly the world's gold standard in terms of COVID jabs, was less effective against the omicron variant than earlier variants of SARS-CoV-2.
And on Wednesday morning, Pfizer and its partner BioNTech pushed back by releasing data showing that three full doses of their best-selling jab were effective enough to neutralize the omicron variant in lab tests (not in actual humans).
However, two vaccine doses resulted in significantly lower neutralizing antibodies but that a third dose of their vaccine increased the neutralizing antibodies by a factor of 25. Using blood obtained from patients that had their booster shot a month ago, the scientists found that it neutralized the Omicron variant about as effectively as blood after two doses fought off the original Wuhan strain.
As the partners behind the world's best-selling jab scramble to produce an omicron-specific version of their jab, the data released this morning showed that a third dose increased antibodies as much as 25-fold compared with only two doses, the companies said. But that doesn't mean only having two doses won't prevent serious illness - it will.
US equities welcomed the latest data from Pfizer and BioNTech in premarket trade.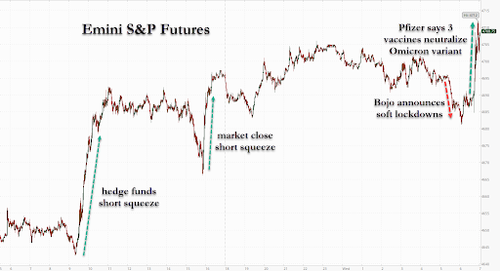 Pfizer's latest batch of data offered yet another opportunity for astute readers to watch the media reshape the narrative in real time.
Real time narrative shaping: before, and 30 minutes later pic.twitter.com/GC8ZZ2jlZx

— zerohedge (@zerohedge) December 8, 2021
The (extremely preliminary) data released by Pfizer showed that companies' early findings come a day after scientists in South Africa reported findings from early lab tests indicating the Pfizer jab generated only one-fortieth of the infection-fighting antibodies against omicron than against the original version of the virus. While omicron appears to be spreading rapidly, only preliminary data are available so far. And although researchers can't say it for certain, it appears the new variant causes more mild infections than earlier variants, even if it is more transmissible. The lab data released by Pfizer and BioNTech didn't offer any new insights on whether fewer doses actually does offer more scaled-back protection.
Other scientists have come to less flattering conclusions. According to Reuters, a group of scientists at the university hospital in Frankfurt found a reduced antibody response to omicron even after three shots.
Speaking on CNBC Wednesday morning, Pfizer CEO Albert Bourla seemed a little flustered about omicron, but he told viewers that they would be protected if they simply got their boosters. But eventually, a fourth dose of the jab will likely be needed.
The takeaway: just get another jab (or booster) and you'll be fully protected from a virus that would most likely only leave you with a runny nose.