---
Spanish Tourism Industry Rebels Against Outdoor Mask Decree As Drones Used To Spy On Beachgoers
For more than a year now, Spain's tourism industry, which accounts for more than 10% of average annual GDP in Europe's 4th-largest economy, has been hanging by a thread.
And while the world is nearing the 600MM vaccine jabs-in-arms mark, Southern Europe is still nowhere near the level of herd immunity needed (according to the bloc's public health nabobs) for crowds of German, British, American and Chinese tourists to fill hotels and inns, crowd on to beaches and into bars, and take planes and cruises to popular holiday destinations.
Data released by Eurostat in February showed non-resident holiday nights, a key indicator of demand in the local tourism & hospitality industry, fell by at least 70% in Italy, Spain and Greece. And with France, Germany and others reimposing, or at least pushing to reimpose, national lockdowns and curfews (including restrictions on travel and movement), business owners are bracing for another quiet season. Unfortunately for many, they will either need to be bailed out, or succumb to bankruptcy.
Spain's coronavirus alert system has officially triggered fears of a "fourth wave" of COVID infections (distinctions between various "waves" can be blurry, and the Continent is generally said to be seeing a third wave of infections). The latest government data show the first three indicators now exceed the established thresholds. The 14-day cumulative number of cases per 100K inhabitants stands at 152, the seven-day incidence rate is at 79.8 and COVID patients are occupying 18.4% of the country's ICU beds. Spain's 7-day moving average of new cases rose to 6,144 on Wednesday, the highest level since February.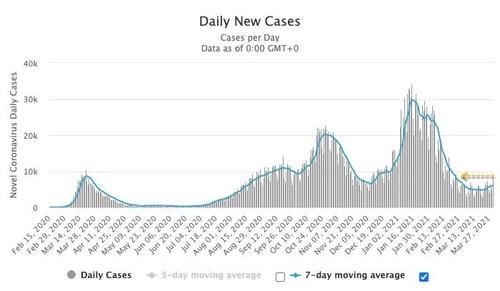 The 7-day average for deaths, meanwhile, was 199 on Wednesday.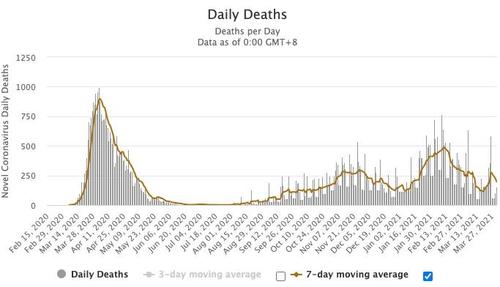 Source: Worldometer
As Spanish Health Minister Carolina Darias urges all Spaniards to act responsibly to try and quell the pandemic, the Spanish government earlier this week passed a new law making mask-wearing mandatory in all public spaces, regardless of the distance between the people. Many were less than thrilled by the restrictive new mask rules. As Spanish newspaper El Pais reports, some regional officials reacted defiantly to the news. For example, the government of the Balearic Islands said the new rules wouldn't be enforced on its beaches and swimming pools.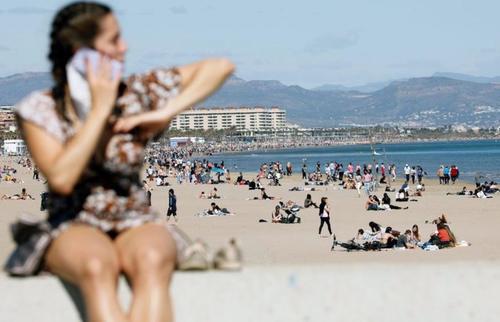 And according to a Guardian report, representatives of the tourism industry are reporting a growing backlash to the rules. They have already given up Easter as a lost cause. But many fear another slow summer season will destroy their livelihoods.
The Spanish tourist industry has reacted with dismay to the government's decree that face masks must be worn in all outdoor spaces, including beaches and swimming pools, even when it is possible to maintain social distancing.

"We're going through hell with thousands of jobs and businesses threatened and now they want to turn the beaches into open-air field hospitals," José Luis Zoreda, vice-president of Exceltur, the umbrella organisation that represents Spain's tourism industry, told El País newspaper.

Industry representatives complain that they were not consulted over the decision, which was announced in an official state bulletin on Tuesday.

"We've already given up on Easter as a lost cause," said Zoreda. "Now we have to put our hopes on summer."

Scientists have long warned that there's little benefit to wearing masks in the open air. But despite this, masks have been mandatory both indoors and outdoors (in public places) in Catalonia and Valencia since early this year.
Earlier this month Fernando Simón, head of Spain's coordination centre for health emergencies and alerts, said: "I don't believe that masks are the key to reducing transmission. It's not necessary for everyone to wear one. What's important is that people who are infected wear one, although we don't know who is infected and who isn't."
But it's not just the new rules that have the tourism industry spooked. In some cases, enforcement will be almost draconian. The Daily Mail reports that sunbathers in Mallorca, one of the country's most popular tourism hotspots, will be spied upon by police drones aiming to enforce all COVID restrictions, including the mask bill. Police and government inspectors in Calvia, Mallorca's party hotspot before the pandemic, are also carrying out a 'thorough inspection' of hotels to make sure people are following the rules.
To be sure, Europe isn't the only the region struggling with a resurgence. COVID cases globally have been expanding at their fastest rate since last fall. India reported 72,330 new cases Thursday over the last 24 hours, the biggest single-day increase since October, as the Indian government moves to ramp up vaccinations by limiting exports. And the US earlier this week reported its biggest daily jump in cases in months as the growing dominance of the B.1.1.7 variant, first spotted in the UK, stoke fears that the current surge will worsen.