---
US Colleges Push To Mandate Student Vaccinations Before Fall Semester
Authored by Isabel van Brugen via The Epoch Times,
A growing number of U.S. colleges are announcing plans to mandate the vaccination of students returning to campus this fall, in line with President Joe Biden's pledge to make all adults in the country eligible for COVID-19 jabs by early summer.
At least six colleges - Cornell University, Rutgers University, Fort Lewis College, Nova Southeastern University, St. Edward's University, and Roger Williams College in Rhode Island - have so far said that all students would need to be vaccinated before a fall return.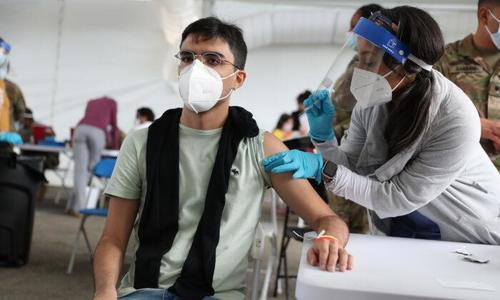 Three COVID-19 vaccines have been authorized for emergency use by the Food and Drug Administration (FDA) in the United States so far - Pfizer/BioNTech's two-dose vaccine, Moderna's two-dose vaccine, and Johnson & Johnson's single-shot vaccine. Emergency use authorization is a faster, less rigorous process compared to full FDA approval.
Vaccines that have previously been required by U.S. colleges, for example shots for rubella or measles, had full FDA approval.
Rutgers President Jonathan Holloway said in a statement that its vaccine requirement will apply to three of the university's main campuses—New Brunswick, Newark, and Camden. Beginning this fall, students will be required to present "proof of vaccination" before they are allowed to move into their dormitories, or attend physical classes.
"Adding COVID-19 vaccination to our student immunization requirements will help provide a safer and more robust college experience for our students," Holloway said in the statement, noting that students may file for an exemption for religious or medical reasons.
Fort Lewis College President Tom Stritikus said in a letter that the requirement will provide "our best hope for returning to the hands-on, inclusive, experiential, and personalized learning environment that we have all come to love."
"As such, all students enrolling at FLC for the fall 2021 semester will be required to get a COVID-19 vaccine," Stritikus said.
Cornell University President Martha E. Pollack wrote in a letter that it plans to require students returning to Ithaca, Geneva, and Cornell Tech campuses this fall to be vaccinated against COVID-19, the disease caused by the CCP (Chinese Communist Party) virus.
The decision was made following "recent announcements of expanded vaccine eligibility in New York and other states, and increasing vaccine production," Pollack said.
On Friday, Nova Southeastern University said in a statement that it intends to resume "full, in-person classroom learning for on-ground courses" in the fall, and that all students, faculty, and staff will need to be vaccinated.
At St. Edward's University, all employees and students aged 16 and above will be required to be vaccinated for a return to campus this fall semester, its COVID-19 Steering Team announced (pdf). Pfizer's vaccine is the only one with FDA authorization for use in people as young as 16.
According to The New York Times, since Jan. 1, more than 120,000 CCP virus cases have been linked to U.S. colleges and universities, with more than 100 deaths involving students and employees since the beginning of the pandemic. The majority of those who have died have been employees, and most of the deaths occurred last year, the report states, citing case data through open records requests at public universities.