---
Suddenly Optimistic Fauci Sees Pandemic "Plateauing," Feels "Liberated" Under Biden Admin
Summary:
Washington DC revives indoor dining after inauguration
French Prez warns permanent immunity should not be assumed
Biden says US cases plateauing, as Biden Admin "liberates"
EU leaders call for more lockdowns, curfews
Even Dr. Fauci has agreed that it appears US cases are "plateauing"
UK blocking entry fri  ifal ris 
Goldman data shows COVID hospitalizations may be trending lower
US cases, hospitalizations decline; deaths at highs
Hungary first in EU to approve Russian vaccine
UAE also approves Russian vax
Dr. Fauci confirms US commitment to Gates-backed vaccine program
Ireland latest in Europe to extend lockdown
Saudi Arabia, UAE complain of vaccine supply delays
UK suffers deadliest day yet
* * *
Update (1415ET): We've seen a flurry of new coronavirus news reported published early this afternoon, beginning with a slight ray of hope for Washington DC residents after a difficult week. On Friday, the inauguration-related "pause" on dining in public will be lifted, allowing Americans to eat indoors, so long as the capacity is 25% of total.
Elsewhere, vaccine skepticism is once again the name of the game in France on Thursday, where President Emmanuel Macron warned French politicians and the French people not to assume that the virus will simply disappear once vaccinations are complete.
In other news, a reporter grilling Joe Biden about the US's weak vaccination targets elicited a frustrated response from Biden, who raged "Give me a Break!" at the reporter in question. Here's how that went down.
REPORTER: "You set the goal at 100 million vaccines, is that high enough? Should you set the bar higher? That's basically where the US is right now." BIDEN: "When I announced it, you all said that it's not possible. Come on. Give me a break, man".
As if the press hasn't already fawned over Biden enough...but we digress. In other news, Biden insisted that wearing masks until April may help save 50K lives, another number apparently pulled out of a hat.
Finally, Dr. Fauci said Thursday that it looks like new cases in the USA might actually be plateauing, despite the holiday surge we were promised by him a few months ago. But where is this more optimistic frame of mind based on? Well, the diminutive doctor admitted that he feels "liberated" by Biden.
NEW: Dr. Fauci on TRUMP vs. BIDEN approach to science:

"The idea that you can get up here and...let the science speak, it is somewhat of a liberating feeling." pic.twitter.com/HKBuu7gEL7

— John Kruzel (@johnkruzel) January 21, 2021
The data would appear to bear that out.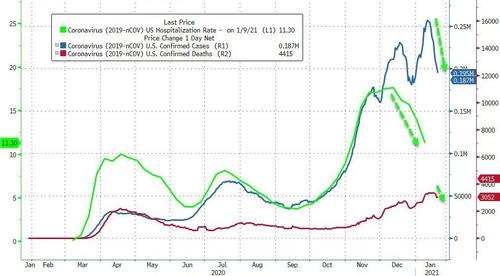 Finally, in Europe, where travel bans, curfews and lockdown extensions continue (even as Bavaria bucks the trend in Europe) the UK is now banning arrivals from Tanzania and the Democratic Republic of Congo. Across the continent, EU leaders are agreeing that lockdown measures need to be strengthened, despite the growing body of evidence that they do little to stop the spread of the virus, according to a massive peer-reviewed study that hit recently.
They're even agreeing that across the Continent, all leisure and business travel must be curbed, at least for now. In the Netherlands, PM Mark Rutte has unsurprisingly managed to convince residents that a travel ban is ready,
And so much for all the mutant strains that policy makers have used to justify new lockdowns in the US, because Bloomberg's data shows cases are now falling in the vast majority of the US. In 42 US states, the seven-day case average has fallen more than 10% from a week earlier, while the other four had more modest drops, according to Covid Tracking Project data. Overall, the US seven-day average is down 20% from a week ago, to 192,825, because the drop is much greater in some states, down 39% in Missouri, for instance.
* * *
Yesterday was a mixed bag for the US on the COVID front: After the US topped 400K COVID deaths earlier this year, the US saw a new daily record number of deaths to coincide with Biden's inauguration. Meanwhile, the WHO finally acknowledged that the "conspiracy theorists" were right about the COVID "case-demic", and that Ct overmagnification during PCR testing might be producing many false positives.
On Monday, it appears more evidence is beginning to emerge that COVID hospitalizations in the US are seeing a trajectory-shift which should feed through to lower mortality numbers in the weeks ahead, according to models produced by analysts at Goldman Sachs.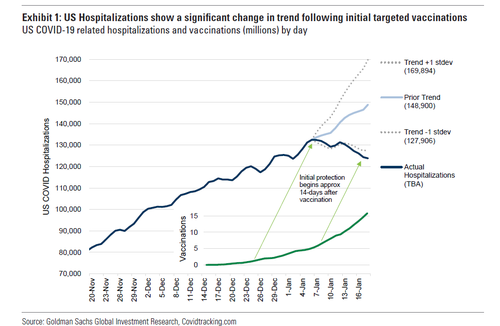 An analysis of how vaccinations are impacting hospitalizations shows that there is a correlation between growing vaccination numbers, and lower hospitalizations.
Before introducing a second chart, the Goldman team writes that it "analyzed hospitalizations for the 25 largest states (by population) representing 88% of all US hospitalizations. We find there has been a 55% correlation between the vaccinations as of the beginning of the year and the YTD decline in hospitalizations. This further supports the connection between recent vaccinations and the decline in hospitalizations."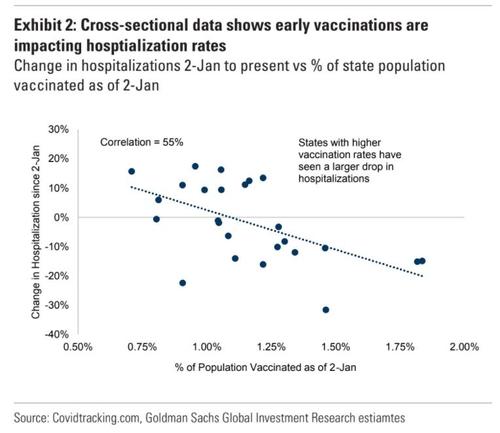 As the COVID Tracking Project data show, daily cases have continued to move lower in all four regions of the country, while nationally hospitalizations have started to dip (a trend that, as Goldman's charts suggest, may be extended).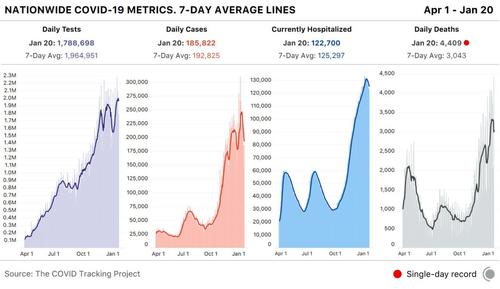 It's just the latest sign that Wall Street truly believes that we have reached "the beginning of the end" of COVID...whether that actually turns out to be accurate, however, is another story.
Meanwhile, after Biden officially ordered the US to halt its departure from the WHO yesterday and rejoin its Covax vaccine-sharing program spearheaded by Bill Gates, Dr. Anthony Fauci appeared at an early morning meeting Thursday where he reaffirmed America's commitment to the WHO.
Dr. Fauci, who will now lead the US delegation, said "I am honored to announce that the United States will remain a member of the World Health Organization." His words marked the first public statement by a member of Biden's administration to an international audience - and a sign of the priority that the new president has made of fighting COVID-19 both at home and with world partners.
Meanwhile, over in the EU, Viktor Orban's Hungary has become the first EU country to grant approval to "Sputnik V", the COVID vaccine developed by the Gameleya Institute and Russia's Sovereign Wealth Fund. Orban's regime coupled the approval with a complaint that it has been unable to procure enough (western-made) vaccines from Brussels, and so has been forced to look elsewhere. The UAE also approved the vaccine for emergency use on Thursday.
Here's some more COVID news from overnight and Thursday morning:
Thailand approved AstraZeneca's COVID vaccine for emergency use, making way for the country to begin inoculating its 67MM people as it endures an increase in coronavirus cases (Source: Bloomberg).
Saudi Arabia and Kuwait said they would reschedule vaccine appointments because of supply delays from Pfizer. Lebanon extended its nationwide lockdown, which began last week, for another two weeks (Source: Bloomberg).
Ireland has become the latest European country to extend its lockdown, which will continue "well into February" before the rules are "reviewed", Prime Minister Micheal Martin said (Source: Bloomberg).
* * *
Finally, in the UK, the mutant COVID strain appears to be causing major strife as early evidence shows the strict lockdowns - England's third, which citizens are starting to rebel against - haven't had much near-term impact on reducing case numbers. The UK suffered its deadliest day yet, with 1.8K deaths recorded in 24 hours, as Boris Johnson's chief scientific adviser warned some hospitals now look "like a war zone."
Moreover