---
Europe Resorts To Travel Bans As Lockdowns Fail; NYC To Restart Indoor Dining, Weddings: Live Updates
Summary:
Germany stands by COVID ban
France imposes travel ban
UK, Canada also impose ban
NYC prepares to lift restrictions on weddings
Bloomberg insists JNJ vaccine 100% effective at preventing deaths in Desoitsl
NYC to reopen indoor dining on Valentine's day
Germany bars visitors from areas where COVID mutations identified
Dr. Fauci warns mutant COVID strains to be expected
EU regulators say vaccines safe for elderly
JNJ chief scientific officer says will apply for emergency approval in US
WHO team finally visits Wuhan
Tokyo and surrounding area hint at closures of bars, restaurants
Thailand's tourism industry hit
India new cases continue to decline
China reports 52 new infections
* * *
Update (1515ET): Following the public battle over the COVID-19 response between Brussels and Berlin, German regulators confirmed Friday that the country would approve the travel ban.

Additionally, Germany's immunization commission STIKO maintained that the Astra shot should only be given to adults between the ages of 18 and 64, it said Friday afternoon. Its decision may hamper efforts to accelerate the rollout of vaccines across Europe's largest economy.

France is also moving to ban travel to and from non-EU countries as part of new measures to avoid a third lockdown, Cestex said. In a surprise address following an emergency meeting between Emmanuel Macron and some of his ministers, Castex said that France "could still give [itself] the chance of avoiding" a third lockdown. There are just over 20,000 new COVID-19 cases a day in France, but studies have shown the number of cases of more contagious variants of the virus has been growing rapidly.

Back in the US, as NYC prepares to start rolling out vaccinations from AZ, the state is also lifting restrictions on weddings.

Starting on March 15, the celebrations can have 50% capacity, up to 150 people, provided it's approved by the local health department and all patrons are tested, Cuomo said. The state is working on developing more capacity for rapid testing, he said.

Finally, after saying earlier that JNJ's one-shot COVID vaccine was surprisingly ineffective, according to Bloomberg, the "strong protection" in patient that it was particularly effective at stopping severe disease, preventing 85% of severe infections and 100% of hospitalizations and deaths
* * *
Update (1145ET): With even the President of France questioning whether vaccines from AstraZeneca (and other western vaccine makers) are even worth taking now, Dr. Anthony Fauci has once again stepped in to give the American public a lecture in epidemiology, per the AP.
Today's subject: Viral mutations. So long as the virus keeps spreading, there will continue to be mutations, Dr. Fauci said.
Still, after insisting the mutations wouldn't cause any problems with the first round of vaccines, Fauci said during a White House briefing that vaccine-makers were already hard at work making new versions of the vaccines that are effective against the mutated COVID strains. "This was a wake up call for all of us," Dr. Fauci said.
"You can be almost certain that as long as there is a lot of virus circulating in the community, there will be the evolution of mutants, because that is what viruses do," Dr. Fauci said.
The AP reported that Dr. Fauci was speaking as worries about mutated COVID strains arriving in the US were intensifying. As we noted yesterday, the first known cases of the South African COVID mutation have been identified in South Carolina, and officials believe that the "variant" could be spread far and wide at this point since the two patients have no connection.
Finally, Gov Andrew Cuomo has just confirmed that indoor dining will reopen in NYC on Valentine's Day (Feb. 14), while also releasing the latest COVID data (which, like the broader US, show hospitalizations falling).
Update on indoor dining in NYC:

If positivity rates hold we will reopen indoor dining at 25% capacity on Valentine's Day - February 14.

In addition to reduced capacity, mandatory safety guidelines will be in place.

— Andrew Cuomo (@NYGovCuomo) January 29, 2021
Today's update on the numbers:

Total COVID hospitalizations are at 8,357.

Of the 270,518 tests reported yesterday, 12,579 were positive (4.65% of total).

Sadly, there were 151 fatalities. pic.twitter.com/aZupkG3kr3

— Andrew Cuomo (@NYGovCuomo) January 29, 2021
The state is also lifting restrictions for wedding receptions, Cuomo said. Starting on March 15, the celebrations can have 50% capacity, up to 150 people, provided it's approved by the local health department and all patrons are tested, Cuomo said. The state is working on developing more capacity for rapid testing, he said.
Meanwhile, as the EU approves the AstraZeneca vaccine amid a major dispute over supplies (as some factories run by AZ have had unspecified difficulties meeting production targets), Germany is barring entry for travelers from areas where COVID mutations were identified (so far that's South Africa and the UK).
* * *
Regulators in Germany yesterday warned that the Pfizer-BioNTech vaccine shouldn't be administered to minors or those older than 64. It appears the comments have sparked some kind of a battle between European regulators, as the European Medicines Agency, the top medical regulator in the EU, tells the public that the Pfizer-BioNTech vaccine is safe for older people, as a Europe-wide review found, with no link between the shot and any kind of enhanced risk.
A Europe-wide review found no link between the shot and the deaths of elderly people exposed to the vaccine. However, the EMA review found no new side effects.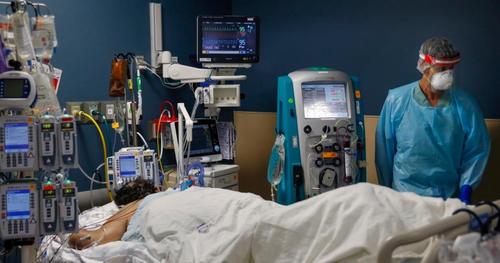 In the US, JNJ released its first COVID vaccine data, while its chief scientific officer, Dr. Paul Stoffels, appeared on CNBC to confirm that the company plans to apply for emergency-use approval in the US immediately, and hopes to have supplies of the vaccine being doled out within weeks.
But nevertheless, new cases and hospitalizations are already starting to decline, as new cases reported in the US were under 156K yesterday, while hospitalizations fell by 3K, with big declines across the major outbreak states.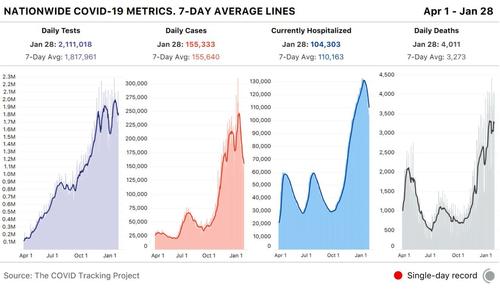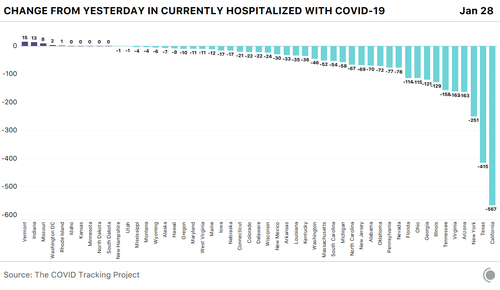 In other news, the WHO team finally made its way to Wuhan on Friday, and visited the Hubei Provincial Hospital of Integrated Chinese and Western Medicine, where many early cases of the virus were located.
Zhang Jixian, director of the hospital's department of respiratory and critical care, has been described by Chinese state media as the first to report the virus after examining an elderly couple in late 2019 whose CT scans showed differences from typical pneumonia.
With vaccines a big topic again Friday morning following the Novavax news Thursday night and the JNJ news Friday morning, WHO's CoVax program said it plans to ship enough vaccines to cover 3% of the population of the developing world as of Friday.
In Japan, the governors of Tokyo and its three neighboring prefectures of Kanagawa, Chiba and Saitama have agreed to consider asking restaurants and bars to shut down operations if the central government decides to extend the monthlong COVID-19 state of emergency beyond Feb. 7. The local governments are considering asking them to close early. Tokyo just reported 868 new infections, down from 1,064 a day earlier, as the capital tries to slow the spread of the virus.
Thailand's tourism industry is now being hit with a number of business closures and job losses as it suffers through yet another wave of COVID-19 infections while pleading with the government for aid. At least 1MM workers in the country's hospitality sector have been laid off so far, according to one trade group.
India, meanwhile, reported 18.9K cases over the past 24 hours, up from 11.7K the previous day, bringing the country total to 10.72MM. It also reported 163 deaths due to the virus, bringing the country's total confirmed deaths to 154K. Meanwhile, India has vaccinated about 2.93MM people against COVID-19 since it started vaccinations on Jan. 16.
Here's some more COVID-19 news from overnight:
The Serum Institute of India, the world's biggest vaccine maker, has applied with local authorities for permission to conduct a small domestic trial of Novavax's COVID-19 vaccine (Source: Nikkei).
South Korea has delayed until Sunday any easing of social distancing measures because outbreaks involving mission schools are threatening to undermine efforts to keep new infections under control ahead of the Lunar New Year holidays (Source: Nikkei).
China reports 52 new infections for Thursday, down from 54 cases a day earlier. Of the new ones, 36 were locally transmitted infections. Asymptomatic cases, which China does not classify as confirmed COVID-19 cases, rose to 42 from 28 a day earlier (Source: Nikkei).
* * *
As we first reported yesterday, now that cases of the South African variant have found their way to the US, there's about to be a lot more talk about the 501. V2 variant/mutant, especially now that the latest vaccine data from JNJ has confirmed what Moderna's follow-up study appeared to suggest: vaccines aren't nearly as effective against the mutating virus as public health officials have promised.