---
US Reports Most COVID Deaths In A Year As Danish & Dutch Ditch Restrictions Despite Rising Cases
As the omicron wave continues to infect thousands of people around the world, the number of daily deaths recorded in the US has just risen to the highest level in a year. According to data from Johns Hopkins, the 7-day average for newly reported COVID deaths reached roughly 2,200 a day, up about 1K from last fall.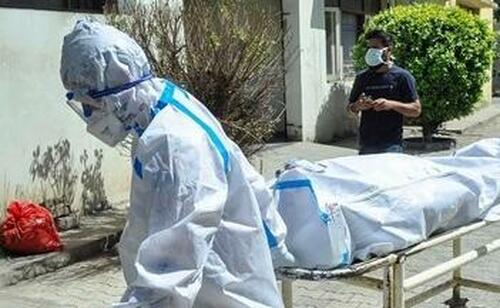 That's higher than the most recent near-term peak (just above 2,100 in late September), but still well below the record levels from last winter, when deaths reached a daily average of 3,400.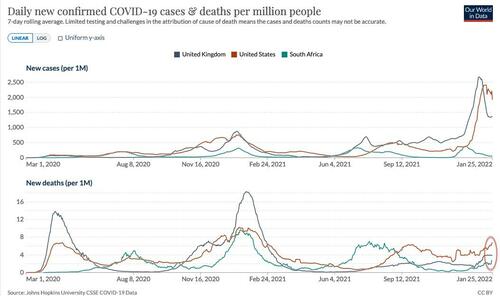 Meanwhile, the number of cases being reported daily in the US has sunk back to a 7-day average just above 200K, well below the million-plus daily numbers from earlier this year.
Globally, the number of cases and deaths reported daily continue to rise, even as a handful of countries including the US, UK and South Africa are starting to see a lasting decline in the intensity of the pandemic.
While the omicron variant is believed to be more mild than its predecessor, delta, the variant spreads among humans much more quickly. Because of this, there's always the possibility that the number of severe cases might jump as the number of overall infections explodes.
"You can have a disease that is for any particular person less deadly than another, like Omicron, but if it is more infectious and reaches more people, then you're more likely to have a lot of deaths," said Robert Anderson, chief of the mortality-statistics branch at the National Center for Health Statistics, which is part of the Centers for Disease Control and Prevention.
Earlier this month, a team of forecasters warned about a pending uptick in deaths that could drive the US to eclipse 1M COVID deaths by the spring (currently, the US has recorded just over 872K deaths of patients infected with COVID).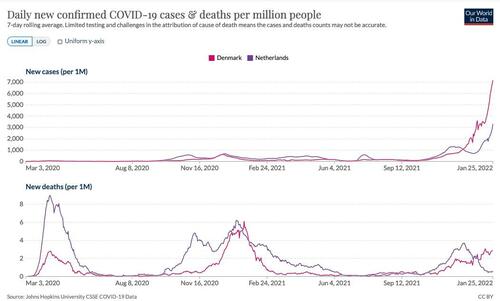 Of course, while Americans like to complain about the state of things, blaming Republicans and the minority who refuse to accept COVID shots, the situation south of the border in Mexico, which never resorted to lockdowns, or any federal COVID restrictions, is objectively far more dire. According to the latest FT report on the situation, Mexico suffered 600,000 excess deaths last year. The paper went on to blame the country's approach, which it said relied almost entirely on vaccines. As a result, 63% of Mexicans are fully vaxxed, slightly higher than the 60% global average.
In Denmark and the Netherlands, governments are relaxing their COVID measures, even as the number of newly reported cases has remained robust. The Netherlands, the only European country to go into lockdown following the arrival of the omicron variant, will relax many of its COVID measures starting Wednesday.
"We are dealing with an extraordinary amount of infections … yet still, we decided to take some steps to reopen," Health Minister Ernst Kuipers said Tuesday, referring to an average of 52,000 daily positive cases over the last seven days in a country of 17.5 million, according to figures from the Dutch agency for infectious diseases (RIVM).

"Keeping the most restrictive measures in effect for much longer damages our health and our society," Kuipers said.
As a result, Dutch restaurants, bars and cultural venues will be allowed to remain open until 2200 local time after having been closed entirely since Dec. 19. However, patrons will still be required to show proof of vaccination, recovery, or a negative test result.
In Denmark, a commission of health advisors has officially recommended that most COVID restrictions in the country be ended on Jan. 31. Yet, entry test and isolation rules governing travel to Denmark will be extended. Face mask use at hospitals and in elderly care should continue, the advisors said. Danish Prime Minister Mette Frederiksen is expected to make an announcement on Wednesday.