---
"Use It Or Lose It" - New White House Policy Pressures States To Ensure Vaccine Adoption
As states resort to cash rewards and other tactics to try and encourage reluctant (or just plain lazy) adults to get their COVID-19 jabs, the White House on Tuesday just upped the pressure, warning the (mostly red) states that have lagged in the vaccine rollout in recent weeks that the federal government will start allocating unordered vaccines to other states.
The Washington Post described the change in policy as "the most significant shift in domestic vaccine distribution" since Biden took office, and "part of an effort to account" for flagging demand in parts of the country.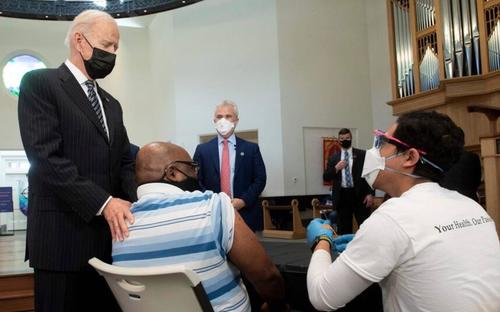 According to the new plan, each state's share of the total US adult population will still determine weekly allocations.
But instead of allowing unordered doses to carry over week-to-week, the White House will instead steer untapped vaccines into a federal bank available to states where demand continues to outstrip supply. Those states will be able to order up to 50% above their weekly allocation.
The "use it or lose it" strategy could put more pressure on states to make sure their citizens accept the vaccines, even prompting them to try different strategies, like abandoning mass vaccination sites in favor of sending jabs to small private practices where patients can receive the vaccine from their regular doctor. Doctors have been mulling these alternative distribution strategies, warning that it could increase the costs associated with mass vaccination. However, in order to reach the 70% threshold for artificial herd immunity, there might not be another option.
Last week, Arkansas declined its entire allotment of COVID-19 jabs as demand ebbed. States in the deep south have reported the fewest vaccinations per capita in recent weeks, leading the national pull back as the US reports roughly 2MM vaccinations per day, roughly half of the 4MM at the peak.
Just before leaving office, President Trump and his administration had settled on an incentive plan that would have rewarded states that used up their vaccine allotments with more jabs. However, President Biden scrapped that plan because his team worried about the political optics.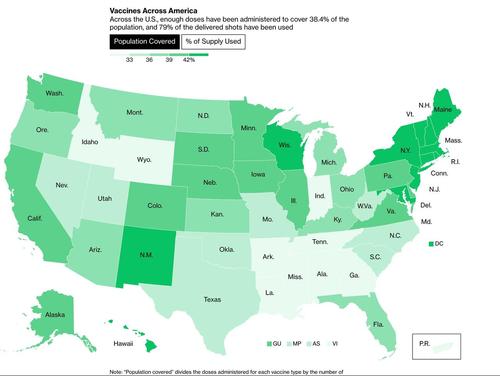 Source: Bloomberg
As part of the new policy, pharmacies will have more control over the redistribution of doses, which in theory should help states redistribute supply to areas where demand is greatest.
Guidelines for the federal program had made 80% of the supply going to pharmacies tethered to a state's population and the other 20% available for pharmacies to reallocate. Moving forward, only a majority of the supply will be based on a state's population, and pharmacies will have discretion over as much as 49%.