---
Washington Plans To Start Lifting International Travel Restrictions In 2 Months
As New York prepares to re-start outdoor concerts, and baseball's opening day looms, it looks like the Biden Administration is finally ready to offer the first reopening guidelines. According to media reports, the administration is preparing to start lifting restrictions on international travel in mid-May.
CNBC reports that Biden is preparing to relax restrictions on travel across the borders with Mexico and Canada and on inbound international travel from the UK, Europe and Brazil.
The financial news channel's sources said there hasn't been a policy memo or formal codification of that timeframe - at least, not yet. But presently, the discussion has centered around trying to limit the spread of variants domestically as localities make their own decisions on how quickly to reopen.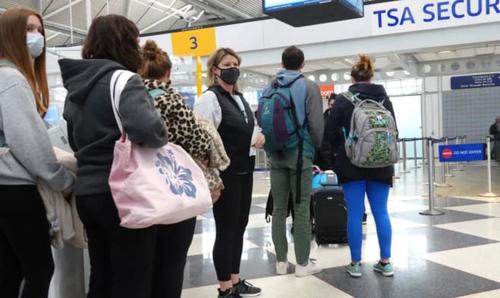 However, some officials have suggested President Joe Biden and his COVID task force need more time to feel comfortable with reopening borders and increasing the level of air traffic from overseas.
And now that the EMA has officially re-declared the AstraZeneca vaccine to be "safe", clearing the way for approval in the US (Biden's press secretary said the US already has 7MM doses of the jab stockpiled) "There is going to be a sea change in mid-May when vaccines are more widely available to everyone," one senior administration official said.
Recently, the Department of Homeland Security announced a one-month extension of a ban on land crossings at the borders with Canada and Mexico until April 21. Though that apparently doesn't apply to the surge in migrants crossing the border illegally.
Mid-May would mean the restrictions will likely be extended at least once more, as mid-May is 2 months away.
Even CNBC acknowledges that the volume of unaccompanied minors surging over the border is overwhelming shelters, while the number of adults apprehended crossing the border is set to reach 20-year highs. The US has been pushing Mexico to do more to control the flow of migration, and in turn, Mexican President AMLO has slammed Joe Biden for rolling back some of Trump's border policies.
Ironically, Canada insists that when it comes to the northern border, the shoe is on the other foot, as Ottawa has reportedly been pushing Washington to delay reopening the border until vaccination levels have risen even higher.
Even Biden's own press secretary has warned that now is not the time to lift travel restrictions given the spread of mutated COVID strains which experts fear could trigger another wave of rising infection and fatality numbers.
Before leaving office, former President Donald Trump lifted restrictions on inbound travel from allied countries, even as the United States was experiencing a surge in cases, hospitalizations and deaths. Biden reinstated the restrictions during his first week in office