---
Watch: CDC Director Suggests It Will Never Change Child-Masking Policy
Authored by Steve Watson via Summit News,
CDC Director Rochelle Walensky suggested during congressional testimony Tuesday that the organisation will never change its policy on masking for children, despite multiple studies showing that the face coverings do nothing to stop the spread of COVID.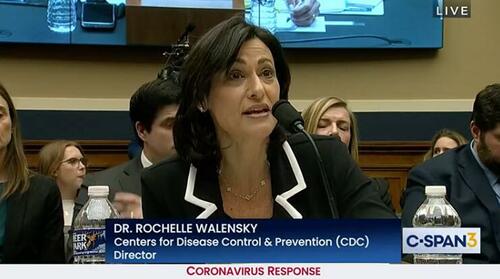 During a hearing in the House on the government's response to the pandemic, Rep. Cathy McMorris Rodgers asked Walensky if the CDC is going to consider revising its guidance on masking in schools (which is still happening in many areas of the country) in the wake of perhaps the most extensive study yet confirming that masks are not effective.
The study, published in the peer-reviewed Cochrane Database of Systematic Reviews, is the strongest science to date refuting the basis for mask mandates worldwide.
Massive Peer-Reviewed Mask Study Shows 'Little To No Difference' In Preventing COVID, Flu Infection
The CDC still recommends masking in areas with "high" rates of transmission (fewer than 4% of US counties, as Just the News notes), along with indoor masking in areas with "medium" rates of transmission (27%).
Walensky effectively dismissed the Cochrane review, claiming the study "only includes randomised clinical trials," and that those trials were "for other respiratory viruses, not COVID 19."
She continued, "Our guidance for school-based masking is related to our COVID-19 community levels. Unfortunately, we're in a place now in this country where most of our country is in green or yellow. Has low to moderate transmission communicable levels. And in those communities we don't recommend masking. We recommend it for high level communities."
Then came the kicker, as the CDC head stated "our masking guidance doesn't really change with time. It changes with the disease."
When asked if the CDC will revise its guidance to mandate masks in schools in light of the Cochrane review showing masks do not curb COVID, CDC Director Walensky tells Congress its advice on child masking will never change. "Our masking guidance doesn't really change with time." pic.twitter.com/TwjZpN3jEl

— Michael P Senger (@MichaelPSenger) February 14, 2023
Given that COVID isn't going to just go away, this appears to suggest that the CDC isn't going to do away with masking… perhaps ever.
Author: Your Grandkids Will Still be Wearing Masks in 2050
*  *  *
Brand new merch now available! Get it at https://www.pjwshop.com/
In the age of mass Silicon Valley censorship It is crucial that we stay in touch. We need you to sign up for our free newsletter here. Support our sponsor – Turbo Force – a supercharged boost of clean energy without the comedown. Also, we urgently need your financial support here.
Loading...