---
Western Europe Sees Alarming Uptick In COVID Cases
The other day we noted that the US had encountered signs gleaned from wastewater samples taken across the country that COVID cases might be on the rise after weeks of steady declines that recently prompted authorities to start dialing back pandemic-era requirements. 
But China and the US aren't the only places where case numbers have started to rise. A surge in coronavirus infections in western Europe has experts and health authorities on alert for another wave of the pandemic in the US even as most of the country has done away with restrictions after a sharp decline in cases. 
Experts in Europe claim that the strain they're seeing is a mutated form of omicron. It's a subvariant known as BA. 2, which appears to be more transmissible than the original strain, BA. 1, and is fueling the outbreak overseas.
Germany, a nation of 83 million people, recorded roughly 250,000 new cases and 249 deaths last Friday, prompting Health Minister Karl Lauterbach to call the nation's situation "critical."
But despite this, Germany is still allowing most coronavirus restrictions to end Sunday. The UK had a seven-day average of 65,894 cases and 79 deaths as of Sunday, according to the Johns Hopkins University Coronavirus Research Center. The Netherlands, home to fewer than 18 million people, was averaging more than 60,000 cases the same day.
All told, roughly a dozen nations are seeing spikes in coronavirus infections caused by BA. 2, a cousin of omicron, which is known as BA. 1. Over the past two years, outbreaks in Europe have typically been followed by outbreaks in the US.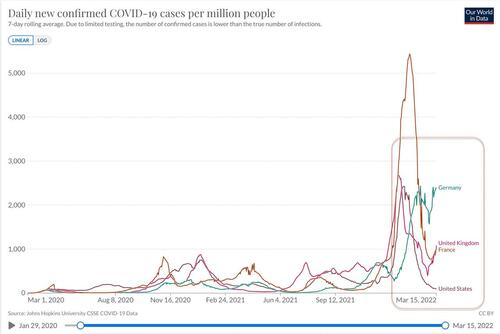 So far, BA. 2 appears to be spreading more slowly in the US than it has overseas, for reasons that aren't entirely clear, Debbie Dowell, chief medical officer for the CDC's COVID response, said in a briefing for clinicians sponsored by the Infectious Diseases Society of America Saturday.
But as far as Europe is concerned, if cases continue to rise, how long before the ECB considers reversing course on its tightening of monetary policy?
Loading...