---
World Nears 90MM COVID Cases As US Suffers Worst Week Yet: Live Updates
Summary:
World nears 90MM cases
US sees worst week yet
Record almost 22K deaths reported in US last week
California still worst hit state
Iran suffers 71 deaths
Poland reports 177 new deaths
Japan finds new mutant strain
* * *
With the world on the cusp of passing 90MM cases (the tally was 89.7MM as of Sunday morning in New York), the US is finally starting to see new cases move off their record highs. On Saturday, the US reported 262K new virus cases, down slightly from tallies earlier in the week.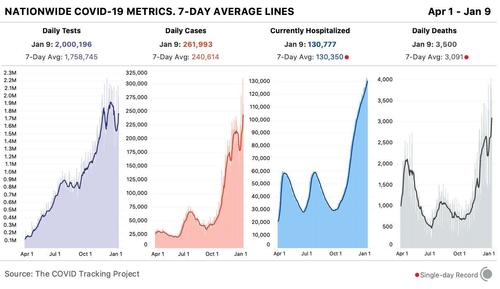 In the US, the past week saw more new cases, deaths and hospitalizations than any prior week during the US outbreak.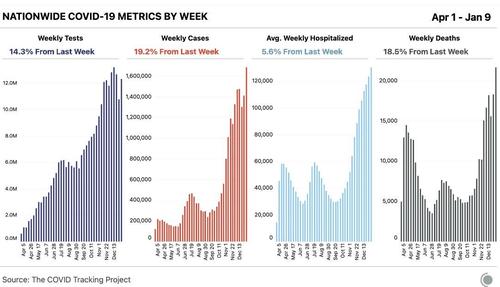 The record 21,752 deaths over the past week were reported across the US.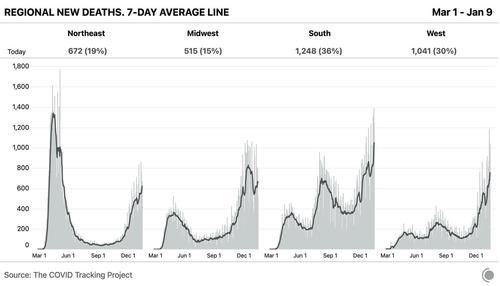 California remains in a dire state, reporting more than 40K new cases a day (almost as much as the UK is reporting daily)with more than 400 new deaths. Hospitals, especially in the southern part of the state, are badly overcrowded, and ambulances are still sometimes left waiting for hours.
Here's some more COVID news overnight:
Iran recorded 71 deaths from Covid-19 over the last 24 hours, its lowest daily toll since June 13. The number of daily new cases rose to 5,968 from 5,924 on Saturday. The country now has 56,171 coronavirus fatalities in 1,286,406 confirmed infections, the Health Ministry reported (Source: Bloomberg).
Four in five Germans think the Covid lockdown measures are appropriate or should be strengthened (56% and 25%, respectively), according to a survey commissioned by Bild am Sonntag (Source: Bloomberg).
An online car hailing platform of DiDi Chuxing was fined 340,000 yuan ($53,000) for failing to implement the government's requirements on coronavirus prevention, the Beijing Municipal Commission of Transport said at a briefing Sunday (Source: Bloomberg).
Poland reported 177 new Covid deaths on Sunday, with 9,410 new coronavirus cases recorded. The country has already vaccinated more than 200,000 people and is planning shots for a further 250,000 in the week to come, which would take inoculations beyond 1% of Poland's population (Source: Bloomberg).
* * *
Finally, another big story today comes out of Japan, where a new mutant strain has been discovered that might be just as infectious as the strains discovered in South Africa and the UK.