---
Biden Mulls New Regulations On Crypto Via Executive Order; May Hire 'Crypto Czar'
As the Biden Admin and SEC push to regulate stablecoins (amid intensifying speculation that tether, one of the most popular stablecoins, is a giant Ponzi scheme) and other aspects of the crypto market, while the DoJ launches new initiatives to combat any crypto-related crime, the White House is reportedly weighing whether to use an executive order to set up a new federal regulatory framework for the fast-growing market. It's also reportedly exploring the possibility of appointing a crypto czar.
According to Bloomberg, the draft directive from the White House "is part of an effort... to craft a sweeping strategy for digital tokens, which have become a growing concern for regulators as they've become wildly popular with average Americans."
Here's more:
The Biden administration is weighing an executive order on cryptocurrencies as part of an effort to set up a government-wide approach to the white-hot asset class, according to people familiar with the matter.

The proposed directive would charge federal agencies to study and offer recommendations on relevant areas of crypto -- touching on financial regulation, economic innovation and national security, said the people, who asked not to be named discussing plans that are still under consideration.

The initiative will also aim to coordinate agencies' work on digital currencies throughout the executive branch, the people said. The plan would push departments that have given scant attention to crypto to focus on it. Officials have also considered appointing a White House crypto czar to act as a point person on the issue, one person said.
Crypto prices wavered in the wake of the headline, but have since turned lower, potentially suggesting that the market sees this as the latest confirmation that the SEC and federal regulators are planning a new framework of rules, conditions and taxes that would help further bind bitcoin to the financial establishment, or "stifle innovation", as some have warned might happen, even if it ultimately welcome news as it takes a full-blown ban off the table.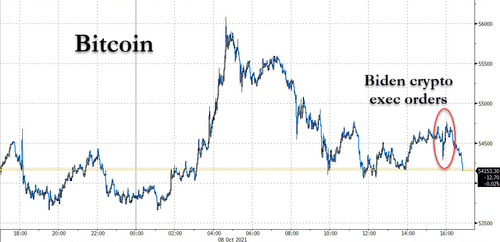 Meanwhile, in recent days, crypto prices have been rallying, partly on the hope of more institutional demand as well as speculation of an imminent bitcoin futures ETFs.
Just the other day, Citadel's Ken Griffin said his firm would get involved in market-making for crypto and bitcoin if it were regulated, though he himself views it as a "jihad" against the sanctity of the dollar.
President Biden has taken an increasingly aggressive tone about crypto in the wake of several high-profile ransomware attacks. A final decision whether or not to release the order hasn't yet been made, but since BIden has already denounced crypto as a potential security threat, and regulators like the SEC's Gary Gensler tare asking a more hawkish tone on regulation, it's clear a framework for further regulation is likely coming. According to BBG, if it isn't implemented via executive order, the administration will craft the federal response in other ways.
Apparently, the draft order was inspired by behind-the-scenes jostling between agencies over who has jurisdiction over regulating everything about the fast-growing crypto market, from stablecoins to DeFi to good old fashioned no-KYC exchanges. Lobbyists for the nascent industry, meanwhile, are making their case for more limited regs, warning that too stringent of an approach could stifle innovation.
Right now, the White House is allowing federal policy on crypto to be led by the National Economic Council and the National Security Council (while the SEC and CFTC have also claimed responsibility to regulate).
The White House has encountered many roadblocks to forming a more coherent approach. And one of the biggest impediments is that there are no senior staffers with deep expertise about crypto who aren't conflicted by their own crypto holdings.
Take Tim Wu, a special assistant to the president: he has more than $1MM in various cryptocurrencies.
Tim Wu, a special assistant to the president for technology and competition policy has knowledge in the area, but is recused from working on crypto because of his personal holdings, which included between $1 million and $5 million in Bitcoin and as much as $250,000 in Filecoin as of when he filed his financial disclosures earlier this year.
As amusing as that is, crackdowns in China have shown that the prospect of new regulation and uncertainty surrounding it can be a negative for the price of crypto markets, which have been on a tear lately. And the fact that bitcoin mostly shrugged off this headline could suggest that the market may have finally moved past its worries about governments trying to undermine or suppress crypto.
The timing of the report is also interesting, since just yesterday, Republican Sen. Cynthia Lummis disclosed a stake in bitcoin between $50K and $100K, a report which came after the 45-day reporting deadline for financial transactions for lawmakers (her office blamed it on a "filing error"). The purchase was disclosed after Lummis and two other senators tried to insert an amendment into the Senate-passed infrastructure bill (which is awaiting passage in the House) that would have limited the definition of who qualifies as a crypto currency broker and the attendant tax liability.
Is Biden worried too many of his colleagues are getting rich of the crypto craze, and how will America's youth - the biggest adopters of cryptocurrencies - react at the next election if the Democrat president pushes to hard and sends prices plunging?