---
Bitcoin Crashes Below $50,000 To Critical Support
After coming within inches of $65,000 last week, Bitcoin has suffered two significant 'liquidation' events and broke back below $50,000 overnight for the first time since March 8th...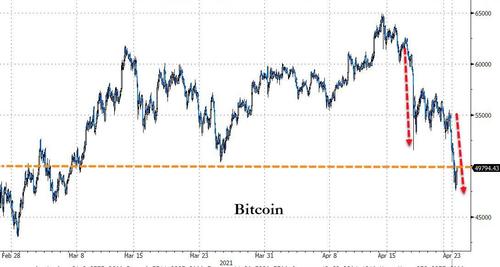 Source: Bloomberg
Various factors were being pitched as the impetus for the latest round of price losses, these including CME futures now trading below spot price as bearishness enters, as well as a negative Coinbase premium.
Bitcoin is down around 27% from its highs as traders were unsure if Biden's newly-leaked capital gains tax increases were a trigger for selling, or a positive for the crypto-lending business and implicitly supportive of bitcoin.
"There is a lot of new capital that has entered the market, some investors are still on edge and unverified negative news can cause a lot of short-term damage. That is what we are seeing," Charles Storry, head of growth at DeFi index provider Phuture, told Decrypt. 
However, the plunge in price has merely  recentered Bitcoin's price to its stock-to-flow model (in a similar manner to what occurred in January).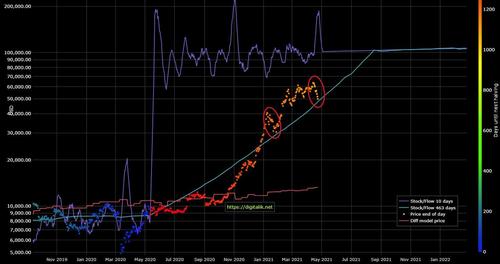 As CoinTelegraph notes, this means bitcoin is no longer "front-running" stock-to-flow, which is traditionally a highly accurate price forecasting tool. 
"I am sort of relieved btc price is now under s2f model value again," he wrote in a conversation with "The Bitcoin Standard" author Saifedean Ammous, who called its predictions "astonishing."

"For a moment I thought that people were front running the model and that the supercycle had started. Now we are back to normal .. like clockwork."
The longer-term trend remains in place...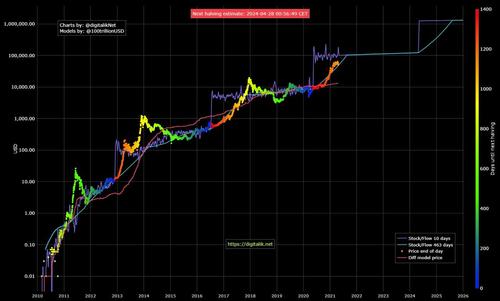 Ethereum also took a pounding, tumbling from fresh record highs above $2600 to $2100 overnight before dip-buyers stepped back in this morning...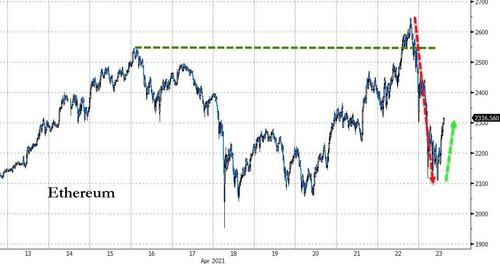 Source: Bloomberg
ETH continues to hold above February's relative BTC highs, at its strongest relative to bitcoin since Aug 2018...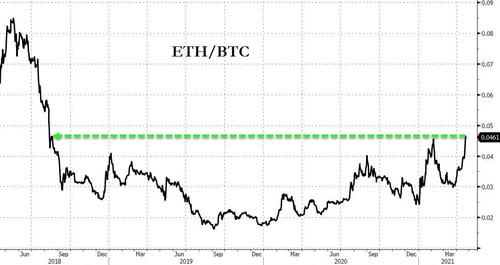 Source: Bloomberg
Of course, as CoinTelegraph reports, notorious gold bug and crypto-skeptic, Peter Schiiff, was also quick to comment on the market action, poking fun at Bitcoin proponent Anthony Pompliano.
Now that #Bitcoin is back below $50k I think it's time for @APompliano to tweet out $1k milestones on the way down the way he did on the way up.

— Peter Schiff (@PeterSchiff) April 23, 2021
Pompliano responded: "Bitcoin is up 600% in last year. Gold is up 3% in last year. No more tweeting until gold can beat inflation, Peter!" 
Twitter-user "Fintwit" also replied to Schiff, noting that "gold is up 0% since 2011."
The battle continues.