---
Bitcoin Hash Rate Plunged, Miners Curtailed Operations As Power Grids Overwhelmed During Arctic Blast
A major winter storm and arctic blast have claimed the lives of at least 37 deaths nationwide. Amid the sub-freezing temperatures across the Lower 48, crypto miners voluntarily cut or entirely shuttered operations to alleviate stress on struggling power grids. As a result, the Bitcoin mining hash rate plunged. 
According to Glassnode data, Bitcoin's hast rate tumbled to 156.36 EH/s on Dec. 24 from 252.98 EH/s on Dec. 21.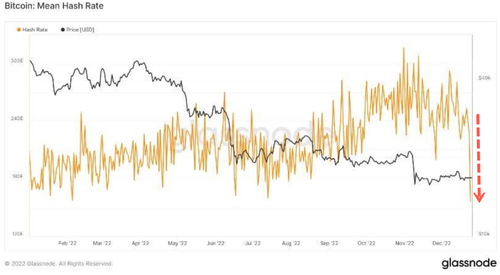 Over 30% of the #Bitcoin hashrate has gone offline due to extreme weather in Texas and yet the global #Bitcoin network continues to work perfectly.

Now imagine if Amazon or Google tried turning off 1/3rd of their data centers. pic.twitter.com/G49iqBZXDL

— Dennis Porter (@Dennis_Porter_) December 25, 2022
This was the most significant daily drop since summer.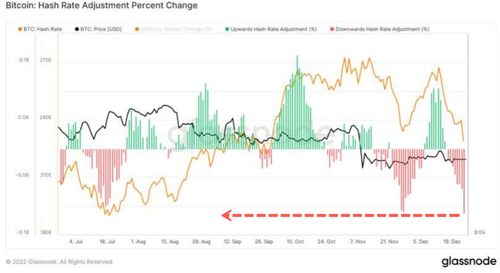 The plunging hash rate for Bitcoin indicates fewer mining operations were online to mine and process transactions on the blockchain network. Some of the miners that went offline were Riot Blockchain and Core Scientific. 
Due to extreme cold weather sweeping across the eastern and southern half of the US, we will be participating in multiple power curtailments to help stabilize the electrical grid. BTC production is expected to decrease during this time.

Wrap up and keep warm everyone. 🥶 pic.twitter.com/WGRgXp5tDB

— Core Scientific (@Core_Scientific) December 23, 2022
Lee Bratcher, president of the Texas Blockchain Council, wrote in a LinkedIn post that "99% of industrial-scale bitcoin mining load was off!" on Saturday morning as cold weather poured into much of Texas, as the state's grid operator was making sure there was adequate power capacity to meet demand. 
Satoshi Action Fund CEO Dennis Porter said the miners' curtailment in Texas proves they support the grid in times of stress. 
Bitcoin miners have once again voluntarily shut off power during an extreme weather event in Texas.

Bitcoin miners are good for the grid. pic.twitter.com/kpCzkZVeRM

— Dennis Porter (@Dennis_Porter_) December 24, 2022
For a more in-depth view of global crypto mining, Cambridge Bitcoin Electricity Consumption Index shows the US accounts for 38% of the average monthly hash rate share. Within the US, New York, Kentucky, Georgia, and Texas are some of the top mining states, many of which experienced power outages. 
As of Monday morning, power outages have declined across the eastern half of the US, and temperatures are warming slightly. Bitcoin's hash rate has also returned to 248 EH/s.

The hash rate is not the only metric that plunged (now recovered) for Bitcoin. Many crypto analysts on Twitter pointed out that Bitcoin market volatility is at the lowest in years. 
Bitcoin's volatility is at an all-time low pic.twitter.com/sGOIC7cM6e

— Will Clemente (@WClementeIII) December 25, 2022
$btc $btcusd

Bitcoin volatility is lower than 2018 just before the 6k break

GM pic.twitter.com/J974VEHlXP

— Coiner-Yadox (@Yodaskk) December 25, 2022
One popular technical indicator to estimate volatility is Bollinger Bands. The indicator shows Bitcoin trading range is narrowing, another indicator of a low volatility period, but that usually precedes a new trend.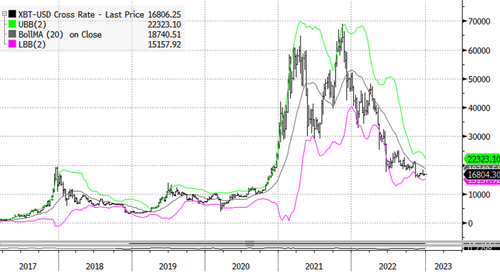 Bitcoin is trading around $16,800 this morning. 
Loading...