---
Bitcoin Nears $42k, Ethereum Up 70% In 2021
After topping $40k yesterday, and immediately plunging over $2,000, buyers have been ebullient since, lifting the largest cryptocurrency up near $42,000 this morning...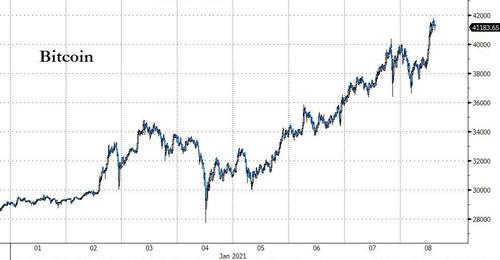 Source: Bloomberg
"Seems we only dump to shake out the weak hands these days," a popular social media trader summarized on the day.
Bitcoin has pushed notably above its 'stock-to-flow' fair value in recent days...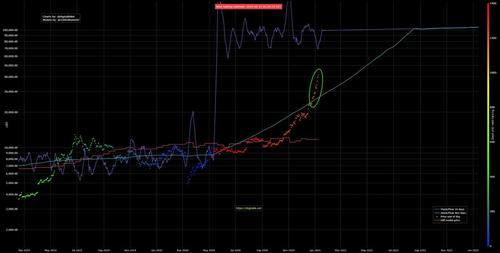 "We are seeing a continued demand spike driven largely by sustained and unprecedented institutional interest, showing no sign of abating as we move into 2021," said Frank Spiteri of digital asset manager CoinShares.
Prompting some to question the short-term performance:
"Fundamentals have gone out the window and irrational exuberance may accelerate bitcoin past the $50k level ahead of the second schedule," Jehan Chu, CEO at Hong Kong-based trading firm Kenetic Capital, told CoinDesk.
And it's not just Bitcoin, Ethereum is soaring back towartds its record highs...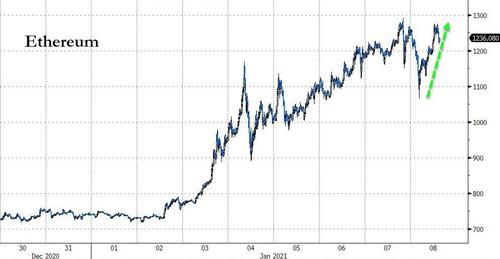 Source: Bloomberg
Google Trends reveals that the number of Google searches currently being performed for "Ethereum" is at an all-time high, eclipsing search interest during the height of the last ETH bull run.
Google Trends Worldwide Search Interest for #Ethereum projected to reach an all-time high: pic.twitter.com/oisOk9HhoD

— Michael Vincent (@mmichaels_21) January 7, 2021
And overall, Ethereum is 2021's best performer...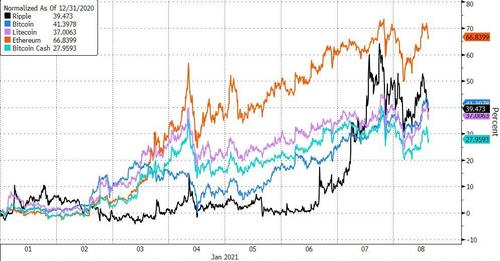 Source: Bloomberg
Amid the strongest week for Crypto overall since late 2017...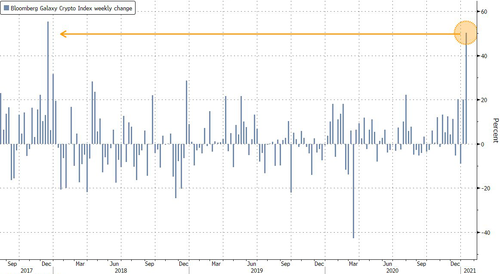 The driving force? Grayscale said pensions and endowments are starting to buy"
"We've started to see participation not just from the hedge fund segment, which we've long seen participation from, but now it's recently from other institutions, pensions and endowments," Michael Sonnenshein, who was named successor to founder Barry Silbert on Thursday, said in an interview.

"The sizes of allocations they are making are growing rapidly as well."
Bank of America investment strategists on Friday said "violent" inflationary price action in markets helped bitcoin's rally in the last two months.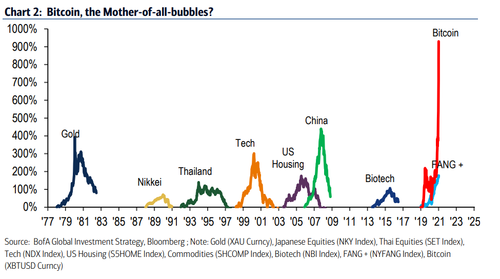 But it warned that the cryptocurrency "blows-the-doors-off prior bubbles", such as the dotcom bubble in the late 1990s, China in the 2000s and gold in the 1970s.