---
Bitcoin Nears $63k As ProShares Signals ETF Launch Imminent, Dorsey Plans Mining System
Update (1650ET): Confirming the earlier headlines that set the stage for a Bitcoin (futures) ETF to start trading next week, Bloomberg's James Seyffart tweeted that Proshares' 8A just hit which registers the ETF's shares with the SEC for trading on an exchange.
If anyone needs more evidence that this is happening on Tuesday. Proshares' 8A just hit which registers the ETF's shares with the SEC for trading on an exchange. pic.twitter.com/Idp6cm4qet

— James Seyffart (@JSeyff) October 15, 2021
Additionally, ETFStore President Nate Geraci told CoinDesk that the form is "a step forward" for digital assets and bridging them with the more traditional financial sector. He confirmed that the filing of a post-effective amendment is confirmation of the SEC's tacit approval.
"It's an encouraging sign for the future of crypto to see SEC Chairman Gensler get comfortable in helping mainstream investors more easily access bitcoin exposure," he said in an email.

"The availability of a bitcoin ETF will now bring more investors under the crypto tent and facilitate greater education across the space."
As UBS warned in its latest Crypto Compasss, so as not to tempt fate, one veteran investor offered the tongue-in-cheek observation that anticipated SEC approval for a futures-based ETF may mark a local top in prices, much like the Coinbase IPO, per the old adage: "buy the rumour, sell the fact."
The same thing occurred on the exact day that BTC futures debuted on the CME on December 17, 2017. We wouldn't bank on it but also wouldn't be surprised to see such a milestone marking the point where some long-term dip buyers begin to lighten up. They have been accumulating steadily for the past seven months.
But, options markets are signaling a lot of upside still for BTC (and positive gamma)...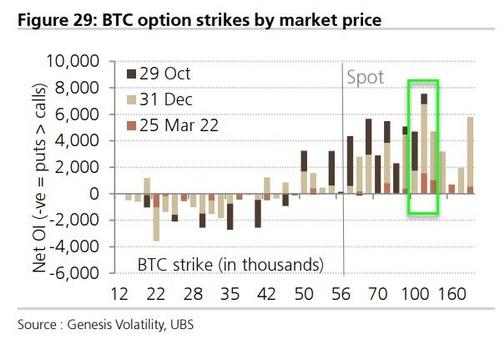 However, UBS notes that stablecoin intervention is a more potent threat, with authorities actively throwing sand in the wheels of further development. 
*  *  *
Update (1635ET): Square (and Twitter) CEO Jack Dorsey has been a long-time advocate for cryptocurrencies and this evening he tweeted about his latest plans to create a Bitcoin mining system:
Square is considering building a Bitcoin mining system based on custom silicon and open source for individuals and businesses worldwide. If we do this, we'd follow our hardware wallet model: build in the open in collaboration with the community. First some thoughts and questions.

— jack⚡️ (@jack) October 15, 2021
As he detailed in a brief thread:
1/ Mining needs to be more distributed. The core job of a miner is to securely settle transactions without the need for trusted 3rd parties. This is critical well after the last bitcoin is mined. The more decentralized this is, the more resilient the Bitcoin network becomes. True? 

2/ Mining needs to be more efficient. Driving towards clean and efficient energy use is great for Bitcoin's economics, impact, and scalability. Energy is a system-level problem that requires innovation in silicon, software, and integration. What are the largest opportunities here? 

3/ Silicon design is too concentrated into a few companies. This means supply is likely overly constrained. Silicon development is very expensive, requires long term investment, and is best coupled tightly with software and system design. Why aren't more companies doing this work? 

4/ There isn't enough focus on vertical integration. Considering hardware, software, productization, and distribution requires accountability for delivering to an end customer vs improving a single technology in the chain. Does seeing this as a single system improve accessibility? 

5/ Mining isn't accessible to everyone. Bitcoin mining should be as easy as plugging a rig into a power source. There isn't enough incentive today for individuals to overcome the complexity of running a miner for themselves. What are the biggest barriers for people running miners? 

Our team led by @JesseDorogusker will start the deep technical investigation required to take on this project. We'd love your thoughts, ideas, concerns, and collaboration. Should we do this? Why or why not? We'll update this thread as we make our decisions. And now over to Jesse. 
That headline was enough to push Bitcoin even higher on the day, nearing $63k at its peak...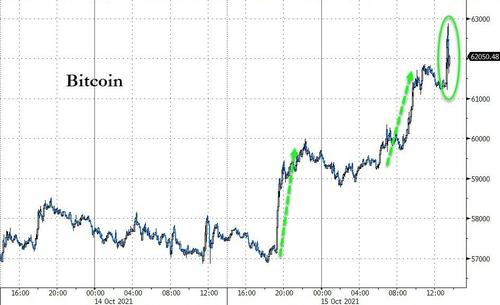 *  *  *
Cryptos are all rallying this morning but Bitcoin is making headlines as it broke back above the $60,000 level for the first since April...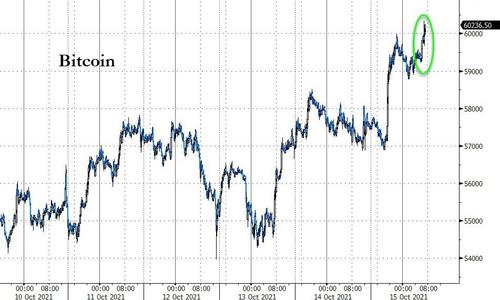 Source: Bloomberg
This has extended a recent run from around $40,000 which has been driven by increasingly optimistic signs of a Bitcoin ETF being imminent...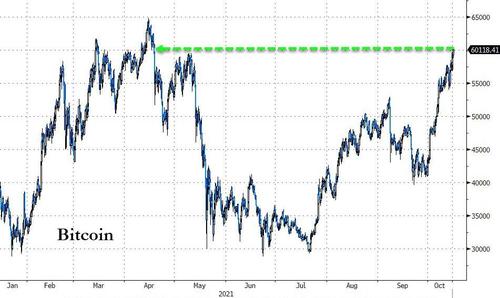 Source: Bloomberg
This has pushed Bitcoin back up to be the world's 8th largest asset (just below that of Silver), and well above $1 trillion market cap...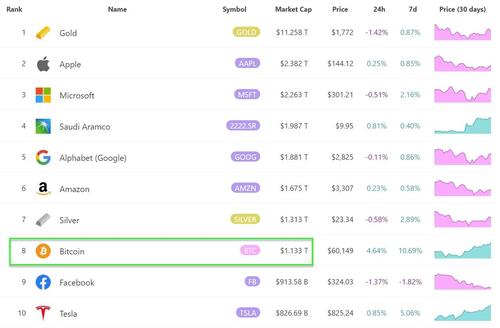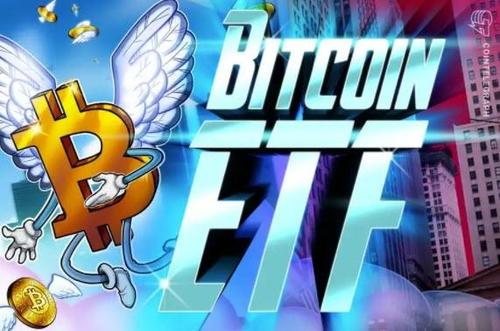 Citing "people familiar with the matter," Bloomberg has reported that the United States Securities and Exchange Commission is poised to approve the first Bitcoin futures ETFs in the country.
The anonymous sources said:
"The regulator isn't likely to block the products from starting to trade next week."
Bloomberg's Eric Balchunas recently laid out his odds for which of the numerous ETF proposals will be accepted first...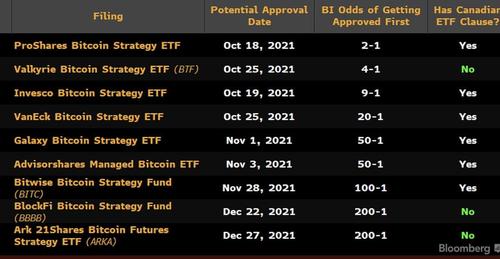 And for those in the "digital gold" camp, this analog from the '70s is interesting. CoinTelegraph reports that Austrian investor and analyst Niko Jilch this week referenced famed investor Paul Tudor Jones while explaining the "excitement" over the Bitcoin ETF.
Tudor Jones had previously highlighted Bitcoin's cycles being similar to gold in the 1970s — just when it had become a futures product itself and enjoyed a 10-year bull run followed by a 50% correction.
Gold's 1970s rip, TechDev additionally noted, fits extremely neatly over Bitcoin's performance since October 2020.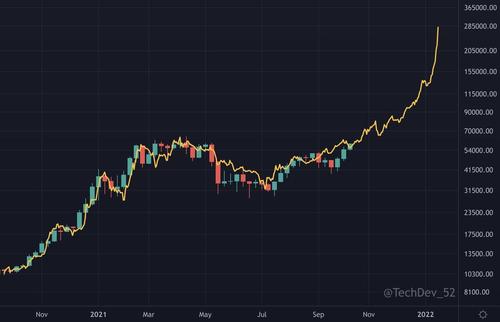 Finally, not to be forgotten, Ethereum is holding above $3800...