---
Brevan Howard Joins Crypto Craze In Main $5.6 Billion Fund
Four months ago, Eric Peters, CIO Of One River Asset Management, executed a $600 million purchase of bitcoin, then the largest public transaction to date, with the blessing of Brevan Howard's Alan Howard (the firm recently acquired a 25% stake in One River Asset Management).
At the time, we noted that Howard was playing a number of supporting roles. In addition to investing in One River Digital's funds, he's also buying a stake in the business. A company he controls, Elwood Asset Management, is providing One River Digital with trading services, market analysis and technical support.
On a side note, another investor with One River Digital, Ruffer LLP - the fund that is the home of infamous VIX whale '50-cent' -  disclosed a 2.5% position in Bitcoin in one of its funds, describing it as "a small but potent insurance policy against the continuing devaluation of the world's major currencies."
In addition, two weeks ago, former SEC Chairman Jay Clayton confirmed he will advise One River Asset Management on cryptocurrencies.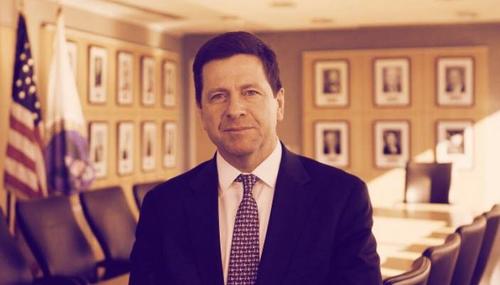 So, with all that background, it is perhaps not entirely surprising that Bloomberg is reporting, according to a person with knowledge of the matter, that Brevan Howard Asset Management is preparing to start investing in digital assets.
The firm led by Aron Landy will begin by investing up to 1.5% of its $5.6 billion main hedge fund in digital assets.
Brevan Howard, best known for its macro trading prowess, is in expansion mode following a record year of gains.
Interestingly as Brevan Howard joins the likes of Paul Tudor Jones and Marc Lasry in the crypto-space among many others, we are reminded that One River's Peters - with his links to Brevan Howard as detailed above - recently noted his preference for Ethereum, despite almost no one understanding what it is, now races toward becoming the foundation of a rearchitected global financial system.
...which may explain ETH's recent dramatic outperformance of BTC...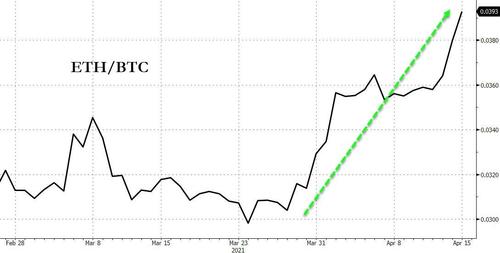 We give Peters the last word:
"The hostile pundits, of course, see manias in all things digital. But throughout human history, not a single bubble ever burst when virtually no one understood what was going on. Rather, that was when the fun had only just begun."
Trade accordingly.