---
Coinbase CEO Confirms $500 Million Crypto Added To Balance Sheet, Will Reinvest Profits
Back in January 2021, we detailed Morgan Stanley's aggressive expansion of its Microstrategy holdings (whose strategy has shifted towards crypto when it became the first publicly-traded company to convert a substantial portion of its cash holdings to bitcoin), noting that it may be the catalyst that unlocks Bitcoin's door to rapidly crossing the psychological $100,000 level next.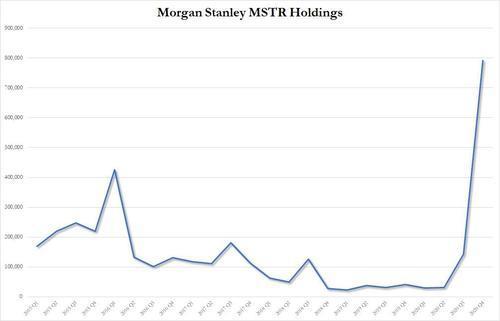 Whereas share buyback announcements pump stock prices higher (whether they are buying them or not) as other front-run the C-suite, Crypto-purchases (on to corporate balance sheets) will create a more aggressive function by keeping cryptos elevated with shorts increasingly uncertain when the next huge buying wave will lift the price of Bitcoin or Ethereum vertically (like today)...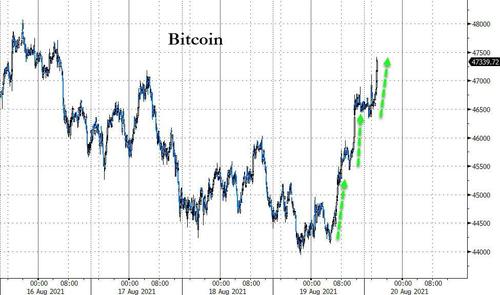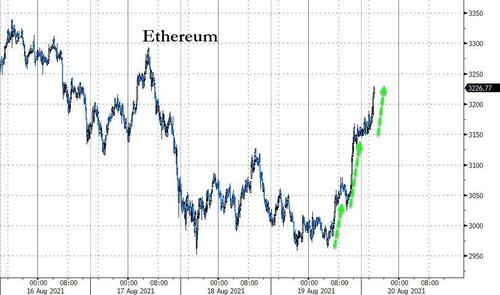 And today we see another entity more aggressively entering the crypto-purchasing wave.
As Decrypt.co's Jeff Benson reports, Coinbase CEO Brian Armstrong announced via Twitter today that the publicly traded cryptocurrency exchange received board approval to add $500 million of cryptocurrency assets to its balance sheet. Not just that, but it'll be placing 10% of all future profits into cryptocurrency.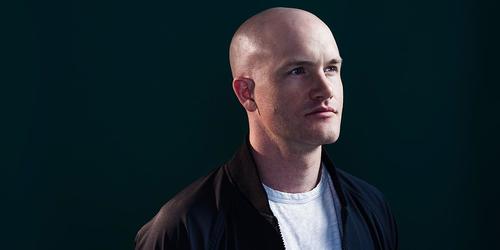 In February, as it prepared to go public via direct listing, Coinbase published an S-1 filing showing it held somewhere in the range of $365 million in crypto. Of that, $230 million was in Bitcoin, $53 million in Ethereum, $49 million in stablecoins, and $34 million in other crypto assets.
Though it was good enough to rank Coinbase fourth among all companies for Bitcoin holdings, two of the three firms ahead of it - cloud software firm MicroStrategy and electric automaker Tesla - bought their first BTC within the last year; Coinbase has been around since 2012.
Some thought a crypto-native company should have accrued more over that span, although accounting rules and treasury management principles may have made that imprudent.
We recently received board approval to purchase over $500M of crypto on our balance sheet to add to our existing holdings. And we'll be investing 10% of all profit going forward in crypto. I expect this percentage to keep growing over time as the cryptoeconomy matures.

— Brian Armstrong (@brian_armstrong) August 19, 2021
But back-to-back record quarterly profits, first of up to $800 million in Q1 and then $1.6 billion in Q2, have convinced Coinbase's board it has room to diversify its holdings.
The exchange, which makes most of its money from transaction fees, benefited from high trading volumes over the last quarter despite a crash in crypto prices, as Bitcoin slid from its perch above $60,000 all the way down to $30,000.
According to Armstrong, the company would like to gradually "operate more of our business in crypto." For now, he shared, "it is still a mix."
*  *  *
Coinbase's CFO, Alesia Hass, issued a more detailed statement via the company's blog:
We believe in the cryptoeconomy, a future where economic transactions — buying, selling, spending, earning — will be based on crypto assets. Our products strive to make that vision a reality by making crypto trusted and easy to use for customers around the world.

Today, the majority of Coinbase corporate financial transactions, such as how we pay our vendors, employees, or invest corporate cash, remain heavily weighted in fiat. We're in a strong position to lead by example and double down on how we can enable crypto adoption and utility, starting with how we operate our business.

Towards that goal, we are announcing a change in our investment policy. We have committed to invest $500M of our cash and cash equivalents. Going forward, we will also allocate 10% of quarterly net income into a diverse portfolio of crypto assets. This means we will become the first publicly traded company to hold Ethereum, Proof of Stake assets, DeFi tokens, and many other crypto assets supported for trading on our platform, in addition to Bitcoin, on our balance sheet.

Our crypto asset investment allocation will be driven by our aggregate custodial crypto balances — meaning our customers will drive our investment strategy. Our investments will be continually deployed over a multi-year window using a dollar cost averaging strategy. We are long term investors and will only divest under select circumstances, such as an asset delisting from our platform. All trades will be executed via our over the counter desk or away from our exchange to avoid any conflict of interest with our customers.

We may increase our allocation over time as the cryptoeconomy matures. We believe that in the future, more and more companies will hold crypto assets on their balance sheet. We hope by incorporating more crypto assets into our own corporate financial practices, we can take another step towards building a more open cryptoeconomy.