---
Coinbase Is Crashing... And Dragging The Market With it
Update (1500ET): COIN is crashing...
From its #381 open to its highs at almost $430, COIN is now back at $311... on its way to the $250 Reference Price.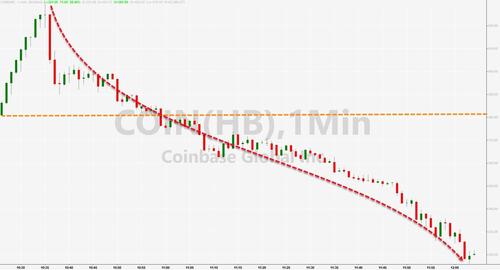 and dragging the market with it...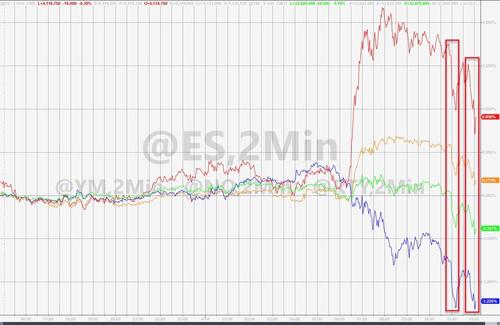 *  *  *
After setting its reference price at $250 overnight, which - given the 261.3 fully diluted shares outstanding, implied a market capitalization of $65 billion - Coinbase (ticker symbol COIN) just opened (via Direct Listing) at $381... implying a $100 billion valuation.
It was then panic-bid above $400...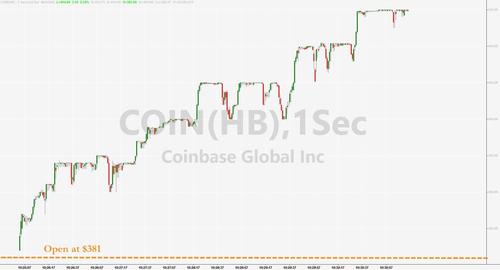 That's bigger than Vanguard, Fidelity, Zoom, and just shy of Target and Micron...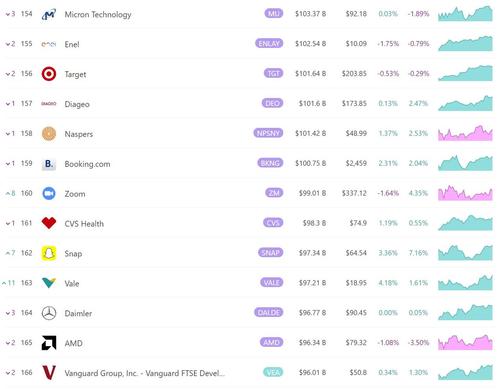 To top Goldman, COIN will have to trade at around $440.
That jump should not be a total surprise since, as CNBC notes, in the five significant direct listings that have taken place on the New York Stock Exchange - Spotify, Slack, Palantir, Asana and Roblox - the opening price was on average about 37% above the reference price.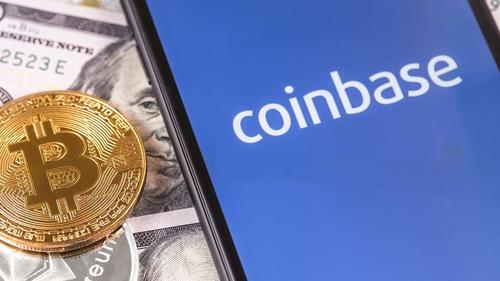 The offering will be the first major direct listing to take place on the Nasdaq.
MoffettNathanson's Lisa Ellis became the first analyst to initiate coverage of Coinbase with a buy rating and a $600 price target, calling the company a leader in the cryptocurrency ecosystem even as it sees 2021 as the peak year of the current cryptocurrency cycle, with COIN rev. $4.6b, up 260% y/y.
"We believe cryptocurrencies are one of the most innovative technologies in decades and will succeed, and Coinbase offers a pure expression of this trend," Ellis wrote in a note titled "Be Bloody, Bold, and Resolute," a quote from Shakespeare's Macbeth.
According to Ellis, the COIN price target is justified because it is comparable to companies in "hyper-growth" stages like Adyen, Shopify, Afterpay, Square; is also tracking crypto ETFs, which may dampen retail demand for standalone cryptocurrency brokerages like COIN.
Bitcoin slipped lower after the open in COIN trading.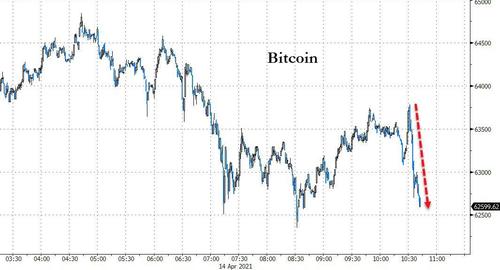 And perhaps even more notable, so-called bitcoin-proxies such as MicroStrategy, PayPal, Square, and Tesla are all down today...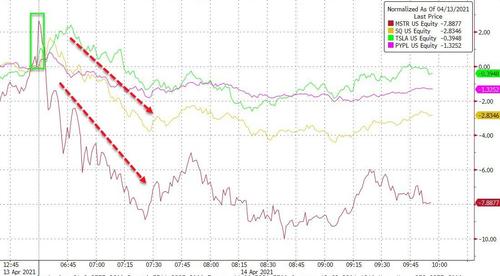 Source: Bloomberg
As investors prepare to rotate from those 'proxies' to COIN as a more direct proxy.
*  *  *
Here is Decrypt's Will Gottsegen with everything you wanted to know about Coinbase but were afraid to ask...
What is Coinbase?
Coinbase is a cryptocurrency exchange: a brokerage that lets users buy and sell digital assets like Bitcoin, Ethereum, and more. It was founded in 2012 by Brian Armstrong as part of the accelerator program Y Combinator. With help from prominent investors like Fred Wilson and Marc Andreessen, it's grown into the largest crypto exchange in America.
In addition to facilitating retail trades, Coinbase has brokered bigger purchases for companies like MicroStrategy, which now holds a significant amount of its treasury in Bitcoin.
How does Coinbase make money?
Coinbase generates revenue by taking a fee on each transaction. Fees vary between the company's main app, known simply as Coinbase, and its dedicated app for professional traders, Coinbase Pro. For small purchases, users will usually pay a flat fee of around $2.99. Larger transactions involve percentage-based fees, which can amount to much more.
Ironically, Coinbase is very much a centralized company. Unlike decentralized exchanges, where your crypto is only ever being held or moved around by protocols (i.e. lines of code), Coinbase holds your keys for you, which makes it a little bit like a bank. Granted, it doesn't have a banking charter. But for some privacy purists, a regulated custodian is too close for comfort.
Is Coinbase profitable?
Yes, and that's part of what sets it apart from other recent buzzy tech stocks.
When Coinbase initially filed its Form S-1 with the SEC, it said it took home a $322 million profit in 2020, with over $1.2 billion in revenue. That was in February. Last week, the company announced profits between $730 and $800 million on revenue of around $1.8 billion in Q1 of 2021 alone.
The fact that it's turning a profit at all means it's doing better than a lot of tech unicorns like Uber, Lyft, DoorDash, and Snap—and it's why many analysts say the stock will be a hit.
Who uses Coinbase?
The company caters to everyone from retail investors (regular people) to institutions (hedge funds, family offices) and publicly traded companies. It has 1,700 employees, 56 million verified users, and saw 6.1 million monthly active users in Q1, a huge spike compared to 2.8 million in Q4 2020.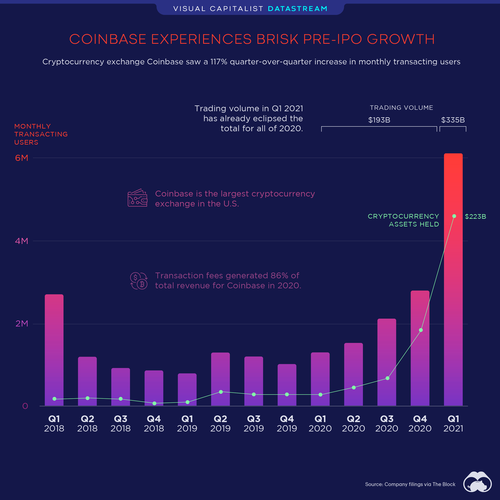 Who stands to make the most money from Coinbase going public?
Per that S-1 filing, Coinbase's co-founder and CEO Brian Armstrong is set to own 10.9% of issued Class A stock and 21.8% of Class B stock. Marc Andreessen, the company's biggest non-employee investor, is getting 24.6% and 14.2% of Class A and Class B shares, respectively.
So it stands to reason that Armstrong and Andreessen are about to become significantly richer. Other top executives, like Chief Product Officer Surojit Chatterjee and Chief Legal Officer Paul Grewal, will also own a sizable amount of Coinbase stock.
One of the more random beneficiaries of the direct listing is the rapper Nas, whose investment firm got into Coinbase early (who knew!), back in 2013. CoinDesk reported that Nas and his team could make as much as $100 million, if things go according to plan.
What happens if Bitcoin's price tanks?
Beyond being crypto's first unicorn, Coinbase is also a kind of barometer for the market.
Its perceived value is tied to the health of the crypto market, which makes investing in the exchange a little like investing in Bitcoin. For now, that's a good thing: the past six months have marked the biggest moment for crypto since the bull market of late 2017, with VCs pouring money into startups, NFTs worming their way into the collective cultural imagination, and the price of Bitcoin and Ethereum breaking through to new all-time highs.
Coinbase clarified in its S-1 that the volume of trades happening on its platform is "directly correlated with transaction revenue and is influenced by both Bitcoin price and Crypto Asset Volatility"—Crypto Asset Volatility being a shorthand for the company's own gauge of volatility in the market. And since Coinbase makes money on each trade, fewer trades means less money flowing into Andreessen's pockets.
It's an opportune time for $COIN to be making its debut. But there's also no guarantee that Bitcoin won't tumble back down to $10,000 in a few months and take the price of Coinbase stock down with it. One analyst recently said that the $100 billion implied valuation was far too high, based entirely on "bubble" metrics that could pop down the line.
What happens next?
An implied valuation of $100 billion would make Coinbase one of the biggest exchanges in the world, in competition with the New York Stock Exchange. If that sounds ridiculous on its face, given the still-niche nature of the crypto market, you're not alone in being skeptical. 
But if Bitcoin holds and Coinbase delivers, Armstrong and co. could be the ones to take crypto trading into the mainstream.
For some investors, that's incentive enough to look past any red flags.
*  *  *
Finally, for the nerds and geeks, Decrypt reports that Coinbase today coded a message into the first Bitcoin block it mined on the day of its public listing - echoing the hidden message the cryptocurrency's pseudonymous creator posted on the blockchain's first block 12 years ago. 
The message today reads:
"NYTimes 10/Mar/21 House Gives Final Approval to Biden's $1.9T Pandemic Relief Bill."
It references a New York Times article about the US House of Representatives giving final approval to one of the largest economic stimulus measures in American history.