---
Bitcoin Rebounds From Largest Ever Dollar Loss In Matter Of Hours
Update (1830ET): Today's bloodbath in bitcoin-land was both the largest dollar drop in the crypto's history and the shortest lived.
From its highs last night, Bitcoin fell over $10,000 to its spike lows around $47,500. That is the biggest high-to-low range in bitcoin's history...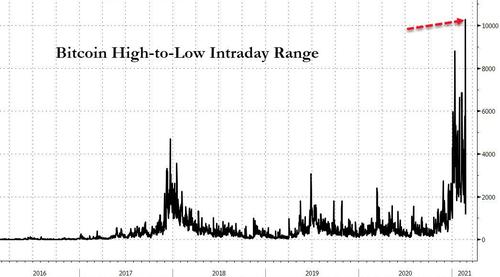 Source: Bloomberg
And shortly after then ramped right back up to around $55,000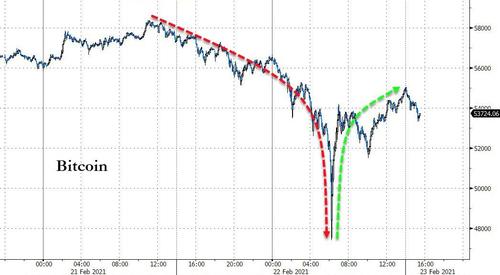 Source: Bloomberg
In an interview for The New York Times' DealBook DC Policy Project held on Monday, Yellen said it makes sense for the Federal Reserve to look into a digital dollar. Speaking to Andrew Ross Sorkin, the treasury secretary said a digital dollar maintained by the Fed could result in "faster, safer and cheaper payments," but added there were "a lot of things to consider" before a possible rollout. She questioned how regulators would "manage money laundering and illicit finance issues" as well as the impact on banks and the Fed.
In addition, the treasury secretary criticized Bitcoin as a medium of exchange, not mentioning its use as a store of value:
"I don't think that Bitcoin is widely used as a transaction mechanism. [...] It's an extremely inefficient way of conducting transactions, and the amount of energy that's consumed in processing those transactions is staggering."
It seems 'Damn It, Janet' will have to try harder to really shake the confidence in what is exactly the nemesis to her centralized establishment order.
*  *  *
Update (1005ET): A dip to be bought?
Bitcoin roared $6000 higher off its intraday lows below $48k...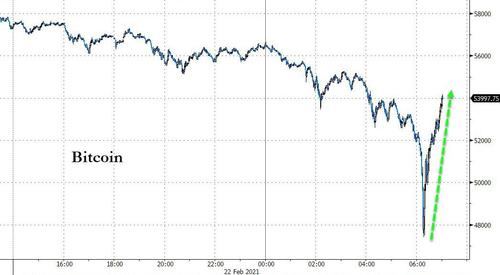 Source: Bloomberg
Ethereum surged off its intraday lows at $1540 to $1750...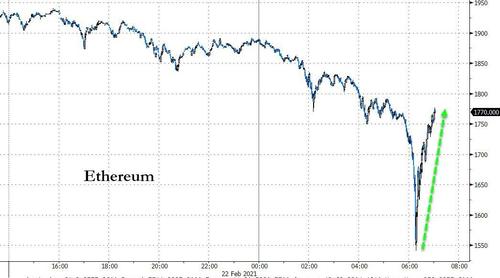 Source: Bloomberg
*  *  *
Update (0915ET): Well that escalated quickly.
Bitcoin has collapsed back below $50k...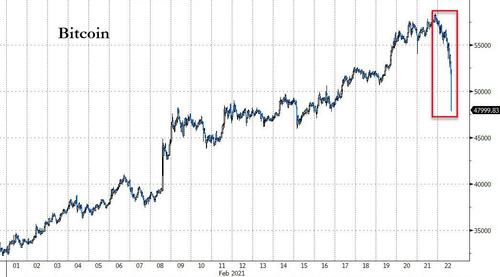 Source: Bloomberg
Ethereum is down a shocking 20%...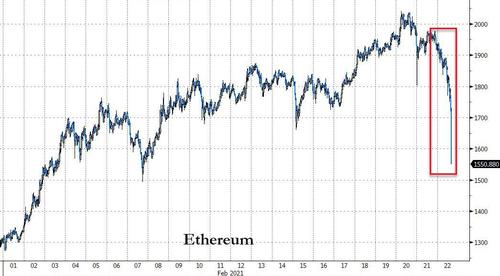 Source: Bloomberg
As ETH loses its recent gains relative to BTC...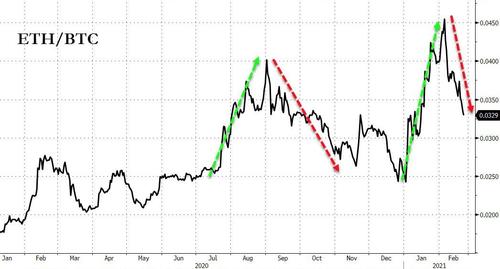 Source: Bloomberg
*  *  *
Crypto markets had a tempestuous weekend with surges and purges galore. The latest is a purge as Bitcoin tumbled back to a $52,000 handle (after topping $58k)...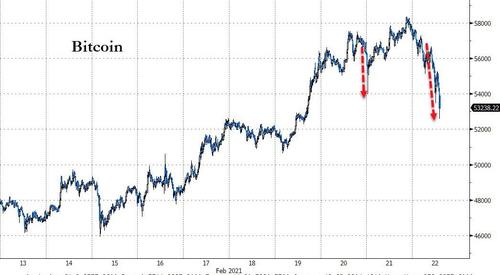 Source: Bloomberg
...and loses its 'cuatro comas' standard (for now)...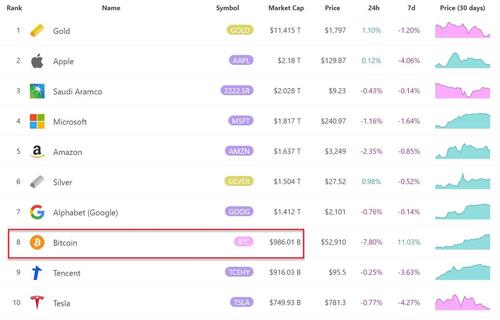 Ethereum was also clubbed like a baby seal, down almost $300 from its near $2050 highs over the weekend...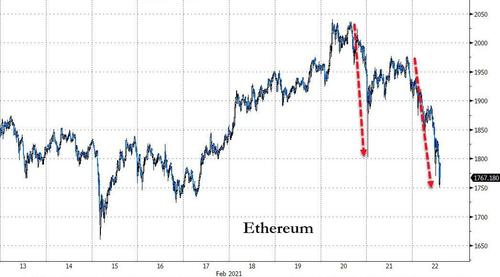 Source: Bloomberg
As we noted over the weekend, these drops follow comments from Elon Musk that BTC and ETH prices may be a little high
That said, BTC & ETH do seem high lol

— Elon Musk (@elonmusk) February 20, 2021
While a specific catalyst for the move is unclear, CoinTelegraph points out that prior to the pullback, CryptoQuant found that large BTC deposits were transferred to Gemini, one of the leading U.S. cryptocurrency exchanges.
Before the dip, there were significant $BTC inflows into all exchanges, mostly Gemini.

Chart 👉 https://t.co/6gPk3Qbg6j pic.twitter.com/j1wDNtqNak

— CryptoQuant.com (@cryptoquant_com) February 22, 2021
When whales deposit BTC into exchanges, it typically signals an intent to sell. Hence, it is likely that some whales took profit on their positions, causing the market to dip sharply in a short period.
However, whales selling large amounts of Bitcoin can cause a bigger correction than usual because it leads to cascading liquidations in the futures market.
Many overleveraged longs can get liquidated consecutively, amplifying the effect of the whale-induced sell-off. Data shows that over $1 billion worth of futures contracts were liquidated in the last 24 hours.
After the drop, traders are anticipating a gradual recovery. Scott Melker, a cryptocurrency trader and technical analyst, said that recent history indicates dips do not last long. He wrote: "I have no idea what happens here, but recent history shows that dips have not lasted long. Would love to see another slow float back up after this bit of selling. Of course we could drop, but each move like this of late has been a buying opportunity."