---
Crypto Crashes Amid Cascade Of Long Liquidations
Bitcoin is making headlines this morning after a sudden plunge back to $29,000 as a cascade of long liquidations fueled fresh fears of downside risk.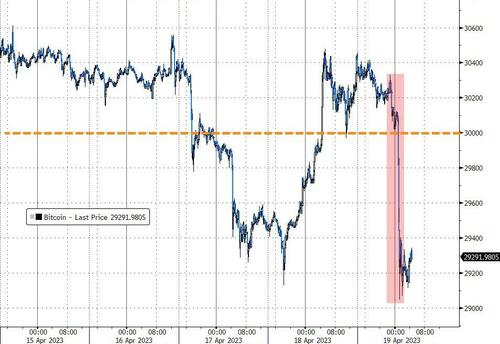 Source: Bloomberg
The sudden drop followed yesterday's almost-as-sudden surge back above the $30,000 mark.
"Deep correction on the markets, as Bitcoin can't hold at $29,700-29,800 and shoots downwards through a cascade of liquidations," Michaël van de Poppe, founder and CEO of trading firm Eight, reacted.
As CoinTelegraph reports, hours prior, monitoring resource Material Indicators had flagged changing conditions on the Binance order book, arguing that the result could still swing both ways, with either bulls or bears profiting.
Notably, this was exacerbated by a so-called long-squeeze...
"The hotter-than-expected U.K. CPI may have weighed over risk assets, including BTC. But the gravity of the reaction has been far far more severe than in other asset classes," Vetle Lunde, a senior analyst at K33 Research, told CoinDesk.

"Seems to be more of a leverage washout. Binance OI in BTCUSDT perps fell 5.1% in 15 minutes, effects more severe in ETH with larger liquidation volume than BTC," Lunde said, referring to open interest, or the total number of contracts in the futures market.
Equity futures have seen waves of selling pressure overnight too...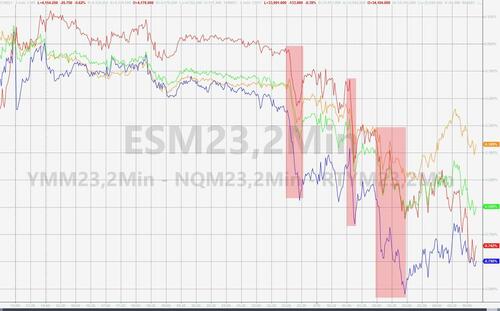 Prominent Crypto Twitter trader @52kskew pointed out that a 16,000 bitcoin sell order, worth over $467 million at current prices, preceded the dump, which may have initiated the long squeeze.
"16K BTC is unusual size to be market sold solely from Binance spot usually the kind of sale happens before bad news comes out," @52kskew opined in a follow-up tweet.
$BTC Spot CVDs
16K BTC sold at market from binance spot
Other spot exchanges had pretty typical size being sold

Interesting selloff here pic.twitter.com/9SmirkSM7b

— Skew Δ (@52kskew) April 19, 2023
At the time of writing, total crypto long liquidations for April 19 stood at around $185 million on platforms monitored by data resource Coinglass.
In fact, the selling pressure is across all crypto with Ethereum underperforming Bitcoin (after rallying post-Shapella hard-fork)...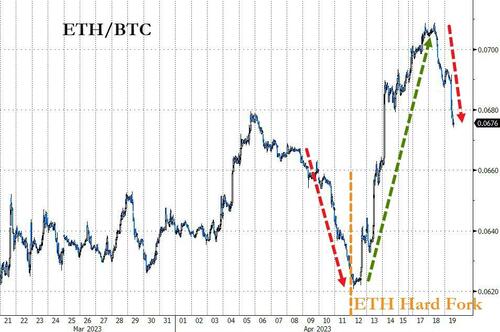 Source: Bloomberg
...as ETH liquidations in the last four hours ($38.4mm) topped BTC liquidations in the same period ($28.9mm)...

Finally, we note that options traders have leaned bearish in recent days...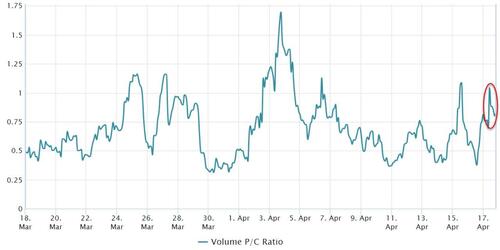 Since April 5, Bitcoin's put-to-call ratio has been either balanced or favoring protective put options. The current 0.60 indicator slightly shows higher demand for neutral-to-bearish option strategies, although there is nothing out of the ordinary.
Gold has also been hit this morning, back below $2000...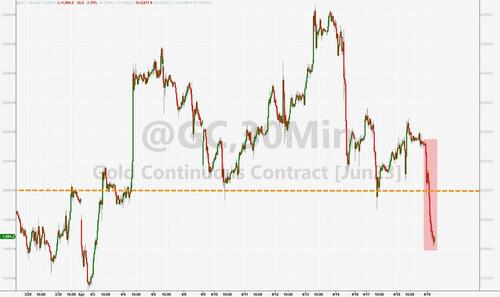 ...perhaps lending some credence to this event having been triggered by UK CPI.
Loading...