---
Crypto Crashes Overnight As Whales Move Bitcoin To Exchanges
In the biggest crash since March, Bitcoin prices collapsed by over $3000 overnight (from just shy of $19500 to $16300 at the morning's lows)...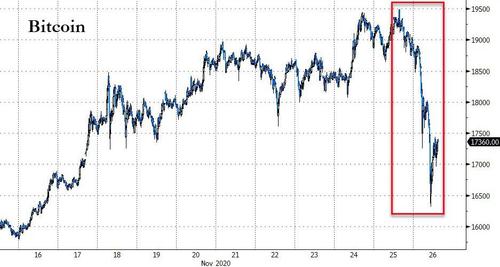 Source: Bloomberg
Many analysts had already warned that the recent gains were due for a pullback, among them CNBC host Brian Kelly and trader Tone Vays, who forecast a dip to $14,000 on Thursday; but while the rest of the crypto space is also under pressure, November remains a big month with Bitcoin up 25%...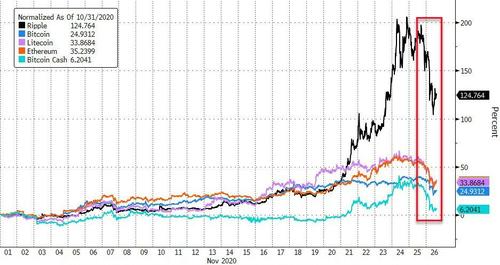 Source: Bloomberg
CoinTelegraph's William Suberg notes that the sudden price drop came in tandem with large-volume investors depositing BTC to exchanges - presumably with the aim of taking profit near Bitcoin's $20,000 all-time highs.
"All Exchanges Inflow Mean increased a few hours ago. It indicates that whales, relatively speaking, deposited $BTC to exchanges," Ki Young Ju, creator of on-chain analytics resource CryptoQuant, summarized to Twitter followers.

"But long-term on-chain indicators say the buying pressure prevails. I still think we can break 20k in a few days."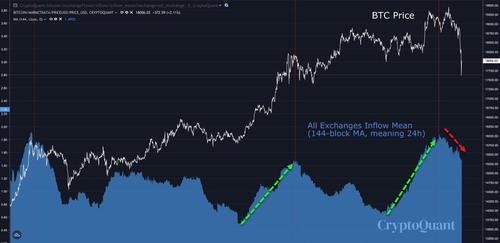 Exchange inflows in November. Source: CryptoQuant/ Twitter
At the same time, major exchange OKEx announced that it had reinstated withdrawals. Ki Young Ju, founder of on-chain analytics service CryptoQuant, highlighted increased outflow activity from OKEx to both wallets and other exchanges.
"BTC flows from OKEx to all other exchanges hit 493 BTC at that time," he wrote in his latest Twitter update.

"83% of total outflows went to non-exchange wallets like custody. It could be a bullish signal in the long-term."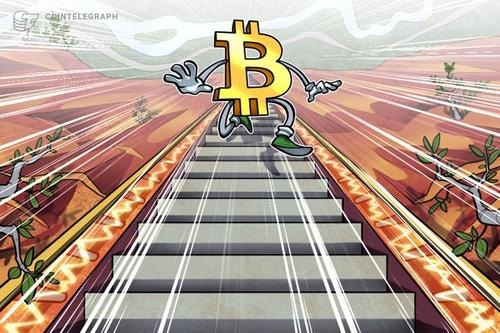 image courtesy of CoinTelegraph
Finally, additional bearish fuel came from Brian Armstrong, CEO of Coinbase, who commented on recent rumors that the United States plans to introduce new regulation governing self-hosted cryptocurrency wallets.
"If this crypto regulation comes out, it would be a terrible legacy and have long standing negative impacts for the U.S. In the early days of the internet there were people who called for it to be regulated like the phone companies. Thank goodness they didn't," he warned.
At time of writing we note that Bitcoin is around $1000 off its intraday lows as Bitcoin's fundamental indicators support the bullish theory going forward with the mining difficulty set for a 7.3% uptick in three days' time and hash rate continuing to grow.