---
Crypto Fugitive Do Kwon Arrested In Montenegro
Famous South Korean fugitive and "crypto-entrepeneur" Do Kwon, who was behind the $40BN implosion of the terraUSD and luna digital tokens last year which sparked the initial leg of the crash sweeping the crypto space, has been arrested in Montenegro according to local authorities.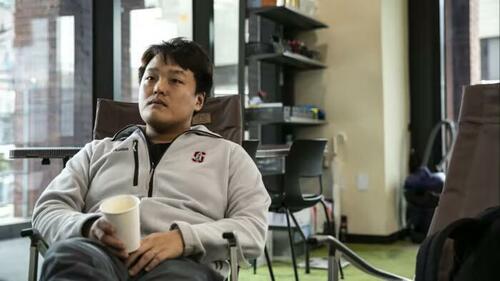 In a statement on Twitter, Montenegro's interior minister Filip Adzic said "the former cryptocurrency king" was detained by police at Podgorica Airport with falsified documents. "We are waiting for official confirmation of identity," Adzic added.
Nekadašnji "kralj kriptovaluta", koji stoji iza gubitaka većih od 40 milijardi dolara, lišen je slobode na podgoričkom aerodromu sa falsifikovanim dokumentima, a istog potražuju Južna Koreja, SAD i Singapur.

Čekamo zvaničnu potvrdu identiteta.
2/2

— Filip Adzic (@filip_adzic) March 23, 2023
As a reminder, it was the collapse of terraUSD coin in May of 2022 that unleashed an unprecedented crash in crypto markets which engulfed many of the industry's leading players. As the FT notes, Kwon, co-founder of Terraform Labs, was charged with fraud and breaches of capital markets law in his home country and sparked an international manhunt after authorities were unable to locate him.
Last year South Korean authorities said Kown had traveled to an unknown country, believed to be Serbia, via Dubai after leaving Singapore, where Terraform was headquartered. His South Korean passport was also revoked.
The meltdown of terraUSD and luna coins affected hundreds of thousands of investors, many of whom were drawn in by a scheme in which clients could lend their terra coins for a yield of up to 20%.
Kwon and Terra have also been sued by the US Securities and Exchange Commission for allegedly arranging a cryptocurrency fraud that led to billions of dollars in losses by selling a number of digital assets not properly registered with regulators.
The SEC said the alleged fraud took place between April 2018 and May 2022.
In May last year, terraUSD's peg collapsed in dramatic fashion, sparking an unprecedented crisis of confidence in crypto markets which plunged companies such as Celsius and Three Arrows Capital into bankruptcy.
The collapse of terraUSD fuelled concerns among international regulators that the stablecoin industry poses stability risks to established finance as crypto becomes more integrated with conventional payment systems.Shortly before the collapse (former?) billionaire Mike Novogratz tattooed Luna on his arm, saying "I'm officially a Lunatic!!!  Thanks @stablekwon" His entire investment was wiped out 5 months later.
I'm officially a Lunatic!!! Thanks @stablekwon And thank you my friends at Smith Street Tattoos. pic.twitter.com/2wfc00loDs

— Mike Novogratz (@novogratz) January 5, 2022
In September last year, Interpol issued a red notice against Kwon, representing a plea to worldwide law enforcement to arrest the Terraform boss. Since his disappearance, Kwon has continued to make statements on social media without sharing his location. His last known tweet is below.
I find that Twitter is a good place for rumors but poor place to get facts

I've stolen no money and never had "secret cashouts" - happy to address specific allegations

In any case, good day to you

— Do Kwon 🌕 (@stablekwon) February 1, 2023
Following the news of his alleged arrest, bitcoin and crypto spiked to session highs.
Loading...