---
Cryptocurrencies Surpass Apple Market Cap As Bitcoin, Ether Hit New Record Highs
As the much-anticipated day of Coinbases's direct listing arrives, it is perhaps poetic that the for the first time ever, the market capitalization of the cryptocurrency space has surpassed that of Apple.
Overnight saw another leg higher in most of the major coins with bitcoin  nearing $65,000 (a new record high)...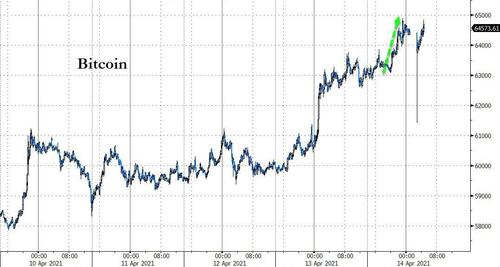 Source: Bloomberg
And analysts think the biggest cryptocurrency has room to run. In a tweet on Wednesday, PlanB, the analyst behind the stock-to-flow family of Bitcoin price models, noted that despite this week's gains, BTC/USD still has plenty of energy in it.
"Bitcoin is looking strong at RSI 92. Still not above RSI 95 like 2017, 2013 and 2011 bull markets," PlanB summarized.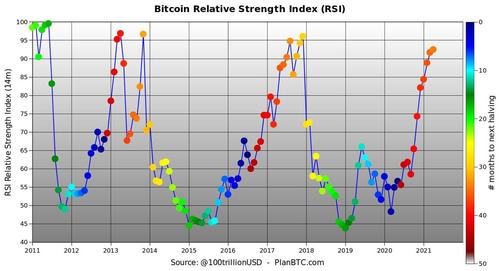 And as CoinTelegraph reports, for those who consider $92,000 to be overly optimistic, PlanB is not alone in predicting more, not less, vertical movements from Bitcoin in the future. This week, the latest chart showing BTC's 2021 performance compared to 2013 and 2017 likewise revealed that Bitcoin is in fact behaving "modestly" and not increasing too quickly.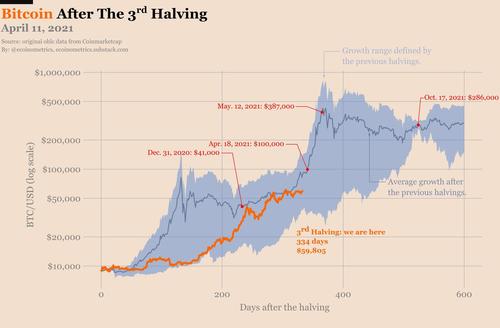 And Ethereum surged up near $2400...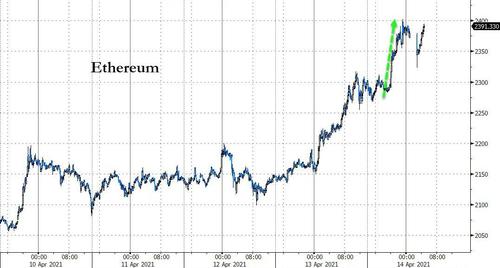 Source: Bloomberg
As a reminder, the Ethereum network is scheduled to undergo an update in the next day or so when the blockchain reaches block number 12,244,000. The blockchain was at block number 12,237,070 at time of publication. Based on current average block times of 14 seconds, the update is poised to land on Thursday at around 12:00 pm (UTC+1). The update - dubbed "Berlin" - will introduce several technical changes, all aimed at making the network more cost efficient.
The combination of gains pushed the entire crypto space market cap above $2.25 trillion for the first time...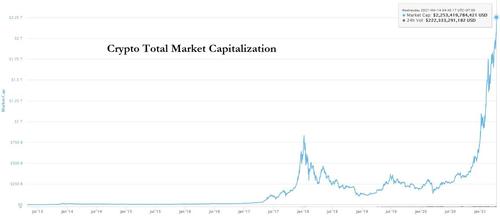 Which is larger than Apple's market capitalization...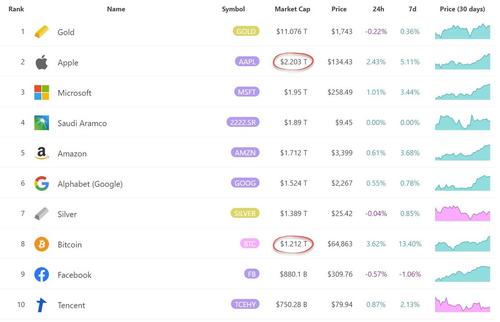 As the chart above shows, bitcoin itself is closing in on the size of the global silver market and well above that of Facebook.
Bitcoin is the fastest asset ever to reach $1 trillion market cap...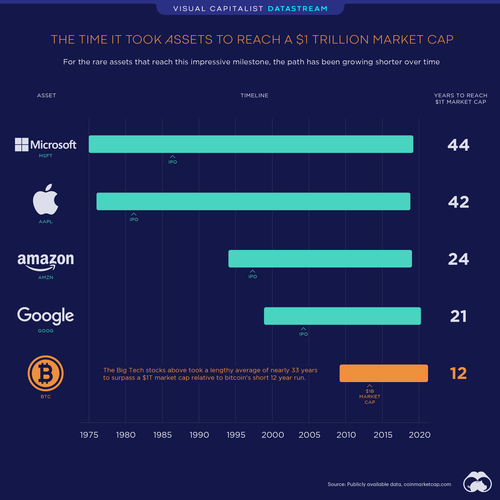 As mainstream and instituional adoption rises, CoinTelegraph reports that in less than two months, one Canadian Bitcoin ETF attracted $1.1 billion in assets under management, while two more funds are also growing their AUMs.
No fewer than eight American firms has registered applications for Bitcoin ETFs with the United States Securities and Exchange Commission. However, no fund has been approved on U.S. soil to date. Galaxy Digital, SkyBridge Capital and Fidelity all filed ETF applications in recent months, among many others. And while the general feeling is that one (or all) will be approved eventually, the timeline is still far from certain.