---
As Crypto Soars, Exchanges Decline Requests To Freeze Russian Funds
Since the start of the Russian invasion of Ukraine, Bitcoin has soared from around $34,000 to almost $45,000 as global sanctions. asset freezes, and bans on external FX transfers appear to have prompted a significant demand for an alternate store of wealth.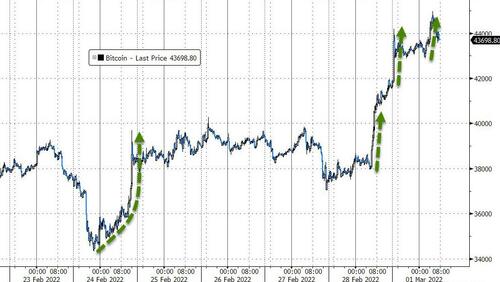 Which of note, coincides perfectly with the 100-day moving-average..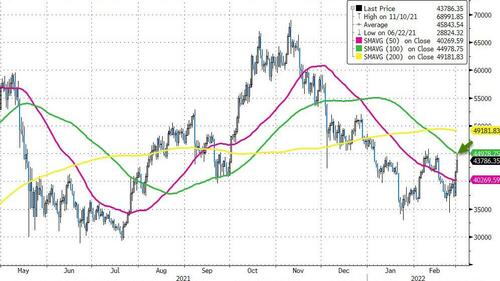 So far it seems bitcoin is 'passing the test' in a time of geopolitical crisis.
"There are a lot of positive elements to this story," said Marc LoPresti, managing director of Strategic Funds, a hedge fund manager with crypto funds in its portfolio.

"In Turkey, a lot of folks have avoided financial devastation by allocating to decentralized currencies like Bitcoin. You're seeing that in context of Ukraine and Russia -- it's being used for humanitarian purposes."
And before this is simply dismissed as speculative flows once again, CoinDesk reports that trading volumes between the Russian ruble and bitcoin increased to a nine-month high as the country's fiat currency plunged to record lows.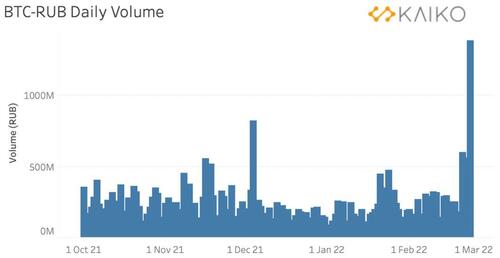 Source: Kaiko
"The activity was concentrated on Binance," Kaiko research analyst Clara Medalie told CoinDesk in an email.

"Bitcoin-Ukrainian hryvnia volume has also spiked, but not as high as October levels. BTC-UAH only trades on 2 exchanges – Binance and LocalBitcoin."
And so - as is there way - officials from around the world are demanding crypto exchanges to ban/freeze/block Russian accounts.
On Sunday, the Minister of Digital Transformation of Ukraine urged global cryptocurrency exchanges to block all accounts belonging to Russian nationals, and that was followed by the Biden administration is now asking crypto exchanges to help monitor transactions that may be used by Russian individuals or entities to avoid sanctions, Bloomberg reported on Monday, citing people with direct knowledge of the matter.
As Saxo reports, according to estimates, Russian citizens own around USD 200 bn worth of cryptos according to numbers from early February.
But many exchanges are pushing back against these calls to block or freeze all transactions in Russia
Binance was the first crypto exchange to decline the request stating that they are:
"not going to unilaterally freeze millions of innocent users' accounts. Crypto was meant to provide greater financial freedom for people across the globe".

They will, however, be "...blocking accounts of those on the sanctions list... and ensuring that all sanctions are met in full"
Two other major cryptoexchanges, Coinbase Global and Kraken, also declined the request from Ukraine.
The CEO of Kraken stated on Twitter that the company "cannot freeze the accounts of our Russian clients without a legal requirement to do so".

A Coinbase spokesperson told Reuters that the major exchange "will not institute a blanket ban on all Coinbase transactions involving Russian addresses."
Whether more pressure is applied to these centralized exchanges, there are other ways for anxious Russians and Ukrainians to exit domestic currencies, whether through 'local' peer-to-peer exchanges, on decentralized exchanges, or sophisticated crypto users may bypass regulation and evade tracking by using mixers, privacy tokens and anonymous digital wallets.