---
Cryptos Reach New Record High Ahead Of Coinbase Listing
Ahead of Wednesday's scheduled direct listing of on Nasdaq, interest in cryptocurrency exchange Coinbase has soared (along with prices for the underlying cryptocurrencies).
The exchange, which didn't exist a decade ago, is expected to go public this week at a staggering valuation of about $100 billion.
"Coinbase is one of the most prominent cryptocurrency exchanges in the world," Mira Christanto, an analyst who covers the company for Messari, said in a research report.

"The market has shown that investors are hungry for crypto exposure through equity markets."
And in a virtuous circle of FOMO, the crypto market has reached a new record high of almost $2.1 trillion.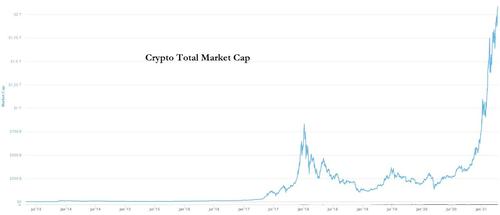 Helped overnight by a new surge in Bitcoin back above $61,000....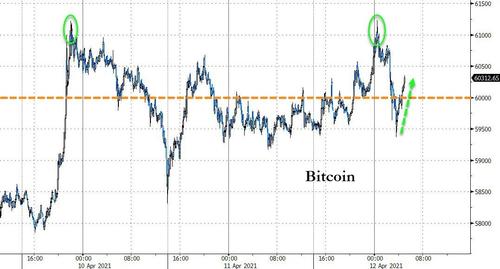 Source: Bloomberg
And Ethereum hit a new record high...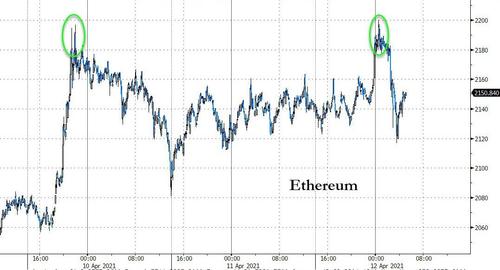 Source: Bloomberg
As Bloomberg notes, the opportunity for Coinbase now is to capture the increasing number of institutional and corporate customers, such as MicroStrategy, and Tesla, that are buying Bitcoin for the long haul.
"That's going to be the Holy Grail for them if they can hold on to that business, because those folks are seen more as holders than traders," said Julie Chariell, a senior analyst at Bloomberg Intelligence for fintech and payments firms.
Based on figures provided by the company, Chariell calculated that 5.5 million monthly users equates to $3 billion in 2020 revenue. The top 12 fintech firms to go public in the last six months have had price-to-sales ratios of 36 times, she said. Multiplying that by 2020 revenue gets you a very large number.
"You're easily over $100 billion in market cap," she said.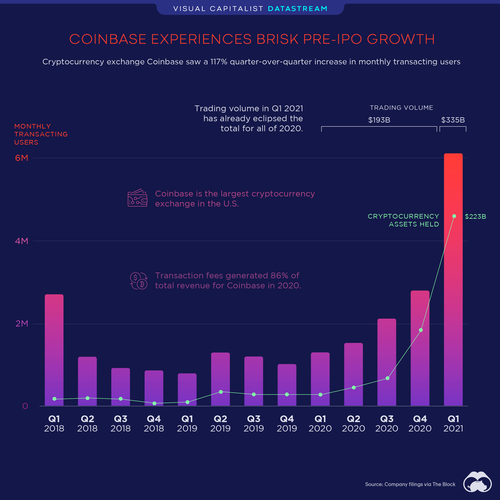 Of course, Coinbase's fortunes will tend to correspond to Bitcoin's volatile history and for now, if futures markets are anything to go by, that future looks bright: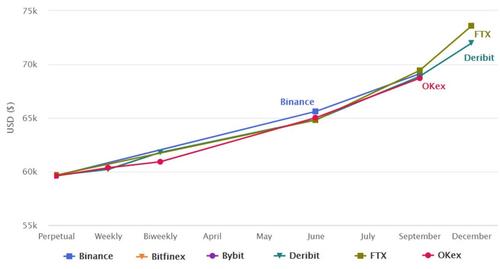 Source: bitcoinfuturesinfo.com
With Dec 2021 futures trading at an extremely bullish premium to spot...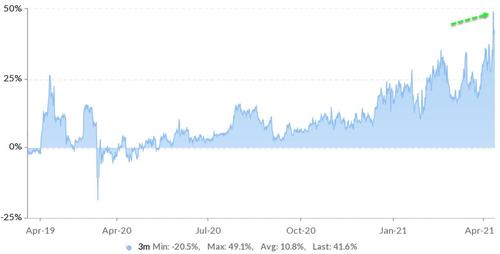 Source: Skew.com
However, there is a catch - as JPMorgan recently noted, the lack of a bitcoin ETF forced buyers to synthetically create a massive contango which leads to a trade-off going forward. A bitcoin ETF will probably mean more demand, but the bitcoin curve will flatten.
Specifically, if JPM is right, should the SEC reverse itself and allow one or more bitcoin ETFs, while the immediate outcome would be far greater demand, the consequences on the crypto market where curve and yield normalization would promptly follow, could be - paradoxically - quite devastating especially for the DeFi space which has seen exponential growth in the past year.
While the Securities and Exchange Commission has thrown out all applications for Bitcoin ETFs in the US (unlike Canada where three local bitcoin ETFs have been approved), citing a manipulable market, a new administration, SEC chair and renewed institutional interest, means ETF applications are on the rise and the SEC is taking another look at them. Ironically, would an ETF approval be the worst thing possible for bitcoin?
Meanwhile, away from the biggest players, altcoins have been soaring with Ripple's XRP up dramatically in the last two weeks...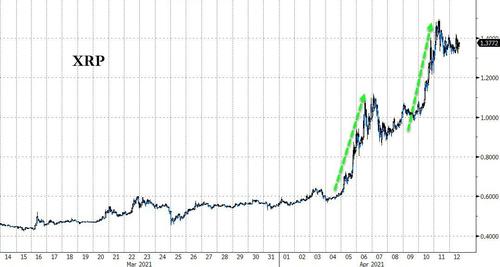 Source: Bloomberg
CoinTelegraph reports that the main catalysts for the 160% rally came from victories in the company's legal battle. Ripple lawyers were granted access to internal SEC discussion history regarding cryptocurrencies, and a court denied the SEC the ability to disclose the financial records of two Ripple execs, including CEO Brad Garlinghouse.  
Another reason may be the convergence trade between Bitcoin (BTC) and altcoins, particularly as BTC sees sideways price action, allowing alternative cryptocurrencies to rally and catch up. 
Kelvin Koh, managing partner at Spartan Group — one of the largest DeFi-focused funds in Asia — said that large quant funds try to trade the convergence between Bitcoin and major altcoins.
Hence, the trend of capital moving into altcoins and back into Bitcoin occurs periodically. Koh wrote:
"The reason this happens periodically is because there are a bunch of quant funds out there that play the convergence trade between $BTC and a handful of liquid alts. Whenever there alts look cheap relative to $BTC, they pile in. When they look expensive, they rotate back to $BTC. No fundamentals involved so don't try too hard to rationalize the moves. This strategy has proven effective over time and there are enough managers playing this that it becomes self-fulfilling and keep recurring."
Meanwhile, hot on the heels of China's digital currency launch, we suspect Powell and Yellen are avidly watching what's occurring...