---
Dogecoin Spikes 50% Intraday, Cripples Robinhood's Crypto Trading
Update (1030ET): Once the momentum of Robinhood traders was removed, Doge has dumped...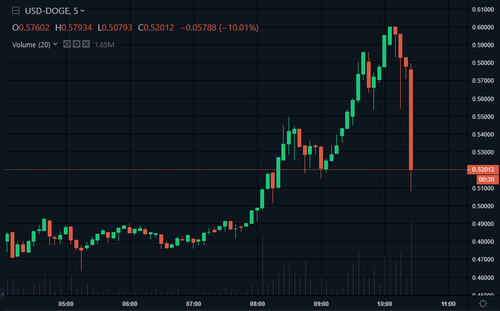 *  *  *
While most eyes were on the surge in Ethereum this morning, the real animal spirits are in Dogecoin, which is up 50% today, topping 60c for the first time ever...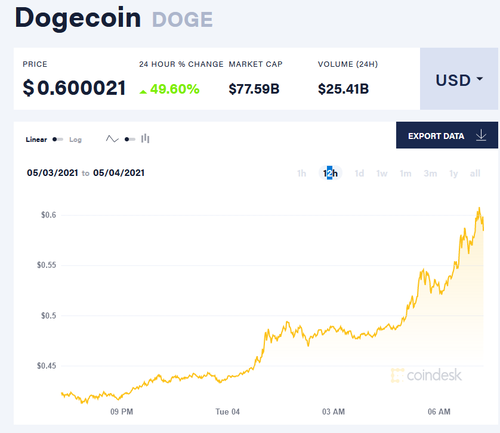 Doge has now surged above Ripple to become the 4th largest cryptocurrency...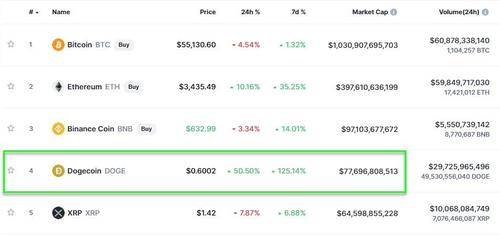 And that utter chaos has sparked trouble at Robinhood, as its crypto trading app "experiencing issues"...
We're currently experiencing issues with crypto trading. We're working to resolve this as soon as possible. For the latest updates, check https://t.co/ZS733G6N1J

— Robinhood Help (@AskRobinhood) May 4, 2021
Robinhood users are rightly pissed off...
@AskRobinhood for God's sake, Robinhood. I understand technical issues. But every damn time? Every single time something is running? #dogecoin hits .60 and suddenly crypto is getting error messages. Come on. pic.twitter.com/8x0q1hHAMn

— SteampunkFerret (@MelanieMcCull) May 4, 2021
Somewhere, Mark Cuban and Elon Musk are laughing... but not so much Charlie Munger.
As long as more companies take doge for products/services, then Doge can be a usable currency because it MAY hold its purchasing value better than a $ in your bank. If interest rates skyrocket or the amount spent falls or stagnates, so will Doge. Yes, a joke is now legit

— Mark Cuban (@mcuban) May 2, 2021