---
Ether Outperforms Bitcoin; Guggenheim, JPMorgan Fear "Major Correction" In Crypto (Again) As Op-Ex Looms
The last month has seen Ethereum significantly outperform Bitcoin and today is no different as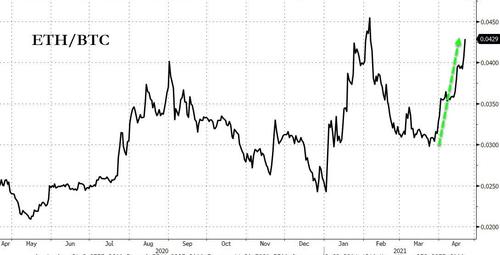 Source: Bloomberg
Some context for that move shows ETH is once again at a critical level relative to BTC...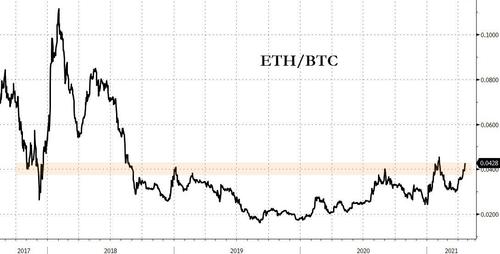 Source: Bloomberg
As CoinTelegraph notes, one main reason why the altcoin market is rallying is because altcoins generally saw sharper drops than BTC following the Coinbase listing. After the futures market recovered, following over $10 billion worth of liquidations on a single day, the appetite for risk-on assets within crypto also likely rose. This drove the demand for Ethereum, BNB, Dogecoin (DOGE), and many other cryptocurrencies with relatively high volume and valuation.
Bitcoin has traded in a broad channel since the liquidation...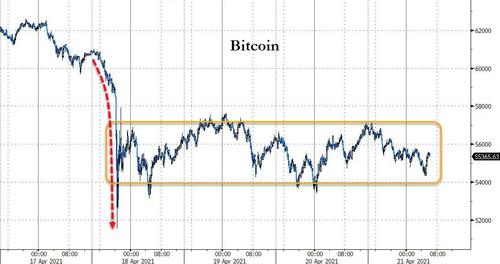 Source: Bloomberg
But Ether has erased all the liquidation losses...
Source: Bloomberg
Guggenheim Partners' Scott Minerd is out with another warning. While he remains long-term bullish on bitcoin, but said Wednesday the world's largest cryptocurrency has run too far, too fast. "Given the massive move we've had in bitcoin over the short run, things are very frothy, and I think we're going to have to have a major correction in bitcoin," the firm's global chief investment officer told CNBC's "Worldwide Exchange."
"I think we could pull back to $20,000 to $30,000 on bitcoin, which would be a 50% decline, but the interesting thing about bitcoin is we've seen these kinds of declines before," Minerd said.

However, he said he thinks it's part of "the normal evolution in what is a longer-term bull market," with bitcoin prices eventually reaching between $400,000 to $600,000 per unit.
It's not the first time Minerd has warned of 'a top' in bitcoin...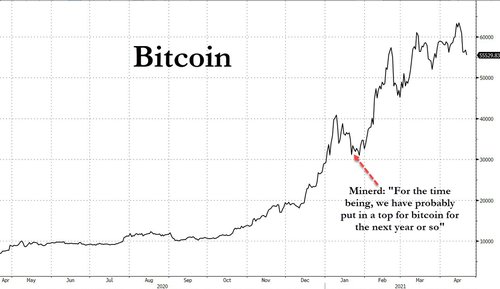 Source: Bloomberg
And while Minerd's flip-flopping is of note, JPMorgan appears to be wrestling the title away from Gartman for "great flip-flopper ever" as just a week after saying bitcoin was going to $120k, they are back this week with more ominous sounding warnings about the way ahead for the cryptocurrency.
Sadly, we have lost count of the number of negative crypto notes that JPMorgan's Nikolaos Panigirtzoglou has published, but today we have yet another one... this time on an even more tenuous basis.
Bloomberg reports that strategists led by Panigirtzoglou wrote in a note Tuesday warned that if the largest cryptocurrency isn't able to break back above $60,000 soon, momentum signals will collapse. It's likely traders including Commodity Trading Advisers (CTAs) and crypto funds were at least partly behind the buildup of long Bitcoin futures in recent weeks, as well as the unwind in past days, they said.
"Over the past few days Bitcoin futures markets experienced a steep liquidation in a similar fashion to the middle of last February, middle of last January or the end of last November," the strategists said.

"Momentum signals will naturally decay from here for several months, given their still elevated level."

"Whether we see a repeat of those previous episodes in the current conjuncture remains to be seen," the strategists said.
So to clarify, if upward momentum can't be sustained, bitcoin prices will fall. Thanks captain obvious.
Cryptos spiking on latest JPM hitpiece. Clockwork

— zerohedge (@zerohedge) April 21, 2021
On a very short-term basis, we note that Bitcoin may be facing more pressure from the looming options expiration which is tilted to the bearish side.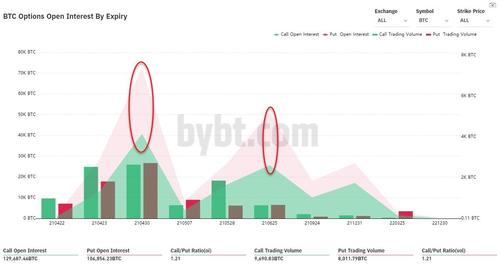 But on a longer-term basis, calls dominate puts by a ratio of 1.21x.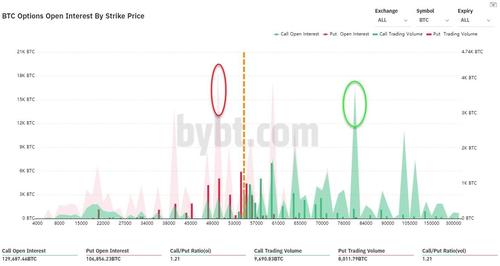 Finally, Bill Miller, the longtime value investor who has owned bitcoin for years, told CNBC on Tuesday he's not concerned about the digital currency being in a bubble like in 2017, when it reached what was then a record high of nearly $20,000. Bitcoin went on to fall sharply in the following months, losing about 80% of its value in what's become known as the "crypto winter."
"Supply [of bitcoin] is growing 2% a year and demand is growing faster. That's all you really need to know, and that means it's going higher," Miller said in an interview on CNBC's "The Exchange." It may not be a straight march to the upside, though, because "with bitcoin, volatility is the price you pay for performance," he added.