---
Ethereum Tops $1000, Outpacing Bitcoin As Crypto 'Crosses The Chasm'
Update (1800): Less than 8 hours after breaking above $800, and just an hour after surging beyond $900, Ethereum has broken back above the $1000 mark for the first time since Feb 2018 ($1001 was the day's high so far).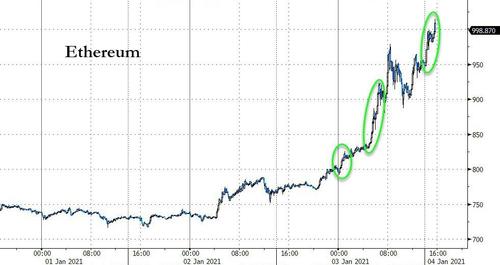 Source: Bloomberg
After breaking $600 for the first time since May 2018 in November 2020, it broke $700 for the first time since that same month in 2018 on Dec. 27, 2020, and has now notched $800, $900, & $1,000 in the same morning.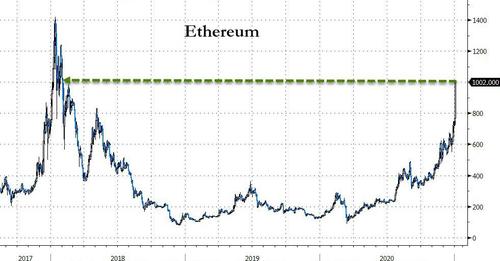 Source: Bloomberg
The recent scream higher in ETH has erased all of the last three weeks' relative outperformance of Bitcoin...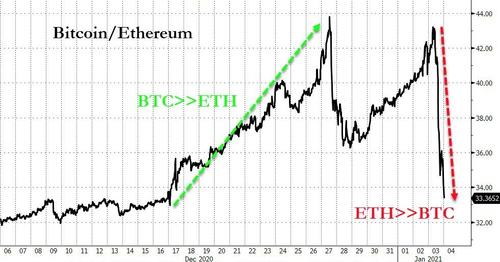 Source: Bloomberg
In the context of the ever-widening "Overton Window" of acceptable policy positions related to government deficits, spending, taxation and monetary policy - allowing previously radical ideas to flow into the mainstream - Teddy Fusaro writes at CoinDesk that it is unsurprising that bitcoin and cryptocurrencies have also crossed their own chasm in 2020. 
Commentators often miss the connection but as other norms and institutions evolve into their future digital, mobile and virtual shape, so, too, are norms around banking, financial services and investing. The interrelationships between decentralized systems like Bitcoin and Ethereum and these dynamics are too often misunderstood or underappreciated.   
In the pantheon of business literature that describes America's Silicon Valley, Geoffrey Moore's "Crossing the Chasm" is perhaps the most frequently referenced work on how new technologies achieve adoption.
According to Moore, each disruptive technology must go through five stages of adoption: starting with tinkering "innovators" who first try new technologies, through the "early adopters," to the "early majority" and "late majority" – the two biggest groups – and finally, to the "laggards."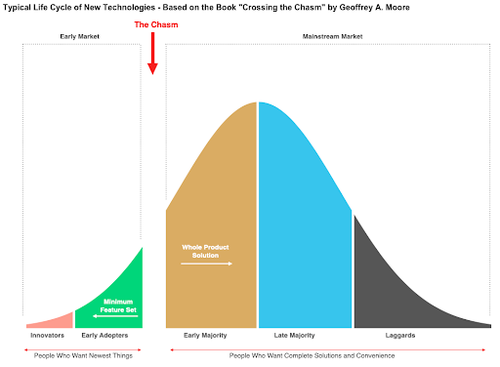 It is striking how regularly and routinely this roadmap has played out in technology after technology. The most critical stage of Moore's framework for these journeys is what he terms "the chasm." The chasm yawns between the "early adopters and the "early majority" because there is a step-function difference between the demands of these two cohorts. This is often where new technologies go to die. 
Bitcoin and crypto may not have been ready to jump across the chasm yet, but the long year of 2020 that propelled the world across the Rubicon pushed cryptocurrency across its adoption "chasm." 
*  *  *
While Bitcoin has been stealing the headlines, it was Ethereum's turn overnight as the number 2 crypto spiked back above $900 for the first time since Feb 2018...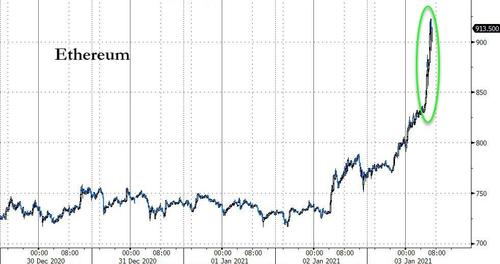 Source: Bloomberg
Ethereum still has over $400 to go to reach its record highs...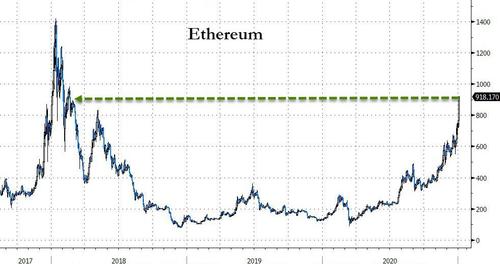 Source: Bloomberg
Bitcoin also pushed higher overnight, nearing $35,000, after correcting sharply to around $30,300 yesterday. But, within 24 hours, BTC has bounced back from $30,300 to as high as $34,778, a 14% rebound...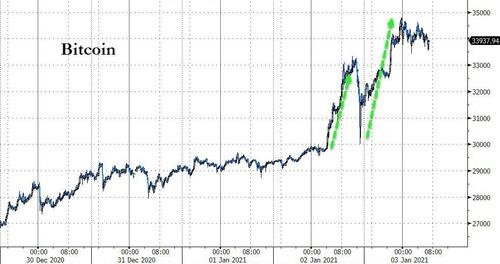 Source: Bloomberg
Ethereum's surge began as the BTC/ETH ratio topped 43x once again, and erased all the recent outperformance, back to 37x...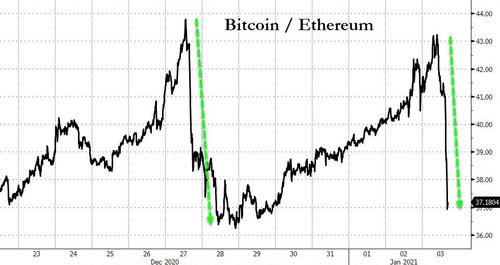 Source: Bloomberg
CoinTelegraph's Joseph Young asks, What triggered the Bitcoin and Ethereum rally?
When the price of Bitcoin surpassed $33,000 on Jan. 2, some whales and high-net-worth investors warned that a 150 BTC sell order could retrace the market.
A pseudonymous Bitcoin trader known as "i.am.nomad" wrote:
"A 150 btc market sell would retrace this whole thing. lmao the higher price goes, the more retail gets prices out, the lower bid support will be."
Within hours he pinpointed the risk of a Bitcoin correction due to thin order books, BTC sharply pulled back.
However, Bitcoin recovered quickly after the initial drop, rallying to a new record-high within 24 hours.
The main catalysts behind Bitcoin's rally have been the institutional accumulation of BTC on Coinbase and the short squeeze on Binance Futures.
Throughout the past three days, Bitcoin has been trading much higher on Coinbase than on other major exchanges, as Cointelegraph reported.
This means that aggressive buyers on Coinbase were continuously accumulating BTC despite the premium.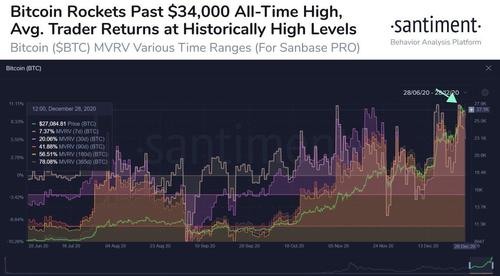 Bitcoin surpasses past $34K with average trader returns at highs. Source: Santiment
In the meantime, many traders on Binance Futures were shorting BTC, possibly expecting Bitcoin to top out at around $30,000. When Coinbase buyers continued to push BTC upwards, a short squeeze occurred. Analysts at Santiment explained:
"For those expecting a #Bitcoin correction to kick off 2021, the $34,000 #AllTimeHigh achieved 10 mins ago is showing how painful it's been being a $BTC bear the past 10 months. Avg. trader returns haven't been this high across the board since June 2019."
Ether price rallied off of Bitcoin's strong technical momentum. ETH/USD rose past $800 for the first time since early May 2018, demonstrating renewed momentum after stagnating throughout December.
A pseudonymous cryptocurrency trader known as "Mayne" said on Jan. 2 before the Ether rally that ETH is likely heading to $800. He said:
"ETH thesis still on track, daily close thru $620 we'd head to $800. I built a large long position in December and assuming $ETHBTC can hold a higher low, I think it'll play out nicely. I should have had more BTC long exposure vs ETH in December, hoping ETH outperform for Jan."
What happens next?
Ethereum has another major catalyst on the horizon as the CME futures exchange plans to launch ETH futures in February.
Considering the high level of institutional demand for Bitcoin since the first quarter of 2020, the demand could also boost Ether upon the listing.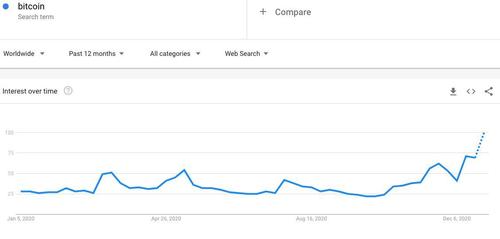 Google searches for "Bitcoin." Source: Google Trends
Meanwhile, Bitcoin remains on an upward trajectory of price discovery, hitting new record highs on a daily basis. With a purported supply shortage and an institutional buying frenzy now spilling over into retail, the rally may still have a lot more room to run with $35,000 likely being the next psychological level to break. 
As Cointelegraph reported, six-figure predictions have become increasingly common in recent months, particularly as the rally has broken new all-time highs.