---
Crypto Markets Just Got Monkeyhammered
Update (1610ET): After an exuberant day for Ethereum and continued rotation away from bitcoin, combined with ugliness in stocks (Nasdaq down hard and closing at the lows), crypto markets just puked right as the US equity cash markets closed.
Ethereum crashed over $400 from around $4100 to below $3700...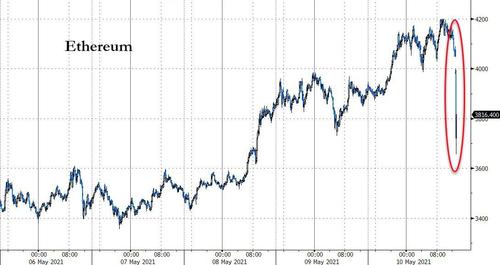 Source: Bloomberg
Bitcoin was starting to fade and accelerated from $57,000 to below $54,000 before bouncing back...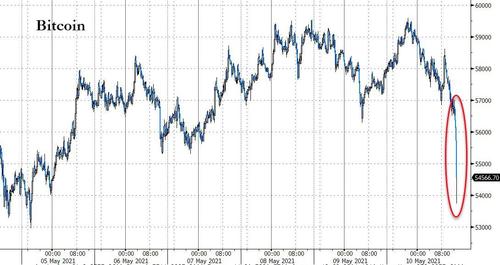 Source: Bloomberg
Bitcoin broke below its 50DMA and the plunge tested its 100DMA...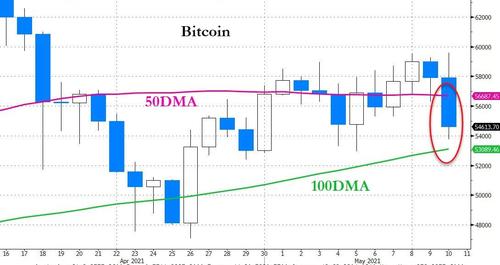 Source: Bloomberg
Notably volume did pick up in the selloff - but not massively - but as the rebound started, volume surged...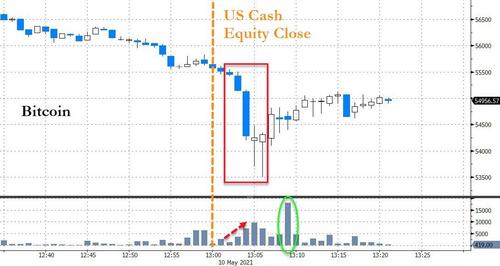 Source: Bloomberg
For now, no immediate news-based catalysts for the moves.
*  *  *
As we detailed earlier, cryptocurrencies crossed a key threshold in the last week, surpassing the value of all physical US dollars in circulation...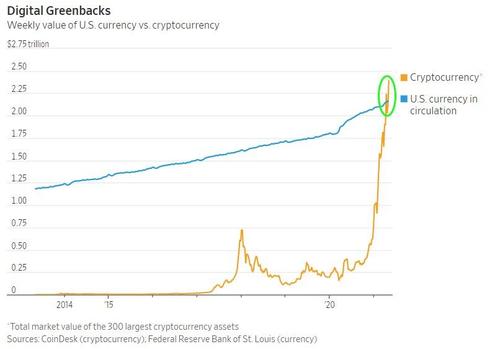 This latest surge in the total value of all cryptos comes more on the heels of altcoins than bitcoin as Bitcoin 'dominance' has dropped to 45% of the crypto market - its lowest since June 2018.
The big move behind altcoins has been driven by Ethereum's surge to new record highs, topping $4150 this morning...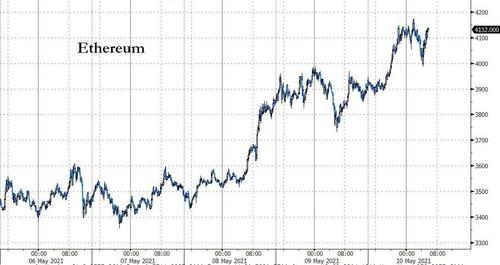 Source: Bloomberg
Massively outperforming Bitcoin since we warned "ETH/BTC is about to make an epic breakout"...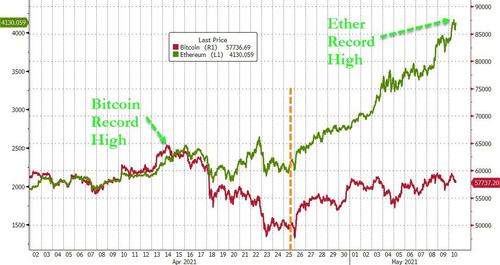 Source: Bloomberg
Sending the ETH/BTC ratio to its highest since July 2018...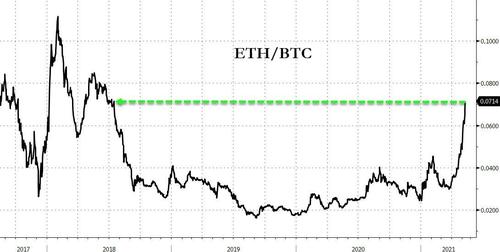 Source: Bloomberg
It's not all over for bitcoin though as CoinTelegraph notes that it's all systems go for Bitcoin — at least when it comes to network fundamentals.
Following the sudden hash rate dip last month — tied to miners being flooded in China — network strength and associated price performance have firmly recovered.
The process was already evident last week, with commentators noting that the negative impact of the event was practically behind Bitcoin already.
Now, however, forecasts reflect unprecedented interest and competition among miners, along with a firm commitment to the network's future.
According to data from on-chain monitoring resource Blockchain.com, the hash rate is now at new all-time highs, with its seven-day average going from 131 exahashes per second on April 25 to 177 EH/s as of Monday.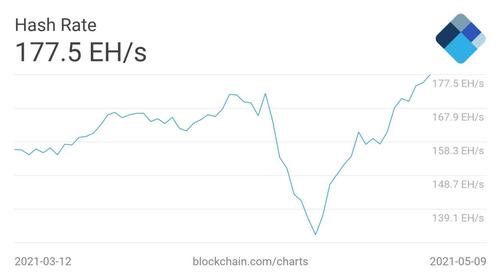 Bitcoin 7-day average hash rate chart. Source: Blockchain.com
Difficulty, which automatically adjusted downward to take account of the reduction in miners, is now also due for a major hike of its own when it adjusts again in around two days' time.
At 13.5%, the projected difficulty increase is the largest since June last year.
If the old adage "price follows hash rate" proves itself to be as true today as previously, Bitcoin hodlers could feel the knock-on price benefits in the coming weeks.
Escaping the short-term narrative just for a moment, meanwhile, produces a familiar sensation that all is well in Bitcoin.
While altcoins boom on a trading frenzy, a slow but steady transfer of Bitcoin wealth from weak hands to strong ones is continuing, says popular statistician Willy Woo.
Analyzing data late last week, Woo stressed that this year's bull run is different to the rest — because speculative hands are not lasting long and seasoned hodlers are buying up the slack at higher prices than ever.
"This cycle is different; the movement of coins to strong holders is unprecedented," he summarized alongside the data from on-chain monitoring resource Glassnode.
This cycle is different; the movement of coins to strong holders is unprecedented.

Chart: purple line tracks coins moving between weak and strong hands (running total over 128 days)

Raw data: @glassnode pic.twitter.com/xbqSMljCdC

— Willy Woo (@woonomic) May 9, 2021
As Cointelegraph reported, the trend has characterized various phases of 2021 when it comes to BTC price.
And while Ether is quickly catching up to JPMorgan's market cap...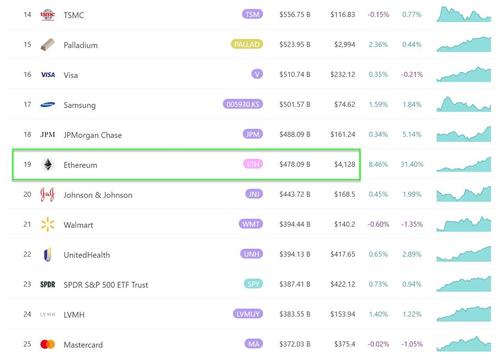 We note that the adoption by major banks - who were, and still are, largely skeptical naysayers of the DeFi space and its challenge to their centralzied controls, is increasing as UBS Group is joining  the likes of Goldman Sachs, Morgan Stanley and BNY Mellon, in deepening their involvement in the digital assets sphere this year, exploring various ways to offer its wealthy clients the possibility of investing in digital assets.
"(Crypto has) got a lot more institutional involvement than people who haven't followed the market believe," said Chris Weston, head of research at brokerage Pepperstone. "And everyone's been in ethereum. It's not a meme joke coin, it actually has some application use," he added, referring to its role in DeFi.