---
"We Could Not Ignore It Anymore" - Houston Firefighters Pension Fund Piles Into Crypto
Update (1100ET): With the launch of a Bitcoin (futures) ETF, it appears what's left of the stigma of investing in cryptocurrencies is being removed as Bloomberg reports that the pension fund for Houston's firefighters is investing in bitcoin and ethereum. 
The Houston Firefighters' Relief and Retirement Fund, which has over $4 billion of assets, said it invested $25 million in Bitcoin and Ether through NYDIG, a Bitcoin-focused subsidiary of asset manager Stone Ridge. 
"I see this as another tool to manage my risk," said Ajit Singh, the chief investment officer for fund.

"It has a positive expected return and it manages my risk. It has a low correlation to every other asset class." 
The Houston fund's move into crypto isn't entirely unprecedented for the pension space as Bloomberg notes that two Virginia pension funds that first bought digital assets two years ago have recently said they are planning to expand their investments by another $50 million.
Despite the ease of use of the new ETF, the firefighters' fund preferred direct tokens, rather than taking on risk associated with futures-related investments. 
"We didn't want to get the synthetic exposure," he said.

"We decided to go directly to the token. As more and more institutional adoptions happen, there will be more and more dynamics that develop for supply and demand. And having physical assets -- actual tokens -- gives us in the future the possibility of income generation potential." 
The Houston fund handles retirement benefits for more than 6,600 active and retired firefighters and family beneficiaries.
"We have been studying this as an asset class to add to our investment portfolio for quite some time; we were watching it, we were analyzing it," he said.

"It became an asset class we could not ignore anymore." 
Now if that isn't a sign of broader adoption, we do not know what is. We note that the city of Houston itself also contributes considerable funds (on top of the actual firefighters) to the pension fund and that made us wonder; with all the federal pressure from Democrats (from Warren to Yellen and everyone in between), how long will it be before some virtue-signaling politician decides to take a stand against crypto and demand (in an ESG-like manner) that funds do not invest 'hard-earned' wages in such death-dealing, corrupt investments as cryptos?
*  *  *
Cryptos just took a modest spill this morning as the USDollar popped but the overall picture overnight appears to be one of rotation.
"A supercycle is happening in Bitcoin, which appears in early price-discovery days, positioning the cryptocurrency to outperform commodities in 2022," wrote Bloomberg Intelligence strategist Mike McGlone
Having stolen all the headlines in the last few days, Bitcoin's strength gave way to Ethereum's catch up.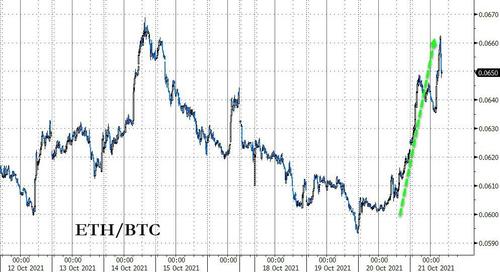 Source: Bloomberg
Ethereum ripped up to $4372 this morning (just shy of the $4379 high from May)...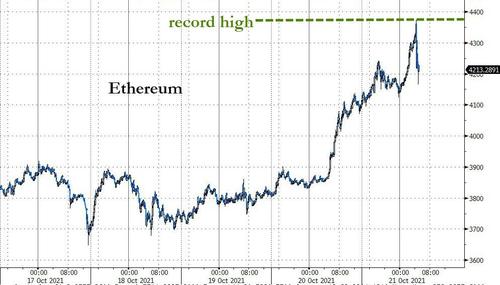 Source: Bloomberg
And Bitcoin is still hovering around its prior record high...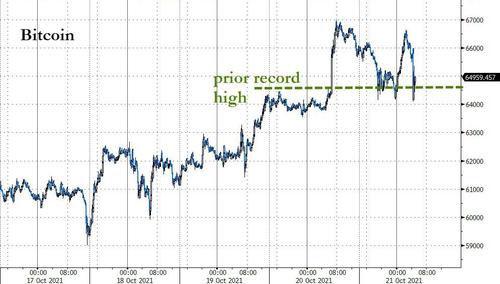 Source: Bloomberg
Will BITO's open bring a new energy to crypto this morning? One thing of note (as we detailed here) is the massive spread that has been created between October and November bitcoin futures contracts (due to ETF-driven demand)...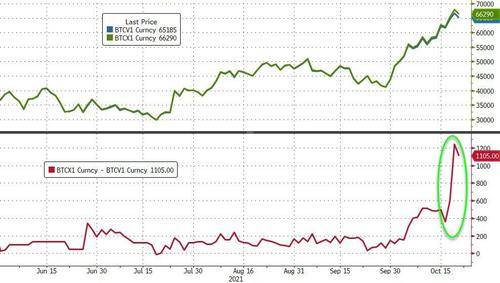 This is unsustainable one way or the other and perhaps means some position-trimming for the ETF as it rolls.
The BITO launch, which saw the highest-ever first-day natural volume for an ETF, is "unlikely to trigger a new phase of significantly more fresh capital entering Bitcoin," JPMorgan strategists said in a note.
Instead, JPMorgan believes that as gold failed to respond to concerns over rising cost pressures in the last couple of weeks, Bitcoin's renewed role as a better hedge against inflation in the eyes of investors is the main reason for the current bull run. The team highlighted that the shift away from gold ETFs into Bitcoin funds has bee gathering speed since September and "supports a bullish outlook for Bitcoin into year-end."
Additionally, CoinTelegraph reports that as Bitcoin marked a new all-time high above $67,000, PayPal co-founder and billionaire venture capitalist Peter Thiel said he should have bought more Bitcoin.
Thiel spoke of cryptocurrencies, central banks and artificial intelligence during an interview in Miami hosted by policy think tank Lincoln Network, Bloomberg reported on Wednesday.
"You're supposed to just buy Bitcoin," Thiel said, adding, "I feel like I've been underinvested in it."
The tech investor noted that his only concern about buying Bitcoin was that the investment "secret was already known by everybody." "I think the answers are still to go long. Maybe it still is enough of a secret," he added.