---
Fiat Money Has Won The Battle Against Cryptocurrencies, Says BIS Chief
Authored by Naveen Anthrapully via The Epoch Times,
Agustin Carstens, head of the Bank for International Settlements (BIS), believes the battle between cryptocurrency and fiat currencies has come to an end, with the latter emerging as the winner. Fiat currency refers to money that has legal tender by government decree.
"That battle has been won … A technology doesn't make for trusted money," Carstens said in an interview with Bloomberg TV on Wednesday.

"Only the legal, historical infrastructure behind central banks can give great credibility" to money, he added.
Carstens is anticipating a "strong statement" from the G20 nations for stronger regulation on digital assets, pointing out that crypto as a financial activity can only exist "under certain conditions."
Castens' statements come after cryptocurrencies crashed over the past year, with Bitcoin - the most valuable cryptocurrency in the world - down by around 38 percent. After hitting a 2022 peak of around $47,450 in March, Bitcoin was trading at $23,700, as of Feb. 22, up around 60% from its Nov 2022 cycle lows.
The crash in cryptocurrencies is pegged on multiple factors. For one, rising interest rates made holding cash much more attractive than investing in risky and volatile assets like cryptocurrencies.
The crash of the LUNA coin in May added to the decline. At one point, LUNA was ranked as the seventh biggest cryptocurrency in the world. But following an unsustainable business model and other issues, LUNA declined by 96 percent in a single day in May 2022.
Confidence in the crypto market fell further in November when FTX, one of the largest crypto exchanges at the time, filed for bankruptcy after concerns about the company's balance sheet and subsequent withdrawals triggered a liquidity crisis.
Flaws of Cryptocurrencies
A report published by the International Monetary Fund (IMF) in September 2022 that was co-authored by Carstens outlines three flaws that prevent cryptocurrencies from acting as a "sound basis for the monetary system."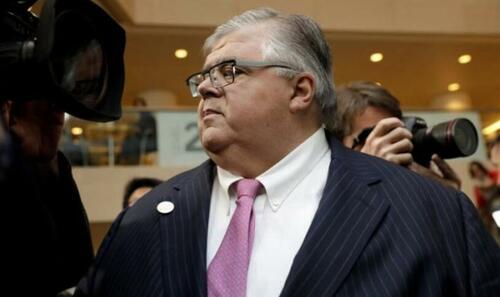 First is that cryptos lack a "sound nominal anchor." Cryptocurrencies themselves are highly volatile.
Meanwhile, stablecoins, a type of crypto where its value is pegged to an asset like the U.S. dollar, "borrow credibility from real money issued by banks."
Second, fiat money is anchored in a trusted institution like a central bank that guarantees the stability of the currency as well as the final settlement of transactions and their safety.
Crypto does not have such centralized government-level guarantees.
Third, the decentralized nature of cryptocurrencies means that it relies on incentives to anonymous validators to confirm transactions in the form of rents and fees.
This prevents scalability and results in congestion.
"For example, when the Ethereum network (a blockchain widely used for DeFi applications) nears its transaction limit, fees rise exponentially. As a result, over the past two years, users have moved to other blockchains, resulting in growing fragmentation of the DeFi landscape," the report notes.
DeFi is short for decentralized finance.
National Risks
In October last year, the U.S. Financial Stability Oversight Council (FSOC) issued a warning that digital assets like cryptocurrencies could essentially undermine the financial stability of the country.
Despite the distributed nature of crypto asset systems, operational risks can arise due to the concentration of key services or from vulnerabilities linked to the distributed ledger technology on which the assets rely, the agency stated.
"Crypto-asset activities could pose risks to the stability of the U.S. financial system and emphasizes the importance of appropriate regulation, including enforcement of existing laws. It is vital that government stakeholders collectively work to make progress on these recommendations," the report warned.
In a blog post on Jan. 27, the White House cited dangers from cryptocurrencies, including potential financial losses, fraud, and the empowerment of America's rivals.
National security adviser Jake Sullivan had placed cryptocurrencies on the administration's radar in June 2021 following the ransomware attack on Colonial Pipeline in May that year. Colonial was forced to pay the hackers 75 Bitcoins in ransom, which amounted to $4.4 million at the time.
In June 2021, former president Donald Trump had also indicated that he was not a fan of Bitcoin, pointing out that it was competing against the U.S. dollar as the reserve currency of the world.
*  *  *
[ZH: In response to all that projection, ignorance, and hyperbole, we paraphrase from the bard himself (for added credibility, of course): "the fat man whose salary depends on fiat's dominion doth protest too much, wethinks"...]
Loading...