---
Fidelity Continues Retail Bitcoin Push With New ETF
Less than two weeks ago, we suggested the first US Bitcoin ETF was imminent. Todd Rosenbluth, director of ETF research for CFRA Research, told Bloomberg: 
"The race to launch the first Bitcoin ETF is heating up. It's more of a question on when the SEC will approve a Bitcoin ETF, not if."

"First-mover advantage in the ETF space is tremendous, particularly when the underlying assets overlap. Whichever comes out of the gate first will have a leg up", he continued.
And today, with $4.9 trillion under management, Fidelity Investments has become by far the largest firm to file with the SEC to list a new Bitcoin exchange-traded fund (ETF).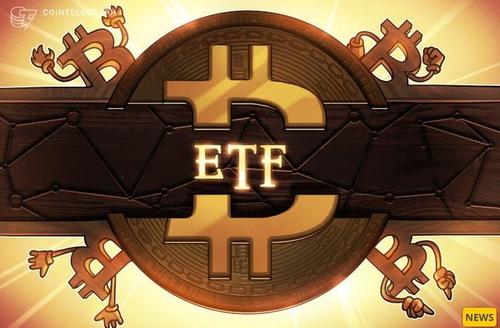 image courtesy of CoinTelegraph
The Wise Origin Bitcoin Trust was filed with the SEC on Wednesday.
Why the name 'Wise Origin' you ask?
Fidelity's #bitcoin ETF is named "Wise Origin."

Why?

サトシ ("Satoshi" in Katakana) or 覚 ("Satoshi" in Kanji) means "wisdom" or sense"

ナカモト ("Nakamoto" in Katakana) or 中本 ("Nakamoto" in Kanji) means "base" "root" or "origin"

That's pretty lit if you ask me 😎 https://t.co/xh1RMFAjS0

— Alex Thorn 🎲 (@intangiblecoins) March 24, 2021
According to the filing, a firm called FD Funds Management LLC is the sponsor of the fund, with Fidelity Service Company, Inc. serving as administrator. Per the document, FD Funds Management LLC shares the same Boston, MA address as Fidelity's office. Fidelity Digital Assets, the asset manager's crypto-focused arm, will serve as custodian. The ETF, if approved, will also employ Fidelity's in-house bitcoin price index, per the filing.
"The Trust's investment objective is to seek to track the performance of bitcoin, as measured by the performance of the Fidelity Bitcoin Index PR (the "Index"), adjusted for the Trust's expenses and other liabilities," the filing notes, explaining elsewhere:

"The Trust provides direct exposure to bitcoin, and the Shares of the Trust are valued on a daily basis using the same methodology used to calculate the Index. The Trust provides investors with the opportunity to access the market for bitcoin through a traditional brokerage account without the potential barriers to entry or risks involved with holding or transferring bitcoin directly, acquiring it from a bitcoin spot market, or mining it."
The Block reports that a Fidelity spokesperson told them that:
"The digital assets ecosystem has grown significantly in recent years, creating an even more robust marketplace for investors and accelerating demand among institutions. An increasingly wide range of investors seeking access to bitcoin has underscored the need for a more diversified set of products offering exposure to digital assets."
Fidelity says investors can access the fund through a traditional brokerage account without the "potential barriers to entry or risks involved with holding or transferring bitcoin directly."
Like other proposed Bitcoin ETFs, the Fidelity Trust is intended to provide more institutional pathways to cryptocurrencies.
Fidelity's effort represents the sixth of its kind within the U.S., joining WisdomTree Investments, VanEck Associates Corp., NYDIG Asset Management, First Advisors/SkyBridge, and Valkyrie Digital Assets; but as we noted above, it is by far the largest.
CoinTelegraph notes that last week, Goldman Sachs filed for a new ETF that includes the option to add BTC exposure. The Autocallable Contingent Coupon Coupon ETF-Linked Notes "may have exposure to cryptocurrency, such as bitcoin, indirectly through an investment in a grantor trust," the prospectus read. 
Zac Prince, co-founder and chief executive officer of BlockFi, noted: 
"There's more competition in the marketplace and in markets outside the U.S., in particular Canada, causing folks to think an ETF approval in the U.S. might be likely."
Grayscale remains the largest institutional public holder of bitcoin.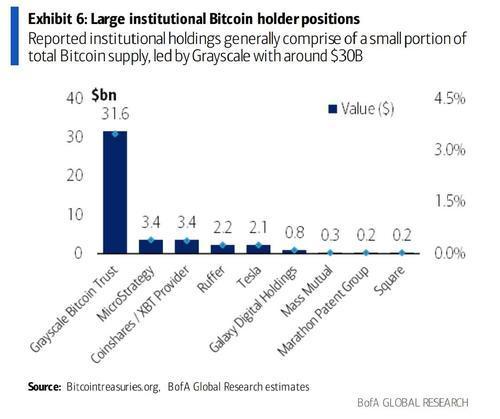 With the largest hedge fund in the world, Bridgewater, discussing a Bitcoin fund openly...
"Overall, it's clear that Bitcoin has features that could make it an attractive storehold of wealth; it also has proven resilient so far. "
Albeit with some warnings:
"If history and logic are to be a guide, policy makers who are short of money will raise taxes and won't like these capital movements out of debt assets and into other storehold of wealth assets and other tax domains so they could very well impose prohibitions against capital movements to other assets (e.g., gold, Bitcoin, etc.) and other locations. These tax changes could be more shocking than expected."
We wonder how long it will be before the world's largest asset manager - BlackRock - decides to dip its toe in the crypto waters.