---
Grayscale CEO: BlackRock ETF Filing A "Moment Of Validation" For Bitcoin
Authored by Felix Ng via CoinTelegraph.com,
The recent tsunami of spot Bitcoin exchange-traded fund (ETF) filings should be seen as a "moment of validation" for Bitcoin, says Grayscale Investments CEO Michael Sonnenshein.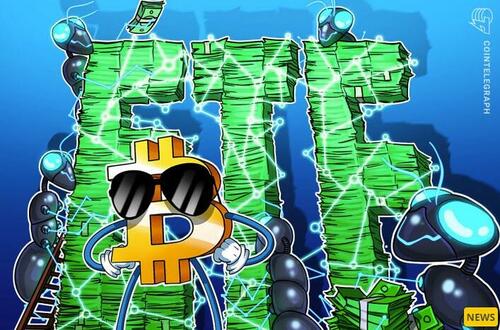 During a July 12 interview on CNBC's Last Call, Sonnenshein rejected the notion that BlackRock's entrance to the Bitcoin ETF race made it "uncool."
"To see, literally, the largest asset manager in the world publicly commit to advancing their crypto efforts only lends to the validity of the asset class and the staying power it has."
In just the last four weeks, at least seven major institutional firms, including BlackRock, have applied for a spot Bitcoin ETF in the United States.
"It's a moment of validation," says @Grayscale CEO @Sonnenshein on $BLK aiming to launch a $BTC spot ETF. "To see the largest asset manager in the world publicly commit to advancing their crypto efforts only lends validity to the asset class and the staying power that it has." pic.twitter.com/agt7emHWt0

— Last Call (@LastCallCNBC) July 11, 2023
If approved, both institutional and retail investors in the U.S. would have a simple, legally compliant way of getting exposure to the price of Bitcoin without actually owning any.
"The ETF wrapper is tried and true, and it has become the access point for so many different assets, whether they're commodities or stocks," said Sonnenshein.

"Bitcoin is an asset that's not going away. Investors want and deserve access to it."
Until this point, Sonnenshein's Grayscale has been offering U.S. investors a roundabout way of gaining exposure to Bitcoin — enabling investors to trade shares in trusts holding large pools of Bitcoin via its Grayscale Bitcoin Trust (GBTC).
Today, our attorneys filed a letter with the DC Circuit highlighting the disparity between the SEC's approval of a leveraged #bitcoin futures ETF while continuing to deny approval of spot bitcoin ETFs like $GBTC. Let's dive deeper. 🧵/6 pic.twitter.com/z7WyGBthhT

— Grayscale (@Grayscale) July 10, 2023
However, the firm wants to convert it to a spot Bitcoin ETF too, which would allow inventors a far simpler method to trade the price of Bitcoin without GBTC's pesky discount to net asset value. 
"To be able to give investors Bitcoin exposure through GBTC, like we do today, has been an unbelievable milestone [...] But moving to an ETF structure will give investors the additional protection that they want."
GBTC's discount to NAV is now at its smallest in a year...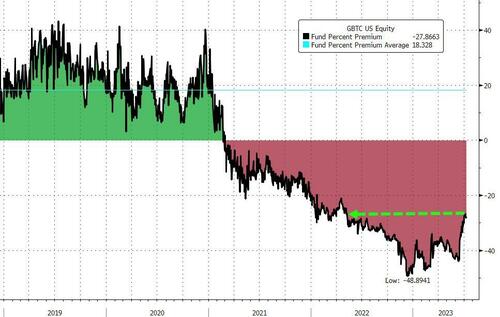 In June 2022, Grayscale filed a lawsuit against the United States Securities and Exchange Commission over the rejection of its 2021 application to convert its GBTC.
"If we're successful in that challenge, there's actually billions of dollars of investor capital that would be unlocked through that," said Sonnenshein.
The price of Bitcoin shot upward of 20% in the days after BlackRock's filing for a spot Bitcoin ETF on June 15, reaching a year-high of $31,460 on July 6. At the time of writing, t trades at $30,633.
Loading...