---
Here's How Much Bitcoin Russia Has Bought In The Past Week
In the words of the Washington Post, the battle between Russia and Ukraine is "the world's first crypto war" as both sides discover the advantages of a borderless, permissionless currency.
Whether it is for enabling donations to Ukrainians (for arms or humanitarian needs) or for Russians evading Putin's FX transfer bans or escaping western sanctions, both sides appear to see the benefits.
Crypto interest in Russia on the rise; and Google searches do show an uptick in interest in Binance, the world's largest cryptocurrency exchange, from Russia and, to a lesser extent, from Ukraine.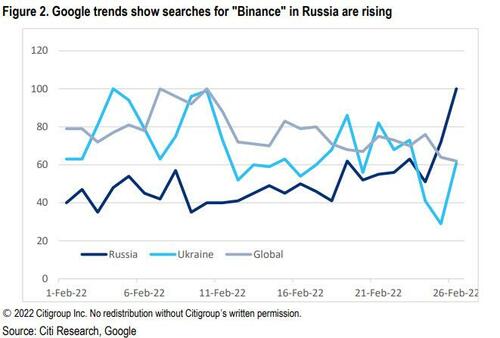 At this stage 11% of Russians already own crypto; so there is some familiarly with it.
The recent decoupling of bitcoin from tech stocks shows the regime change in demand from some external factor...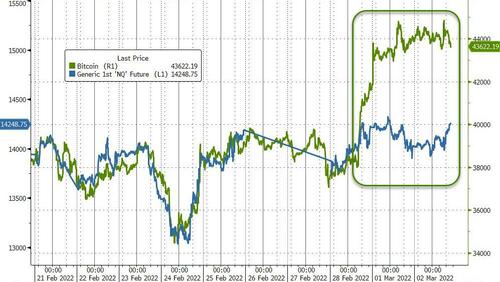 And this could get significantly higher as the potential for capital flight from Russia is large.
In a recent note. Citi details that, net capital outflows from Russia during the 2014 crisis were 151bn (a surge of 90bn from the previous year). In the 2008 crisis, it was 133bn. Of course, that is not the same as capital flight, as it includes debt payments etc. The worst errors and omissions (capital flight proxy) in more recent memory was an outflow of around 5bn USD.
Though this time around the capital flight could be significantly more than that as the crisis is more severe.
Of course, it is an open question just how much crypto would be used for this purpose.
Just for reference, daily bitcoin volume in spot is around 4.8bn according to bitcointradevolume.com, and including derivatives it is around 20-40bn, i.e. it will take meaningful capital flight to move the needle.
But it is not just Russia, as Kaiko reports that bitcoin traded at a 6% premium on Binance's Ukrainian hryvnia (UAH) market as demand for cryptocurrencies soared immediately following Russia's invasion.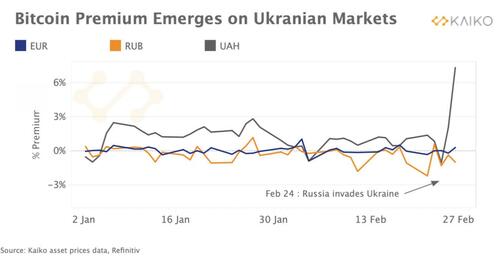 Demand surged on Binance as local Ukrainian currency markets faced significant disruptions, with the Ukrainian central bank temporarily halting foreign currency withdrawals and the Ukrainian hryvnia falling to all time lows versus the U.S. Dollar.
Both ruble and hryvnia trade volumes surged to their highest levels in months almost immediately after the Russian invasion, highlighting the complexities of the cryptocurrency industry's role in the conflict.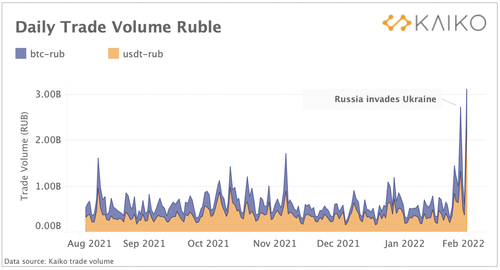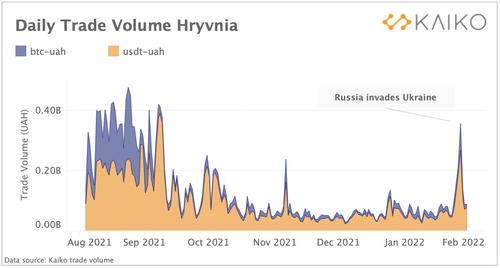 While the potential for capital flight is high, as Citi details above, Russian volumes (although impressive-looking on the chart) have been relatively small in absolute terms so far (around 210 bitcoin per day on average), suggesting that the price action is more due to investors positioning for an expected uptick in demand from Russia, rather than Russian demand itself.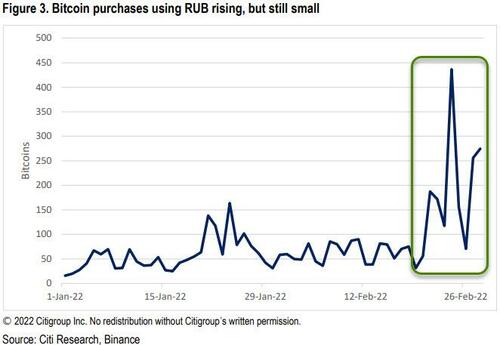 This will be important to monitor, as Bitcoin could recouple with technology stocks if the expected Russian buying should not materialize.
Of course, the very fact that volumes of crypto activity have surged from both Russia and Ukraine since the invasion has prompted the establishment to cry 'no fair!' with ECB President Christine Lagarde urging regulation to prevent Russia escaping their sanction threats:
"It's so critically important that MiCA is pushed through as quickly as possible so we have a regulatory framework within which crypto assets can actually be caught."
And Jay Powell today, with a somewhat mixed message, by discussing the advantages of 'digital currencies' - clearly angling towards the use of CBDCs - but hedging his view by placating the regulatory-thirsting politicians by adding that "...to the extent that cryptocurrencies are a means to evade law enforcement and national security that's not something we should tolerate."
Finally, Deputy Attorney General Lisa Monaco, while describing the DoJ's new "Kleptocapture" tak force, said they will freeze the assets of 'Putin's cronies" with a "focus on cryptocurrencies," and Treasury Secretary Yellen warned later that "crypto is a channel to watch for sanctions leakage."
For now, judging from the Citi data, crypto is not being used for sanctions avoidance on anything but a small scale.
All of which is somewhat humorous since, according to the data above, Russians are 'laundering' around $10 million in bitcoin a day, while Credit Suisse helped facilitate $100 billion in laundering over the years and it seemed nobody cared...