---
"It's Curtains For The US" - Billionaires Are Backing Bitcoin Over "Fiat Fraud"
Bitcoin 2022 has already established itself as one of the more memorable such conferences in recent memory not only because of the sheer number of bold-faced names on the speaker's roster, but also because of what they have said. During his keynote speech, Peter Thiel denounced the "finance gerontocracy" (Dimon, Fink & Buffett) for their opposition to bitcoin, and declared the cryptocurrency as a critical alternative to fiat money - and, more importantly, equities.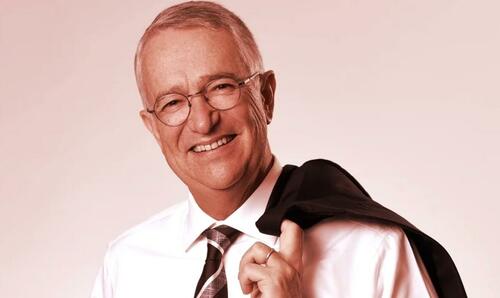 Interestingly enough, Thiel wasn't the only billionaire to share a scathing criticism of the fiat money system during this year's conference (something that bitcoin enthusiasts have been shouting from the rooftops for years). During a panel entitled "Billionaire Capital Allocators", a host of other billionaires shared similar skepticism of the fiat system.
They have a distinct advantage over most of their audience: while many crypto enthusiasts belong to the younger generation, millennials and Gen X, billionaires like Mexico's third-richest man, Ricardo Salinas, have visceral memories of the failures of fiat - namely, hyper-inflation. And they shared this experience with his audience.
"I have a big grudge against fiat, I call it the fiat fraud," Salinas, the owner of Mexico's Banco Azteca, said on Thursday.
He then shared a story about how his salary as a young business school graduate in Mexico during the 1980s declined from around $2,000 a month to just $20 during a period of six years.
"That's hyperinflation," he said.
SEchoing Peter Thiel's controversial comments, Salinas also spoke to the religiosity of its high priests in his keynote address.
"This fiat religion has its high priests, and you can see them right there. And their religion is not tolerant," Salinas explained.

"They hate anyone who is a heretic. There's a lot of heretics in this room right now."
Closing his thoughts, Salinas warned the crowd of central bank digital currencies (CBDCs).
"If the CBDC is issued these people will have full control over how you can spend your money," he cautioned.
Why does Salinas think they are so bad? Because you lose all sovereignty in the use of your funds.
"They think it's a bad idea, they close your capacity to spend your money," Salinas predicted.
That being said, Salinas noted that not all crypto is created equal:
"Unfortunately, it's curtains for the US. Sell your shitcoins, and buy bitcoin."
Salinas added that 60% of his investment portfolio is now in bitcoin or bitcoin-linked equities. According to Bitcoin Magazine, that's up from 10% in 2020.
Salinas also denounced bonds as toxic and a "terrible investment" that he wouldn't "touch with a 10-foot pole."
Of course, he's not the only high-profile investor to say as much about bonds in the era of inflation (short-dated Treasuries just endured one of the rockiest first quarters in modern history).
I want to thank @TheBitcoinConf for giving me the opportunity to speak about "what's next", it was a pleasure to meet you all 😌.

"Please… don't put your future in government's hands, you and I know how does that always ends, stay away from #FIAT money, invest in #btc" pic.twitter.com/sjVvbbZKcY

— Ricardo Salinas Pliego (@RicardoBSalinas) April 7, 2022
Another billionaire speaker, the Puerto Rican financier Orlando Bravo, the co-founder of private equity firm Thoma Bravo, told his audience that he's been getting calls from sovereign wealth funds and pension funds (some of the largest pools of capital around), and they're inquiring about getting into crypto. Even these firms are looking for ways to hedge the collapse of the dollar-based international financial system. And is there a better alternative than crypto?
"You don't have to be an economist to see what's going on with inflation," he said, pointing to the $2 trillion that was injected into the economy. "You can make all kinds of excuses on supply chains and all the geopolitical issues, but when you pump that much money into the economy, you're going to grossly devalue that currency."
Finally, Marcelo Claure, the former SoftBank COO (who is famously battling it out with Masa Son over billions in compensation he clams he is owed) said he was increasing the crypto allocation of his personal holdings to 10%.    
"We're starting to see Bitcoin as one of the safest ways in order for us to maintain our wealth," he said.
While these comments are certainly encouraging for crypto bulls, and they represent a critical shift in crypto being accepted by a growing number of powerful figures who still see themselves as outsiders in the closely guarded world of Wall Street, we would be surprised if their comments didn't elicit some kind of push back, not just from the "financial gerontocracy", but from the central bankers who are the stewards of the fiat system. Just this past week, Treasury Secretary Janet Yellen warned that crypto poses a risk that could disrupt the financial system.
It's a familiar strategy: the central banker cabal is skeptical of all crypto except central bank digital currencies - blockchain based cryptocurrencies that they can control, and use to strip society of the last vestiges of privacy and monetary freedom.