---
"It's Time" - OpenAI's Sam Altman Launches Iris-Scanning Crypto Plan To 'Verify' Every Human Online
Last week we presciently discussed the somewhat dystopian outlook for an iris-scanning 'World ID' project to identify every human online:
"Something like World ID will eventually exist, meaning that you will need to verify [you are human] on the internet, whether you like it or not," WorldCoin CEO Alex Blania said.
Over the weekend that threat (or promise) became a reality as Worldcoin, a project partly created by OpenAI CEO Sam Altman, launched the project's ecosystem token on July 24.
The project provides a decentralized and private way to verify human identity online amid the rise of artificial intelligence technologies.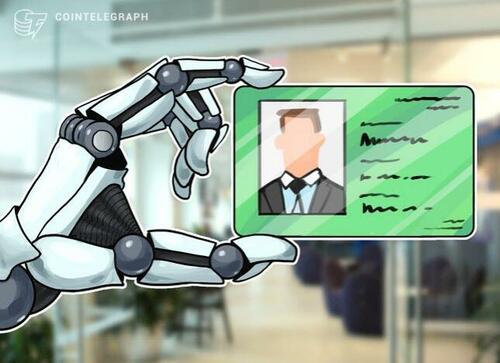 As CoinTelegraph.com's Exra Ruguerra reports, the project has continuously split opinions from within the crypto space to Silicon Valley, with some praising the project's ambition and others calling it creepy and dystopian. Despite these comments, the project continues to pursue its goal of solving income inequality and online identity authentication.
It's time. 24.7.23 pic.twitter.com/9oHW4DIMJX

— Worldcoin (@worldcoin) July 23, 2023
The project was first launched on March 14, along with a waitlist for its software development kit (SDK). According to its team, the World ID will be a global digital passport that users can store on their phones. The project also claims that the World ID will prove they are not robots without needing to provide personal identifying information to websites, such as their phone number. 
On May 8, the project released its gas-free crypto wallet for verified humans. This allowed users to take advantage of gas-free transfers by registering for a World ID, where they would be asked to provide a phone number or an iris scan.
According to the developers, the project does not store the data provided by the users. It generates a zero-knowledge proof to verify that the user is human without revealing the data used to create the proof.
Various crypto exchanges also announced that they will be listing the token on their trading platforms. Binance, Bybit, OKX, Gate and Huobi were some of the crypto exchange platforms that mentioned the listing of the token as it was launched.
#Binance will list @worldcoin $WLD.

👉 https://t.co/WmsuRY8YJc pic.twitter.com/7Bja3w7kxF

— Binance (@binance) July 24, 2023
Meanwhile, blockchain security firm PeckShield has detected that a fake Worldcoin token has already performed a rug pull. 
While many expressed support for the project, various community members have also opposed the idea. Former Twitter CEO and Bitcoin supporter Jack Dorsey tweeted that "at no time should a corporation or state own any part of the global financial system."
The project also recorded over 2 million sign-ups to its World ID project on July 14. During its token launch, Altman tweeted his hopes of bringing this number to 2 billion.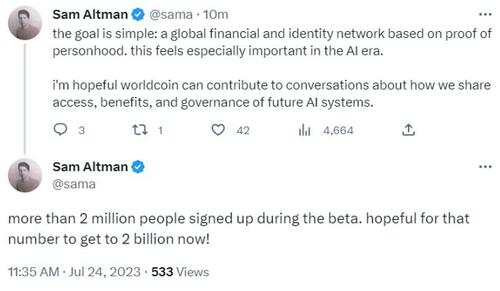 Sam Altman hopes to bring the number of World ID users to 2 billion. Source: Twitter
On May 25, the project secured $115 million to support its decentralized identification system and crypto wallet, the World App. Its team took advantage of the rise of artificial intelligence technology to pitch a "decentralized, privacy-preserving solution" that will protect humanity online and allow people to take control of their identities.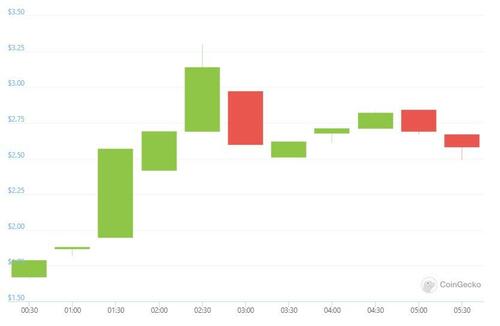 At the time of writing, WLD token was up over 50% at $2.50, according to data from Coingecko.
Ethereum co-founder Vitalik Buterin was among a number of industry figures to comment on the launch of Worldcoin and its potential for biometric proof-of-personhood.
What do I think about biometric proof of personhood?https://t.co/yozo1buW24

— vitalik.eth (@VitalikButerin) July 24, 2023
In a lengthy blog post, which was unpacked by Cointelegraph, Buterin delves into the technicalities of proof-of-personhood blockchain protocols and the potential benefits and pitfalls of projects blazing a trail for the use case.
Buterin highlighted being able to prove human identity and be used to distribute universal basic income in the future as key raisons d'être for proof-of-personhood protocols.
"Worldcoin is unique in that it relies on highly sophisticated biometrics, scanning each user's iris using a piece of specialized hardware called 'the Orb.'"
As Buterin explains, Worldcoin Orbs are set to be distributed around the world to allow users to create their respective digital IDs. He also highlights privacy and security concerns around the Orb, design issues regarding its native token, and some ethical concerns around whether biometrics "are a good idea at all."
"Risks include unavoidable privacy leaks, further erosion of people's ability to navigate the internet anonymously, coercion by authoritarian governments, and the potential impossibility of being secure at the same time as being decentralized."
Twitter co-founder and Bitcoin proponent Jack Dorsey had one word to describe Worldcoin's "attempt at global scale alignment":
"Worldcoin is an attempt at global scale alignment..."

cute https://t.co/VbsX3KcKds

— jack (@jack) July 24, 2023
Bitcoin advocate Anita Posch also suggested that the centralized nature of the Worldcoin project and the amount of data it manages could be a potential point of failure:
A global database of human IDs issued after an eye scan, paid for with useless Worldcoin token, connected with all financial transaction data of each individual managed by a centralized non-profit collecting sensitive data for KYC/AML.

WHAT COULD GO WRONG? https://t.co/8K6R17vBb0

— Anita ⚡🏳️‍🌈 Bitcoin for Fairness (@AnitaPosch) July 24, 2023
What could go wrong?
Loading...