---
JP Morgan Is Now Open For Business In The Metaverse
Nearly five years have passed since Jamie Dimon called bitcoin "a fraud" and joked that he would fire any JP Morgan employee found to have purchased any digital tokens.
And yet, here we are.
Bloomberg reports that JP Morgan has opened its first office in the metaverse, in Decentraland, the browser-based one of several "metaverse" platforms, which is backed by Digital Currency Group (which also created the Greyscale Bitcoin Trust). What they're calling the "JP Morgan lounge" was reportedly set up by Onyx, JPM's blockchain unit (did Dimon sign off on that?)
JPMorgan Chase & Co. has a lounge in the metaverse: Visitors are greeted by a digital portrait of Jamie Dimon and a roaming tiger. Walk upstairs and you'll see an executive's presentation on the crypto economy.

The lounge is located at the Metajuku mall in Decentraland, a browser-based metaverse backed by the Digital Currency Group. Onyx, JPMorgan's blockchain unit formed in 2020, set up the lounge as it released a paper on how businesses can explore opportunities in the metaverse.
Dimon's presence is just one example of how JPMorgan is "the first Wall Street bank to launch a presence in the metaverse." According to Bloomberg, the bank has been "a proponent of blockchain technology and its use in financial transactions" for years, Bloomberg claims, before citing "JPM Coin" as evidence. Perhaps Bloomberg has forgotten about Dimon's denunciations? Last we heard, Dimon said he remains "a skeptic" about cryptocurrenices.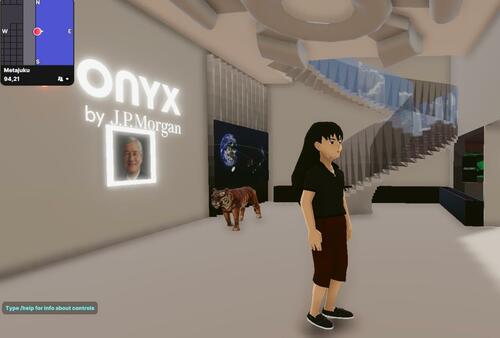 But Twitter never forgets.
JPM's portrait of Jamie Dimon in Decentraland is the ultimate self-own

— Zoe Dolan 💜 (@zjdolan) February 15, 2022
JPM's Onyx group has also recently released a white paper on how JPM can explore business opportunities in the metaverse.
As its white paper begins: "The elements of a new digital age are converging at scale. The metaverse is the driving force bringing these elements together in a unified, immerseive experience."
Readers can find the rest of JPM's metaverse white paper below, but be advised: nowhere in there does JPM denounce crypto, the blackchain or the concept of decentralized finance as "a scam":
Opportunities in the Metaverse - Opportunities-In-The-metaverse
Loading...