---
Ordinals Inscriptions On BTC Network Approach 4.8 Million, Nearly Doubling In Just Over A Week
Authored by Tom Mitchellhill via CoinTelegraph.com,
The number of Ordinals inscriptions on the Bitcoin network has witnessed another meteoric rise, almost doubling from 2.5 million to 4.78 million in just the last eight days.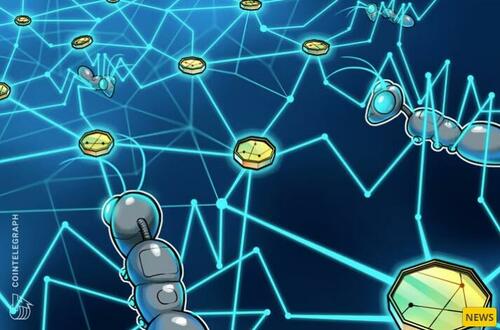 While the Ordinals protocol was initially used to mint images as non-fungible tokens (NFTs), users began to realize that they could use text-based inscriptions to create fungible tokens in a similar way to those minted via the ERC-20 token standard on the Ethereum (ETH) network.
The total number of Bitcoin Ordinals inscriptions since December 14. Source: Dune Analytics
These text-based inscriptions, now popularized as the BRC-20 token standard, have been the main cause of the massive uptick in Ordinals inscriptions on the Bitcoin blockchain.
As highlighted by Glassnode co-founder and chief technology officer Rafael Schultze-Kraft on Twitter, text-based inscriptions are now the most popular form of Ordinals inscription, with more than 2.8 million text-based inscriptions as of May 5.
8/ In fact, text inscriptions are now the most prominent Ordinal inscription type in the #Bitcoin network.

Text: 2.8M
Images: 650k
Video: 1.8k
Audio: 347
Other: 19k

Inscriptions dashboard: https://t.co/YKwAbthEXL pic.twitter.com/O12MZj0qLT

— Rafael Schultze-Kraft (@n3ocortex) May 4, 2023
More recent data from popular blockchain data hub Dune Analytics shows that since April 25, the overwhelming majority (99%) of all new Ordinals inscriptions have been text-based.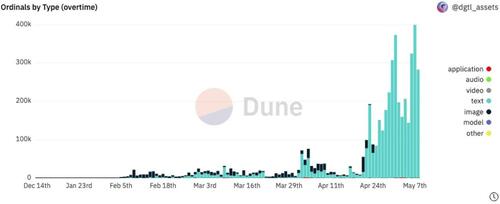 Ordinals inscriptions by type since December 14. Source: Dune Analytics
According to brc-20.io, a new tool that allows users to track BRC-20 tokens, there are currently a total of 14,200 new tokens hosted on the Bitcoin blockchain. Counted among the most popular Bitcoin-based tokens are "ordi", "nals" and even a Bitcoin-based version of the now-notorious memecoin Pepe (PEPE) being listed at number 3 by total market cap.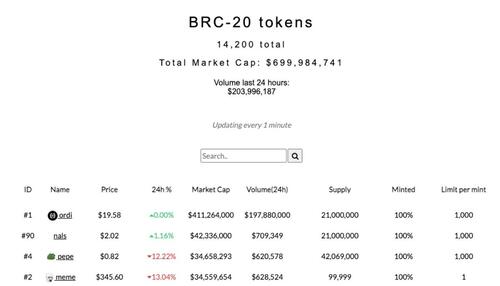 The total number of BRC-20 tokens currently available. Source: brc20.io.
While the total market cap of BRC-20 tokens currently hover around the $700 million mark, digital asset investment firm Galaxy Digital asserts that the market for "Bitcoin NFTs" may reach $4.5 billion by 2025.
The rise of Ordinals over the last few months has continued to spark debate around whether Ordinals are ultimately a positive for the Bitcoin ecosystem.
Some Bitcoin proponents, such as Dan Held, claim that Ordinals offers a wider spread of financial use cases for Bitcoin, while more hardline Bitcoiners argue that Ordinals stray from the original vision of Satoshi Nakamoto, who intended for Bitcoin to be used as an electronic, peer-to-peer cash system.
Meanwhile, miners have enjoyed an enormous influx of revenue due to the transaction fees related to the burst of new activity on the network.
Loading...