---
Silvergate Shares Plunge After Withdrawals Top $8.1 Billion During Crypto Meltdown
Update (0900ET): 
Here are some of the top headlines (via Bloomberg) from Silvergate's call with investors this morning: 
*SILVERGATE SAYS CLIENTS ARE TAKING HUGE PAUSE IN CRYPTO

*SILVERGATE NOT SEEING CLIENTS CLOSING ACCOUNTS, LEAVING CRYPTO

*SILVERGATE FOCUSED ON BEING BEST PROVIDER FOR CRYPTO SPACE

*SILVERGATE SAYS MAY BECOME TARGET FOR LARGER BANKS IN FUTURE

*SILVERGATE: REGULARLY ENGAGES WITH FED, FDIC, OTHER REGULATORS

*SILVERGATE DECLINES TO COMMENT ON PENDING CLASS LAWSUITS

*SILVERGATE SAYS TAKING COMPLIANCE, RISK MANAGEMENT SERIOUSLY

*SILVERGATE CITES SLOWDOWN OF INSTITUTIONAL CLIENTS INTO CRYPTO
*   *   * 
Silvergate Capital shares have been on a rollercoaster in the last 24 hours. Soaring 27% on a short squeeze Wednesday and now down 40% on Thursday morning after the crypto bank reported a run on deposits following the FTX bankruptcy, slashed its workforce by 40%, and shelved plans to launch its own digital currency. 
Amid the FTX debacle in the fourth quarter, the bank said in an early release of some quarterly results that crypto-related deposits plunged 68%.
The digital asset industry has undergone a transformational shift, with significant over-leverage in the industry leading to several high-profile bankruptcies. These dynamics have sparked a crisis of confidence across the ecosystem and led many industry participants to shift to a "risk off" position across digital asset trading platforms. In turn, Silvergate's total deposits from digital asset customers declined to $3.8 billion at the end of the fourth quarter.
Silvergate was forced to liquidate the debt it was holding on its balance sheet to satisfy the surge in withdrawals. It expects a $718 million loss in the selling of debt that exceeds the bank's total profits since 2013. 
As a result of the run on withdraws and souring crypto space, Silvergate also announced it would slash 40% of its workforce, or approximately 200 employees, "in order to account for the economic realities facing the business and industry today." 
Silvergate said it had $4.6 billion in cash at the end of the fourth quarter, more than its $3.8 billion in remaining deposits. And another $5.6 billion in U.S. government or agency-backed securities were liquid. An update on the Silvergate Exchange Network ("SEN") Platform that enables institutional investor clients to send dollars and euros 24 hours a day to change for crypto was still "operating 24/7 with average daily volume totaling $1.3 billion."  
The company also shelved its own digital currency planned for an early 2023 launch, specifying it would "take an impairment charge of $196 million in the fourth quarter of 2022 related to developed technology assets purchased from the Diem Group." 
Alan Lane, chief executive officer of Silvergate, said:
 "In response to the rapid changes in the digital asset industry during the fourth quarter, we took commensurate steps to ensure that we were maintaining cash liquidity in order to satisfy potential deposit outflows, and we currently maintain a cash position in excess of our digital asset related deposits."
Silvergate shares tumbled more than 40% in premarket trading.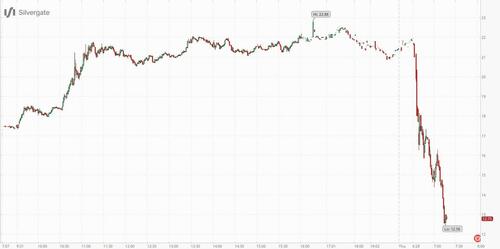 The company will host a conference call at 0800 ET this morning to talk about recent developments (click here to listen to the call). 
Loading...