---
2 Artists Dominating American Music Charts Both Died Before Their Albums Dropped
NYC rapper Pop Smoke's debut album, "Shoot for the Stars, Aim for the Moon", has dominated the Billboard charts since its July debut. This past month, it sold the second-most albums of any artist.
Oddly, the artist who came in first was another rapper, Juice WRLD, whose album "Legends Never Die" is the No. 1 album in the country.
As Bloomberg reported Wednesday, the two artists are topping its ranking of the most influential figures in music for 2020.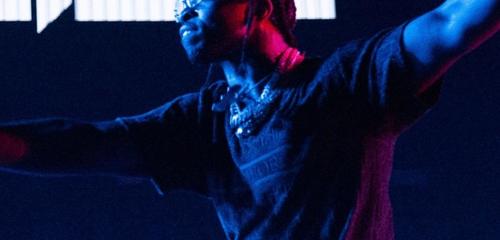 It's an appropriately morbid trend for 2020, a year that has been marked by images of the sick and suffering, even more so than - well - many of the years that preceded it since the beginning of the 21st century.
But it also highlights an alarming trend in rap music, a genre that has taken over the popular music industry as the best-selling (and most profitable) form of musical entertainment, second only to massive arena tours featuring aging rockers like the Police and Guns N' Roses - or pop stars like Taylor Swift.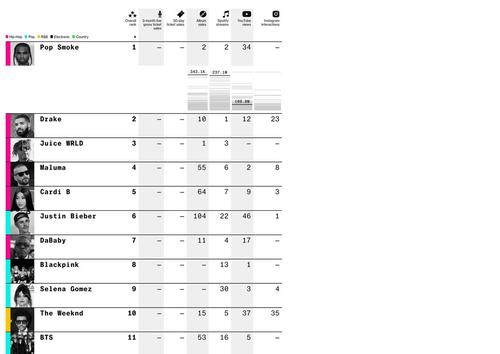 Source: Bloomberg
Many top-selling rap artists have been implicated or convicted of violent crimes, including murder, manslaughter, attempted murder and armed robbery.
It's a trend that has dovetailed with the surge of gun violence in America's cities, including Chicago, NYC, LA and even smaller cities like Baltimore and Detroit.
During the gang wars that rocked the south side of Chicago earlier this year, another up-and-coming rapper was shot and killed.
Pop Smoke was shot and killed during a home invasion back in February. Five suspects have been arrested and are awaiting trial on murder charges.
The circumstances behind Juice WRLD's death were decidedly less violent; he overdosed on drugs he reportedly swallowed for fear they would be discovered by police. He's far from the only rapper in recent years to die from drug overdoses; two other chart-topping rap artists, Mac Miller and Lil Peep, have also died of overdoses over the past few years.
Then again, violence has been part of rap virtually since its birth in the late 1970s/early 1980s. Tupac and Biggie, among the biggest rappers of the 90s, were famously killed in unsolved drive-by shootings. And 50 Cent, the executive producer of Pop Smoke's album, was shot 9 times, but survived. The man suspected of organizing the attack was later shot and killed, though no charges have been filed.