---
6.5 Million Initial Jobless Claims Tomorrow?
Last week, when consensus was expecting a "modest" 281K initial jobless claims, we said that SouthBay Research's Andrew Zatlin, who has regularly been the most accurate predictor of labor market prints, expected no less than 2.4 million initial jobless claims. He was off by a million: the actual number was a staggering 3.28 million, quadruple the previous record set in the depths of the global financial crisis. The number was also too low in light of anecdotal evidence of the tsunami of unemployed workers, with a New York State official saying that the unemployment system had received a record 1.2 million calls just this Monday compared to 50,000 per week prior to the coronacrisis.
In short, tomorrow's initial claims print is expected to be another catastrophe, the only question is just how bad will it get and how much above the consensus print of 3.7 million will the actual number be.
The claims report "will likely reflect both newly laid-off workers as well as states catching up on previously filed claims that had not yet been captured in the system due to overwhelming demand," Wells Fargo economist Sam Bullard wrote in a note. He projects 3.15 million. He is also an optimist compared to some of colleagues.
Going back to Zatlin, he is now expecting around 6.5 million initial claims having revised upward his weekly estimate on at least two prior occasions. "We are in unprecedented waters and fast moving, on-the-ground data requires equally fast updates.  Due to more recent information, I am raising the forecast again", he wrote in a note to clients, adding the following:
"At least 6.5M Americans filed for Initial Jobless Claims last week. States are unable to process the tidal wave of claims. I now believe that States will stop trying for accuracy and rely on estimates.  After all, funding will flow based on the number they submit and States need to get funding asap."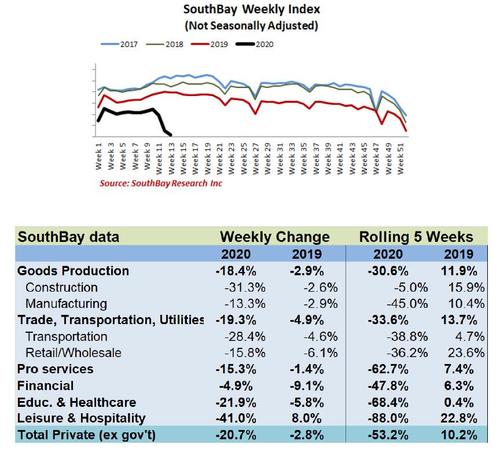 If Zatlin is right and states do opt for shock value, we may even get a 10 million print or more. Not that anyone is predicting that: curiously Zatlin is not even the biggest pessimist: the most dire prediction sees tomorrow's initial claims at 6.5 million, and belongs to Thomas Costerg at Banque Pictet. BofA estimates 5.5 million, Goldman is at 5.25 million and Citigroup is at 4 million.
Trying to chart tomorrow's worst case scenario is simply meaningless:
A snapshot of the distribution of tomorrow's forecasts together with some of the high-fliers is shown below: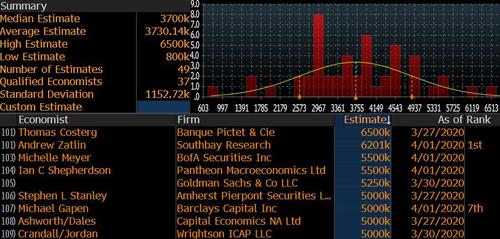 As Bloomberg notes, the new jobless claims report will come days after President Trump announced that social distancing would extend until at least April 30, amid rapidly rising infections and deaths across the nation. The president previously said he hoped that the economy would be "raring to go" by the Easter holiday, but that's no longer the plan.
Curiously, the weekly initial claims report - traditionally ignored and seen as a B-grade economic datapoint at best - now has more import than the monthly jobless report. The reason: while Friday's payroll figures are forecast to show a more-modest decline in jobs in March, like today's ADP report, they reflect data from the first half of March, before most virus-related shutdowns. So, the bigger job losses - and an unemployment rate potentially rising by several percentage points - are more likely to show up in the April data due in May.
"The March jobs report will vastly understate the extent of labor dislocation occurring as a result of the economic 'hard stop' resulting from containments efforts of the Covid-19 crisis. Instead, the more important information regarding the speed of labor market deterioration will be the weekly data on filings for unemployment benefits, a.k.a initial jobless claims."
Which is not to say the unemployment rate won't eventually reflect the unprecedented halt of the US economy. According to Goldman, in the next few weeks the US unemployment rate will rise to 15%, a level on par with the Great Depression.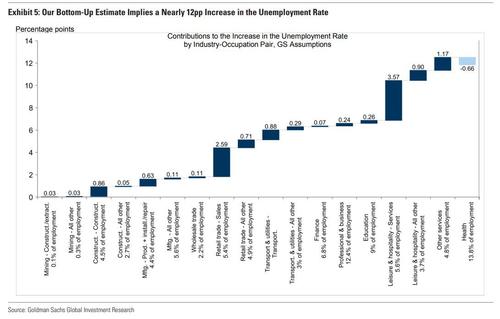 We leave readers with the following big picture assessment from SouthBay Research:
By the time this mess settles, at least 20M American workers will have been furloughed.  The math is relentless.

Self-isolation is crushing the Leisure & Hospitality sector (17M workers).  Most of them are set to be out of work.  Indeed, confirming the sector's pain, SouthBay's review of local job postings found a massive collapse: Leisure & Hospitality postings fell 80% compared to the same period last year.  That figure will only worsen as more States and cities impose a lock down.

And that's just one sector.  Every sector is taking a hit, some more than others, but the average drop in labor demand is >50% (as reflected in job postings).  Things will get a bit uglier before they level off.

But a turnaround will happen and sooner than most expect.

In a different age, under these conditions, you would gather the family and head to a remote cabin in the hills.  You would be very scared because conditions are ripe for riots and looting and worse: too many people with too much time and opportunity on their hands.  At least 20M people will have nothing to do, no job to go to.  Schools are closed (56M students K-12).  They are at home and driving their parents crazy, who are also forced to work from home.  All in all, some 150M Americans people are now hunkered down.

It's a classic recipe for public disorder, and officials know it.  I was recently at a shopping mall where the only store open was Target.  At the opposite end of the mall, the empty end, a lone police car was stationed.  Forget protecting the public in case of a brawl at Target over toilet paper - the empty stores are of bigger concern because they have turned into perfect targets for theft.  A case in point: a Van Gogh was just stolen from the COVID-shuttered Singer Langer museum.

Why aren't we scared?  Because we have an even more powerful opiate of the masses: the Internet.  Pacifying the people is Netflix.  And Facebook and Disney+.  And for old school players who require real opiates or something similar, cannabis is now broadly legal and sales have doubled.

Crowd control via the internet has become an important tool.  Recently, on a long flight to New York, I was speaking to flight attendants about the move by airlines to provide free movies via wifi.  Considering that airlines charge for everything, giving away movies seemed counter-intuitive.  But the flight attendants explained that it was actually a huge cost savings.  Fewer passengers were asking for drinks and snacks.  Fewer drunks causing problems.  Instead people sat docile for hours, entertained by their screens.

But it doesn't last.  People will get restless.  Pressure will build to get-back-to-business.  Especially if the data suggests that things are 'less bad' or that only certain demographics are at risk (the elderly, the already ill) or that there are treatments that seem to work.  

And that's the positive.  As Americans emerge from self-imposed hibernation, they will want to go out.  If you've ever been camping for an extended period of time, then you find yourself seeking out a hot shower and an equally hot meal.

Demand for services will return, and so will jobs.  But it might be a while.