---
Atlanta Fed Shocker: US Economy On Verge Of Contraction
Nothing says "BTFD in stocks" like collapsing sentiment (UMich 10 year lows this morning) and crashing growth expectations and no lesser entity than The Atlanta Fed just released its latest GDPNOW forecast for Q1 economic growth in the US... and it's a doozy.
US macro data has been disappointing recently...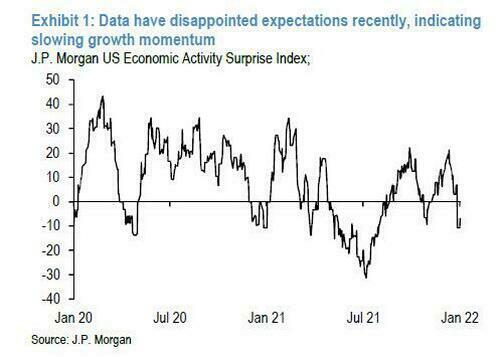 All of which have sent the initial GDPNow model estimate for real GDP growth (seasonally adjusted annual rate) in the first quarter of 2022 to just 0.1 percent on January 28, i.e. on the verge of contraction.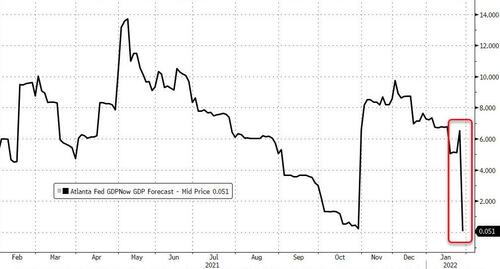 This is dramatically below consensus (for now), but as we recently noted, BofA is already hinting at a recession being imminent.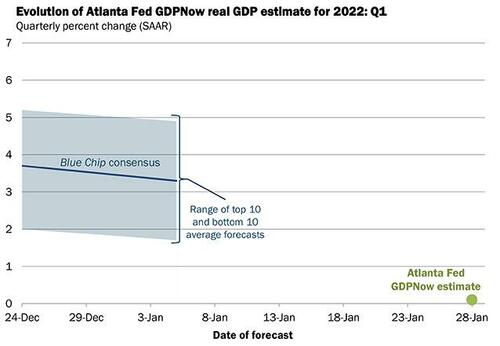 And that has sent rate-hike expectations lower (though only modestly for now)...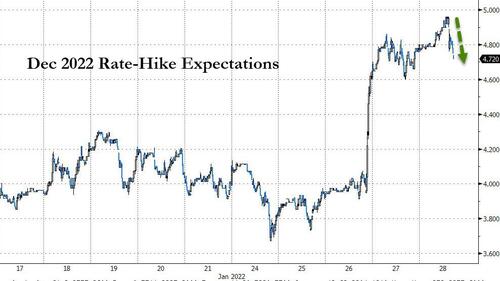 Is bad news, good news for stocks? Hard to say when inflation's over 7% and consumer expectations for inflation are at multi-decade highs. This is the absolute definition of The Fed's nemesis - Stagflation.
How quickly will the suddenly hawkish Fed Speakers of the last few weeks get religion and turn back to the dark-side of lower-for-longer... Get back to work Mr.Powell!