---
Auto Supply Companies Are Desperate For Factory Workers
Despite the auto industry being crushed over the last 6 months due to the global pandemic, auto part suppliers are "scrambling" to try and fill factory jobs. They are even offering incentives and aggressive compensation, according to Reuters. 
In addition to factory jobs thinning out, as employees chose to stay home during the pandemic, the economy's somewhat V-shaped recovery means that demand is once again rising. Some suppliers have seen 10% to 15% of their workers absent as a result of virus fears.
In fact, the lack of employees is so pronounced that the UAW has even conceded to some Detroit that temporary workers can be used to fill in some positions - a concession the union wouldn't normally make lightly.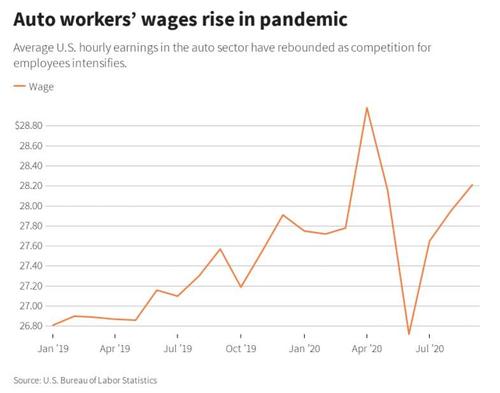 Mobex Global, Chief Executive Joe Perkins called staffing "the most critical issue in our company". His company has both Ford and GM as customers. He is offering raised pay and bonuses to try and get spots at his factories filled.
Perkins said: "We're using almost 10 staffing companies across the plants. We're using multiple jobs boards, ZipRecruiter, LinkedIn, Monster, local news stations, down to lawn signs, local papers, billboards, public transportation, church bulletins, you name it."
Andreas Weller, CEO of aluminum parts maker Aludyne, has faced a similar problem. He told Reuters: "We'd like to ship more. We haven't shut anybody down yet, but we'd like to be in a better position in terms of inventory."
Hourly pay in the auto sector is rising as a result, up to $28.21 in September from $27.65 in July. Overtime at auto plants has now averaged 4.3 hours a week in August, up from 3.8 hours per week in January. 
Dan Spallone, a vice president with staffing company Adecco, said: "The hottest topic has been wage, wage, wage. There has to be return on investment for candidates to re-enter the workforce."
And that ROI needs to be even higher, with the government having paid unemployed workers bonuses simply for staying home over the last 6 months. The national unemployment rate is estimated to be at 7.9% in September. In durable goods manufacturing, that number is 5.7%.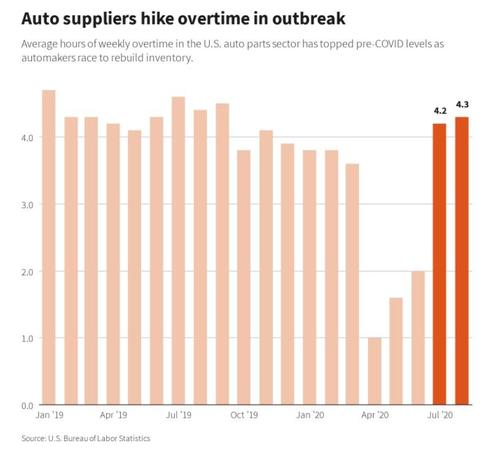 Indiana lost 85,000 manufacturing jobs in March and April, but has since regained 51,000 of them. Michigan saw auto sector employment cut in half to about 96,0000 people in April, but it is now up 71% off those lows. 
Executives now must worry about overworking their employees. James Sheehan, North American CEO for Mubea, a maker of automotive chassis, body and powertrain parts, said: "You end up working them excessive overtime. Then they get disenchanted and leave, and then you get new people in."
Melissa Hassett, a VP at staffing company ManpowerGroup, concluded about supply companies: "They're terrified of the upcoming flu season because they're not staffed today."