---
Bank Run In Northeast China Part Of A Growing Trend
Authored byZhang Yujie via The Epoch Times,
A run on the Bank of Huludao in China's Liaoning Province began on Monday, Aug. 3, a day after the bank announced on its official website that its former president, Wang Xueling, is under investigation on suspicion of serious violations of the Communist Party's law and discipline.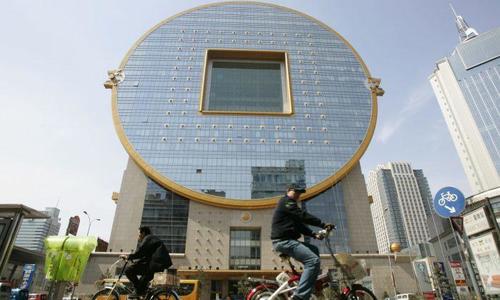 The stage for a bank run may have been set when the bank's 2019 annual report showed the total profit and net profit in 2019 fell 57.86% and 59.40% year-on-year, respectively.
Starting with a run on the Bank of Gansu in western China in April, bank runs have popped up in geographically dispersed points across the country, including in Hebei and Shanxi provinces, suggesting that this bank run on Bank of Huludao in the northeastern Liaoning Province is not an isolated instance.
On July 29, the 10th largest shareholder of the bank, ASEM Industry & Trade, put its 65 million shares of the bank equity up for auction. The company was listed as a dishonest entity subject to enforcement twice last year. Also, the bank's 2nd largest shareholder, Shenyang Dajun Ceramic Industry Co., Ltd. was an entity subject to enforcement both in 2017 and 2018.
Bank President's Exile and Return
The Bank of Huludao, previously known as Huludao commercial bank, was founded in 2001, with a registered capital of 2 billion 5 million yuan (approximately $288.8 million). It is a regional share-holding commercial bank located in Huludao, Liaoning Province. In 2006, the China Banking Regulatory Commission exposed the Huludao bank bond case.
On Aug. 1, 2007, the Liaoning banking regulatory bureau made a decision on the case. Wang Xueling, the governor of the Bank of Huludao, was directly responsible for the misappropriation of treasury bond funds.
Wang was dismissed from office 14 years ago. However, he returned to the bank in August 2017, when he was appointed president by the board of directors, which was approved by the regulatory authority.
As of the end of 2019, the bank's net profit was cut by nearly 60 percent and was believed to be attributed by the bank's non-performing loan ratio rose to 3.73 percent, a year-on-year increase of 1.96 percentage points.
Trend of Bank Runs
Since the bank run on Gansu Bank in April 2020, there have been many bank runs inside China.
The regime's general practice of maintaining so-called social stability is always to label them rumors by claiming the bank is financially well-managed, which is followed by a series of arrests by the police.
On July 12 when a bank run took place in Hengshui Bank Branch of Hebei province, local police arrested two citizens believed to be spreading rumors.
In June, there was a bank run on Bank of Baoding of Hebei Province, after which two people were arrested. Also in June, there was a run on Yangquan City Commercial Bank of Shanxi Province, with four arrests following.
According to an Aug. 4 report by Tencent News, the public security (akin to police) bureau of Huludao city is following the formula. According to the latest police report, the public security organs have punished the "rumormongers" in accordance with the law, and thus have administratively detained 4 people and conducted disciplinary talks to 13 people.