---
Biden Energy Secretary Secretly Consulted Top Chinese Energy Official Before SPR Release, Sales To Hunter Biden-Linked Chinese Energy Giant
US Energy Secretary Jennifer Granholm, whose catastrophic handling of US energy policy will be one of the most memorable and dire consequences of the Biden era, engaged in multiple conversations with the Chinese government's top energy official just days before the Biden administration announced it would tap the Strategic Petroleum Reserve (SPR) to combat high gas prices in 2021, the same China whose Hunter Biden-linked energy giant Unipec, which we previously learned had bought millions of barrels from the SPR release.
Granholm called China National Energy Administration Chairman Zhang Jianhua, a longstanding senior member of the Chinese Communist Party, for a half-hour one-on-one conversation on Nov. 21, 2021. Granholm's calendar also shows an earlier phone call had been scheduled with Jianhua for Nov. 19 but a rep for the former Michigan governor said the first call never took place. Then, on Nov. 23, 2021, the White House announced a release of 50 million barrels of oil from the SPR, the largest release of its kind in U.S. history at the time.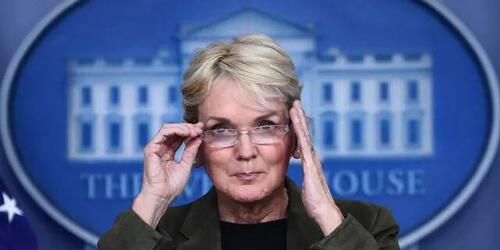 According to Fox News, Granholm's previously-undisclosed talks with China National Energy Administration Chairman Zhang Jianhua — revealed in internal Energy Department calendars obtained by Americans for Public Trust (APT) and shared with Fox News Digital — reveal that the Biden administration likely discussed its plans to release oil from the SPR with China before its public announcement in the US: yes, China's Communist Party learned what Biden would be doing before the US did.
"Secretary Granholm's multiple closed-door meetings with a CCP-connected energy official raise serious questions about the level of Chinese influence on the Biden administration's energy agenda," APT Executive Director Caitlin Sutherland told Fox News Digital, an "energy agenda" that can be summarized with just one chart: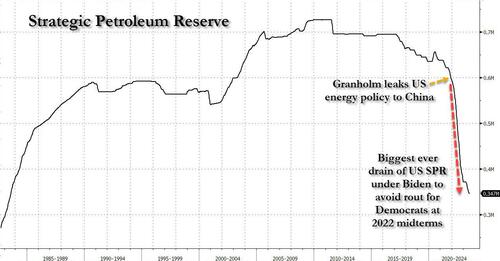 "Instead of focusing on creating real energy independence for America, Granholm has been too busy parroting Chinese energy propaganda and insisting 'we can all learn from what China is doing,'" Sutherland continued. "The public deserves to know the extent to which Chinese officials are attempting to infiltrate U.S. energy policy and security."
Hilariously, in response to the leaked calendar, in a statement the DOE said the meeting was broadly part of the agency's effort to combat climate change, but didn't share what was discussed at the meeting.
"Solving the climate crisis means engaging with competitors and allies in clear and substantive discussions — especially among the nations emitting the most carbon pollution into the atmosphere," a DOE spokesperson told Fox News Digital. "We must all address the transnational challenge of climate change to our planet."
It was unclear just how the DOE is "solving climate crisis" and "addressing climate change" by engaging with China when Chinese CO2 emissions are double those of the US and rising exponentially...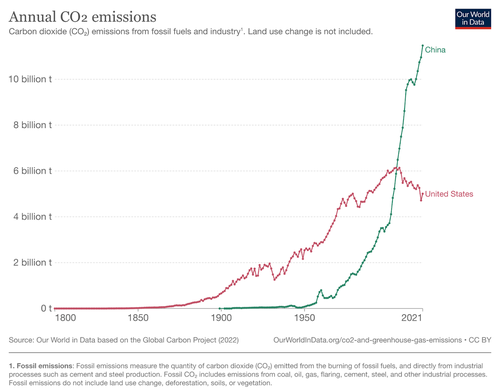 ... but that's irrelevant since the DOE - like every other aspect of the Biden administration - was lying.
As part of its announcement in November 2021, the White House said it was releasing oil from U.S. reserves in conjunction with "other major energy consuming nations including China." However, President Biden said in remarks after the announcement that China "may do more as well" and Granholm told reporters during a press briefing that China "will make its own announcement."
What happened next will shock nobody: instead of releasing oil stocks, China aggressively increased its own reserves, and even bought fuel from the US. Meanwhile, SPR releases have weakened U.S. national security and bolstered foreign adversaries' "geopolitical leverage" according to Republican leaders.
"China ramped up its purchases of crude oil from Russia and the United States to boost its own reserves, even as oil prices surged and President Biden called for a coordinated release," House Energy and Commerce Chair Cathy McMorris Rodgers, R-Wash., and former GOP Rep. Fred Upton wrote to Granholm last year.
"As a result, China may now control the world's largest stockpile of oil, with total crude inventories estimated at 950 million barrels," they added.
In addition, the White House and Department of Energy has been heavily criticized for allowing SPR sales to flow to Chinese state-run energy companies. The White House then fired back in July 2022, arguing that its hands were tied since it is legally required to sell SPR oil to the highest bidder, even if said bidder will be the US adversary in the next world war... then again, with China purchasing influence over the so-called US president through his son, this too should not come as a surprise.
As noted above, the Biden administration has sold at least six million barrels of oil from the SPR to Unipec, an affiliate of the state-controlled China Petrochemical Corporation with extensive connections to Hunter Biden. Jianhua, who met with Granholm in 2021, served in a leadership role for years at the China Petrochemical Corporation, Reuters previously reported.
From September 2021 to July, the Department of Energy (DOE) has awarded three crude oil contracts with a combined value of roughly $464 million to Unipec America, the U.S. trading arm of Chinese state-owned oil company Sinopec, according to a review by The Epoch Times of the DOE documents. A Chinese firm with ties to Hunter Biden had made an investment in the national oil giant.
The sale would tap 5.9 million barrels in total from the U.S. Strategic Petroleum Reserve (SPR) to export to the Chinese firm. The latest contract was unveiled on July 10, consisting of 950,000 barrels sold for around $113.5 million.
The two most recent sales to Unipec came out of an emergency drawdown of the U.S. oil stockpile, initiated under President Joe Biden on March 31, 2022 in what he said would offset the loss of Russian oil in global markets and tame rising fuel costs at home.
The Unipec contracts have been a subject of heavy criticism since the firm's connections to the younger Biden came into focus a year ago. Republican lawmakers and analysts have said that the selling of oil reserves to foreign adversaries such as China is at odds with U.S. energy and security needs.
Sinopec, the parent organization of Unipec, has been linked to Hunter Biden, through the state-backed Chinese private equity firm BHR Partners, which became a stakeholder of Sinopec in 2014.
Hunter served as a founding board member of BHR from 2013 through April 2020. His firm Skaneateles also held a 10 percent stake in BHR, which his lawyer said has been divested as of November 2021. On BHR's 2021 annual report released in June, however, Skaneateles was still listed as a shareholder.
At the time of the SPR sale to Unipec, Rep. Ralph Norman (R-S.C.) said the sale demonstrates the current administration's "rank incompetence."
"The Biden White House obviously didn't see a problem with loading millions of barrels from our strategic reserves onto tankers bound for foreign countries, which likely explains why they don't see a problem selling our emergency crude oil to a Chinese gas company with ties to Hunter Biden's investment firm," he told The Epoch Times.
"China is profiting from President Biden's political abuse of the Strategic Petroleum Reserve," Senate Energy and Natural Resources Committee Ranking member John Barrasso, R-Wyo., said earlier this year. "Meanwhile, America has become more vulnerable to true energy and national security emergencies."
Overall, Biden has ordered the Department of Energy to release a total of about 260 million barrels of oil stored in the SPR since taking office to combat record fuel prices hitting American consumers. In late March 2022, the president announced a draw-down of a million barrels per day from the SPR after Russia invaded Ukraine, roiling global energy markets. The SPR drain, which has offset multiple OPEC+ output cuts, has been instrumental in pushing the price of oil - and thus gasoline - lower, however at the expense of draining the strategic US reserve to 40-year lows.
The SPR's level has fallen to about 346.8 million barrels of oil, the lowest level since August 1983, according to Energy Information Administration data released on July 28. The current level is also 43% lower than its level recorded days prior to the November 2021 release.
The Senate overwhelmingly supported an amendment to this year's annual defense bill barring future oil exports to US adversaries China, Russia, North Korea and Iran. In a letter to Granholm last year, Republican lawmakers warned that Beijing and Moscow were both buying up oil from the US.
"The Biden administration is depleting the nation's petroleum reserves, while allowing OPEC, Russia, and China to gain geopolitical leverage over the United States," wrote then-House Committee on Energy and Commerce ranking member Cathy McMorris Rodgers (R-Wash.) and then-House Energy subcommittee ranking member Fred Upton (R-Mich.).
"As you know, in November 2021, President Biden announced a 50-million-barrel release from the SPR that was supposed to be in tandem with other importing countries, including China," the lawmakers told Granholm. "In reality, China ramped up its purchases of crude oil from Russia and the United States to boost its own reserves, even as oil prices surged and President Biden called for a coordinated release."
"As a result, China may now control the world's largest stockpile of oil, with total crude inventories estimated at 950 million barrels," they added.
Granholm's just released calendar from Nov 2021 can be found below.
Loading...