---
Biden Releases 2019 Tax Returns Hours Before First Debate; Paid $300,000 In Taxes
With just over 8 hours to go before the first debate, Joe Biden and his wife, Jill, released their 2019 tax returns. The filings shows that the Bidens reported $985,233 in adjusted gross income in 2019, a year in which he was mostly running for president; out of this they paid nearly $300,000 in federal taxes, an effective tax rate of just over 30%, consisting of a $346,204 tax payment offset by a $46,858 refund. The release is Biden's last minute attempt to differentiate himself from President Trump, who as the NYT reported, paid a modest $750 in taxes in 2016 and 2017 due to the application of net loss carryforwards. It is safe to say that the issue of tax payments will be among the top debate subjects at 9pm tonight.
Biden's income in 2019, when he spent most of the year as a presidential candidate, was substantially less than it was in 2017 and 2018. He and his wife reported adjusted gross income of more than $11 million for 2017 and nearly $4.6 million for 2018.
Of note, a revision in Trump's 2017 tax law that capped the deduction for state and local taxes at $10,000 prevented the Bidens from deducting all of the $111,717 in local levies they paid in 2019. In all, the Bidens had $40,496 in itemized deductions. That included $14,700 in charitable contributions - about 1.5% of their adjusted gross income.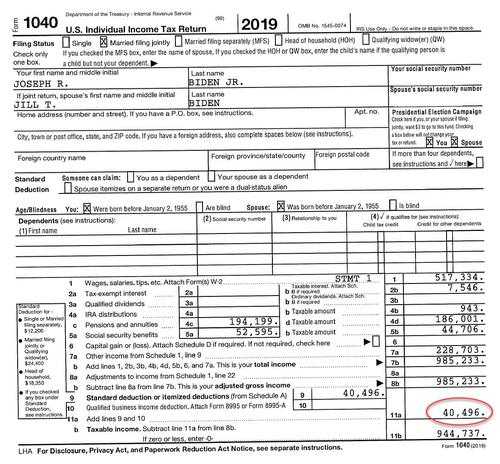 Biden's campaign said the latest release means he has now released 22 years of tax records, covering years when he served in the Senate representing Delaware, as vice president and his time after he left the Obama administration:
"This is a historic level of transparency and to give the American people faith, once again, that their leaders will look out for them, and not their own bottom line," deputy campaign manager Kate Bedingfield said on a pre-debate call with reporters. Quoting comments Biden made last year, she added "Mr. President, release your tax returns or shut up."
Trump has refused to release any of his tax returns, breaking a 40-year tradition of major-party candidates and presidents, claiming he is precluded from doing so by an ongoing IRS audit.  In a report published on Sunday which showed that Trump paid just $750 for 2016 and 2017, the New York Times detailed a series of questionable transactions by Trump, including deductions for hair styling, claims of large losses and consulting payments to his daughter, Ivanka Trump, although it did not find any outright illegal transactions.
The full 38-page tax return is below (pdf link)