---
Blockbuster Jobs Report: Feb Payrolls Soar By 273,000, Smashing Expectations, As Unemployment Rate Drops... But Does Anyone Care?
After January's payrolls revision, which saw almost a million jobs wiped out from the historical record, many analysts were expecting that the BLS would take advantage of the ongoing market shock and "kitchen sink" even more bad news, missing the consensus payrolls expectations of a 175K print for February. They were extremely wrong, because moments ago the BLS reported that in February the US economy added a whopping 273K jobs, smashing the consensus expectation of 175K by one hundred thousand, and tied for the best monthly increase since May 2018.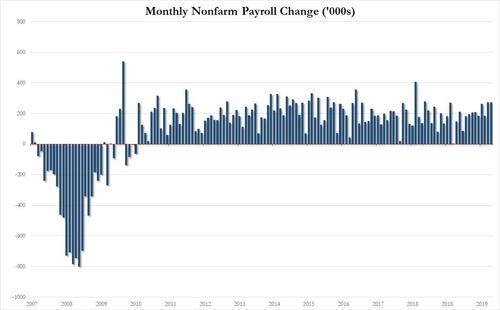 But wait, there's more good news, because despite some initial disappointment, the change in total nonfarm payroll employment for December was revised up by 37,000 from +147,000 to +184,000, and the change for January was revised up by 48,000 from +225,000 to +273,000. With these revisions, employment gains in December and January combined were
85,000 higher than previously reported. This means that after revisions, job gains have averaged 243,000 per month over the last 3 months after averaging 178,000 per month in January. Try explaining that to anyone who claims the economy is late cycle.
There were less fireworks in the average hourly earnings data, which increased by 0.3% M/M in February, as expected, and rose 3.0% compared to a year ago, also in line with expectations. That said, the trend in annual wage growth is clearly lower.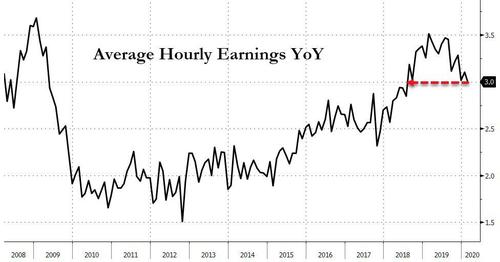 The unemployment rate also improved, sliding from 3.6% to 3.5%, the lowest since July 2018...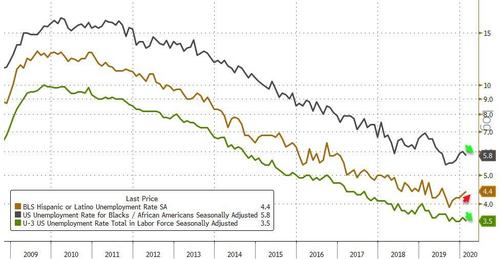 ... while the participation rate rose to the highest since mid-2013, or 63.4%
Finally, a breakdown by industry reveals the following:
Employment in health care and social assistance increased by 57,000 in February. Health care added 32,000 jobs, with gains in offices of physicians (+10,000), home health care services (+10,000), and hospitals (+8,000). Employment in social assistance increased by 25,000, with a majority of the gain in individual and family services (+18,000). Over the past 12 months, employment increased by 368,000 in health care and by 191,000 in social assistance.
Food services and drinking places added 53,000 jobs in February. Employment in the industry has increased by 252,000 over the past 7 months, following a lull in job growth earlier in 2019.
In February, government employment increased by 45,000, led by a gain in state government education (+16,000). Federal employment increased by 8,000, reflecting the hiring of 7,000 temporary workers for the 2020 Census.
Construction added 42,000 jobs in February, following a similar gain in January (+49,000). In 2019, job gains averaged 13,000 per month. In February, employment gains occurred in specialty trade contractors (+26,000) and residential building (+10,000).
In February, employment in professional and technical services increased by 32,000. Job growth occurred in architectural and engineering services (+10,000) and in scientific research and development services (+5,000). Employment continued to trend up in computer systems design and related services (+8,000). Over the past 12 months, professional and technical services has added 285,000 jobs.
Employment in financial activities increased by 26,000 in February, with gains in real estate (+8,000) and in credit intermediation and related activities (+6,000). Over the past 12 months, financial activities has added 160,000 jobs.
Employment in other major industries, including mining, manufacturing, wholesale trade, retail trade, transportation and warehousing, and information, changed little over the month.
Overall, this was a blockbuster jobs report, the only question we have is does anyone care not only since this was the "most irrelevant jobs report ever" and failed to capture to second half of February slowdown, but also because now that a rate cut to 0%, and even negative, is very much priced in, does any good news matter?