---
Caterpillar Sales Post Biggest Drop In Over Three Years As North America Plunges
If Caterpillar is still the global industrial bellwether and leading manufacturing sector indicator it has been for the past century (and absent the Fed somehow printing buildings or excavating mines, it is), then the world is about to enter the worst manufacturing downturn since the financial crisis.
According to CAT's latest retail sales data, in January the company posted a 7% drop in machine sales, the biggest drop since Jan 2017, and only the second consecutive negative print since December's -5% drop following 33 consecutive months of increases.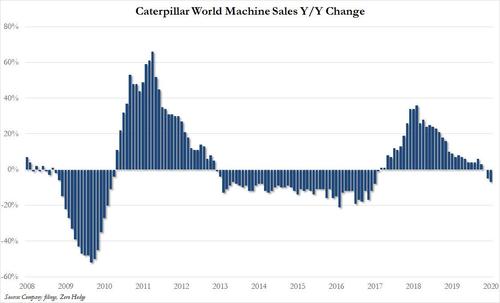 What is just as notable is that after continued strength in North American machine sales, in January this segment led the drop with the biggest Y/Y sales drop across the world, slumping by 11%, the most since March 2017. Alas, all other segments posted a drop in January as well:
North America -11%
EAME -5%
Asia/Pacific -2%
Latin America -2%
And visually.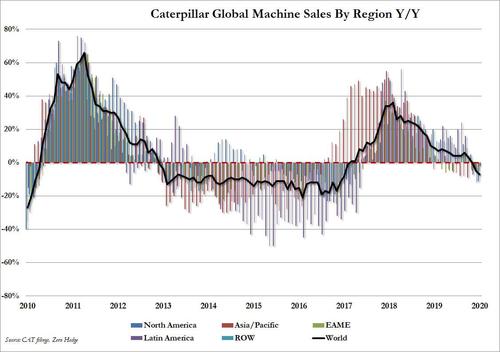 Of course, of the four regions above, keep an eye on China where sales are now expected to collapse as a result of the economy grinding to a halt following the coronavirus pandemic. And while it was China's that dragged CAT into the longest sales slump in history, we expect that this time the drop will be far more acute and lead to a historic plunge in annual sales when the next 2-3 months of retail sales are reported. +